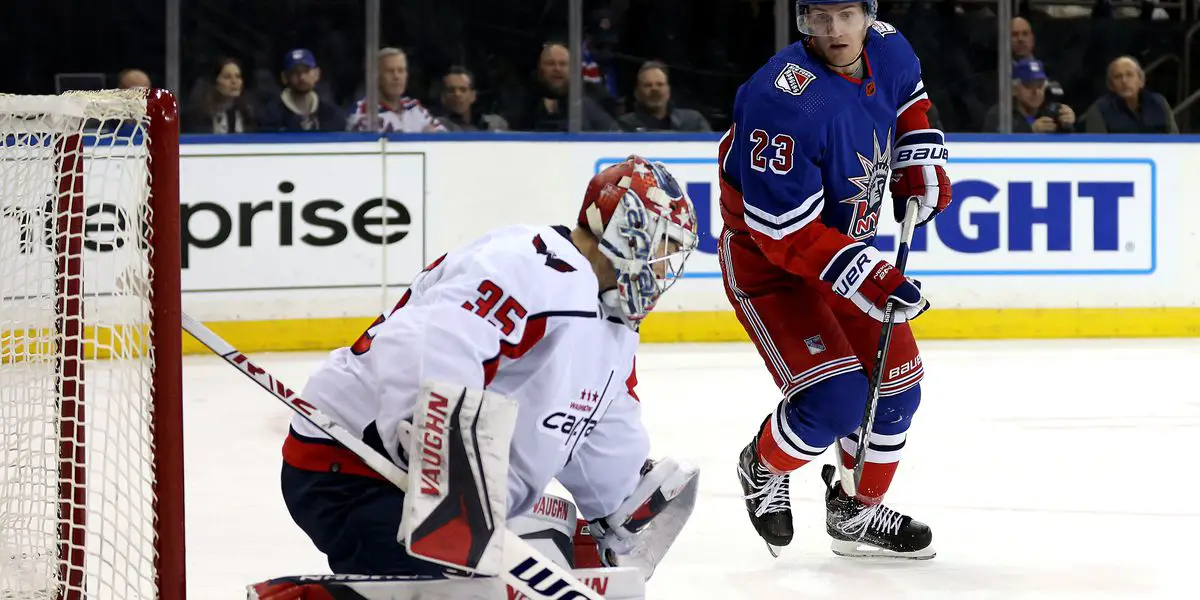 Well then, someone apparently forgot to tell the team we were back from the break. The NY Rangers lost to the Washington Capitals 4-0 last night with an uninspiring performance that is best left forgotten as soon as possible. However, for closure, let's quickly break it down.
THAT'S GOOD!
(Hmmn? Good, good? Something good. Stall! Stall! I'll find something. The, uh, the ice looked…fresh?)
IGOR
For the sake of writing something, Igor was very good last night, including an unreal glove save on Johansson in the 2nd period. The game was still 2-0 at that point, so Shesterkin's robbery seemed like it could be significant. However, the Caps scored soon after for a 3-0 lead late in the period snuffing out any good vibes from the save. It's not much, but Igor was one of the few players that didn't seem rusty. Hooray!
THAT'S BAD!  
(How much time have you got?)
PRETTY MUCH EVERYTHING NOT NAMED IGOR
To be honest, this game by the Rangers doesn't deserve any hardcore analysis. It was just bad.  
Sure the stats might show thirty-two shots for the Rangers, and you might find sequences of fancy cycling and possession, but these points should fool no one. It was an ineffective off night in every facet for all the skaters. None deserve their own category cause it was just one big lump of blah. Where do we start?
There was Jacob Trouba basically putting Washington's first goal in the net all by himself while the Rangers fought off a five-on-three advantage for the Caps (More on this below).
Perhaps it was the Rangers' ineffectiveness with their special teams, going 0 for five on their power-play advantages.
Even when there were moments of cohesion and pressure, the Rangers either made saves easy for Kuemper or were wildly inaccurate. It's almost as if the team said, "Oh, you're tired of us hitting so many posts? We are, too, so let's instead miss the net by two feet." The broadcast put up a stat sometime during the game that they had fifteen missed shots at one point, and I'm sure that number grew as time went on.
It's one thing to lose to the Capitals because there's no shame in that. However, it is inexcusable to get shut out in a listless effort by a team that was also missing its best defenseman, John Carlson.
Gallant did not mince words when he called the effort disappointing and the team "soft ." Harsh stuff, but in watching the game, it's hard to argue with that assessment.
THE REFS
Let me be clear; the refs did not cost the Rangers this game. No team can complain when they get shut down like this while going 0 for five on the chances they did have.
That being said, yikes. It was amateur hour all game for both sides. A good number of the penalties they did call were ticky-tack, but that doesn't compare to the egregiousness of the penalties they missed.
Kreider got called for a weak holding call on Ovechkin after Vitali Kravtsov literally got body-slammed by Orlov not much earlier. They missed two tripping calls on Gauthier and a couple of others. Heck, even the high-sticking penalty they correctly called against Fox had to be pointed out by the line judge. The ref standing two feet away and staring at the play, apparently couldn't be bothered.
There was even a bizarre sequence after the first missed trip on Gauthier when he crashed into Kuemper while driving the net. The puck clearly didn't cross the goal line, but they went to the scorer's table to check. No one knew what was happening. A few minutes later, one of the refs skated to center ice to tell us, "Oh hey, it's being reviewed," only to have them skate right back seconds later to tell us what we already knew. No goal.
Again, the referee's ineptitude had no bearing on the outcome, but it was comically bad.
CAN I GO NOW?
 I know Gallant can't help himself, but I thought he put the lines in a blender too soon. Granted, it wasn't a good first period, but it was only 1-0. Felt like those lines deserved at least another half-period to find their footing. Oh well.
No one really stood out, but Gauthier was very active and should not be removed from this lineup any time soon.
We can chalk it up to just being a bad game for the Rangers, but we'll find out more with another tough matchup at Tampa Bay on Thursday. The excuse of coming out of the break will be gone. This team needs to play with the effort and intensity they displayed before the time off.
In this weeks episode we have on Rangers beat writer Colin Stephenson to discuss Training camp/preseason, Laviolette, players coming back and more.Thanks for listening! Please rate and review our show on your favorite listening platform. Check out our partner's website at www.insidetherink.com for all your latest hockey news.