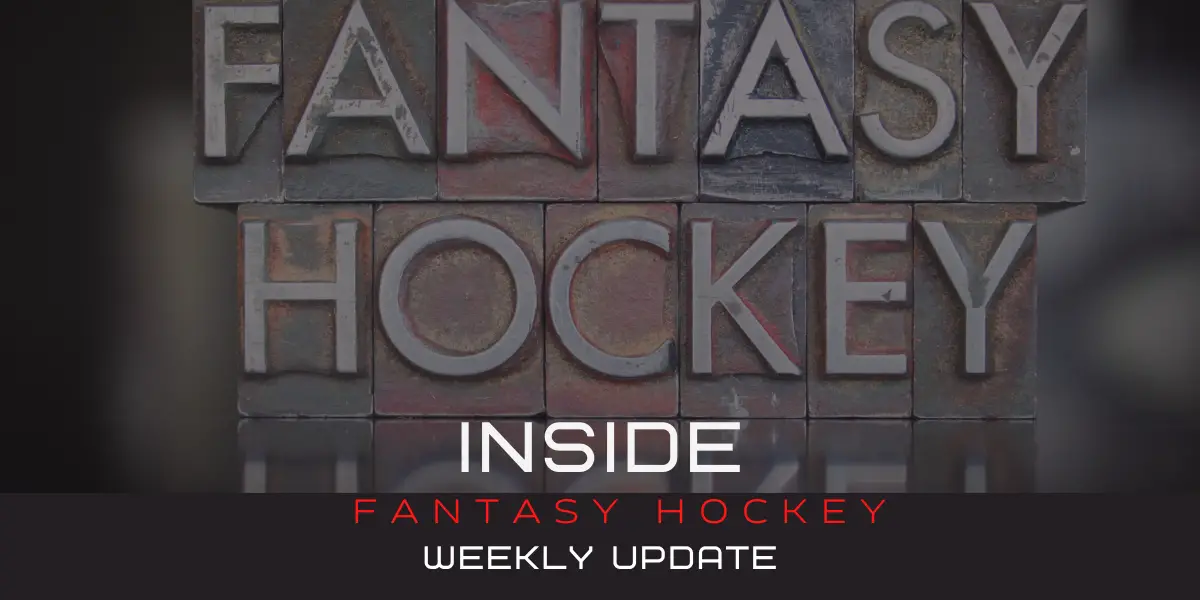 What a week this has been. With a league-wide shutdown on the horizon and a minimal amount of games being played over the last few days, this week was scarce for outstanding performances in the NHL. This week I will focus on some of the players least expected to perform due to their teams' expectations.

I would also like to take this time to wish you all a Happy Holidays and a wonderful New Year. Next week there will not be a fantasy article with the number of games postponed.
Fantasy Week All-Stars
Dylan Larkin – Detroit Red Wings
Dylan Larkin, the newest captain of the Red Wings, is having himself a great year, statistically speaking. With five goals and two assists last week, helping him to total 15G/14A for 29P so far this season. Larkin is currently over a point per game player on a lowly Detroit Red Wings team that was expected to be in the hunt for the draft lottery this season. Larkin's best statistical season came right before the NHL Covid shutdown and shortened season. Fantasy owners should rejoice in the fact that Larkin is starting to produce at an elite level once again.
Cam Atkinson – Philidelphia Flyers
After a few years of regression on a Blue Jackets team, Atkinson seems to be rejuvenated by a change of scenery. After being traded to Philidelphia the last offseason in exchange for Jakub Voracek, Atkinson found himself in a new environment for the first time in his career. Atkinson is currently playing with Claude Giroux and Oscar Lindblom on the Flyers' second line, which has provided plenty of offensive so far this season. Atkinson now has twelve goals and eight assists for twenty-eight points on the year thus far, over 29 games. Seeing the injury problems that have plagued the Flyers, I expect Atkinson to continue and even out-perform his current production when the team is at full strength.
Clayton Keller – Arizona Coyotes
Clayton Keller is a young winger in the NHL who has yet to blossom; the Coyotes had signed Keller to a long-term contract with expectations that he would blossom into a top-six scoring talent. He has yet to fulfill on those hopes, and the odds of him putting up explosive offensive numbers are thin on a weak and rebuilding Coyotes team. Keller tallied three goals and two assists last week to add to his total of twenty-two points in twenty-nine games so far this season. He is making the best out of another down season in Arizona. The only question around Keller this year is whether or not another team will pursue him in a trade, and my thoughts are no, his contract is way too high for his lack of production.
Waiver Wire
Matt Roy – Los Angeles Kings
One of the bright spots on the Kings roster this season has been Matt Roy, a defenseman who can eat minutes on the back-end while having the ability to move the puck and tally up assists. Roy currently has eleven assists on the season and logging over twenty minutes per game on the blue line. Roy is currently rostered in 12% of fantasy leagues and shouldn't be a hard pickup unless your league has a ton of fantasy roster slots for IR/Covid.
Oskar Lindblom – Philidelphia Flyers
Since defeating cancer and returning to the Flyers lineup, Oskar Lindblom has been a great story around the league. A genuine feel good story no matter your team's allegiance. Lindblom is currently playing with Cam Atkinson and Claude Giroux, which has led to an excellent opportunity to pad his statistics. While the start to the season was slow, his offense has come alive since being elevated in the lineup, and if Lindblom continues to play on the second line, I see a spike in production coming. This season, he is rostered in 1% of fantasy leagues and should be a steal for your team.