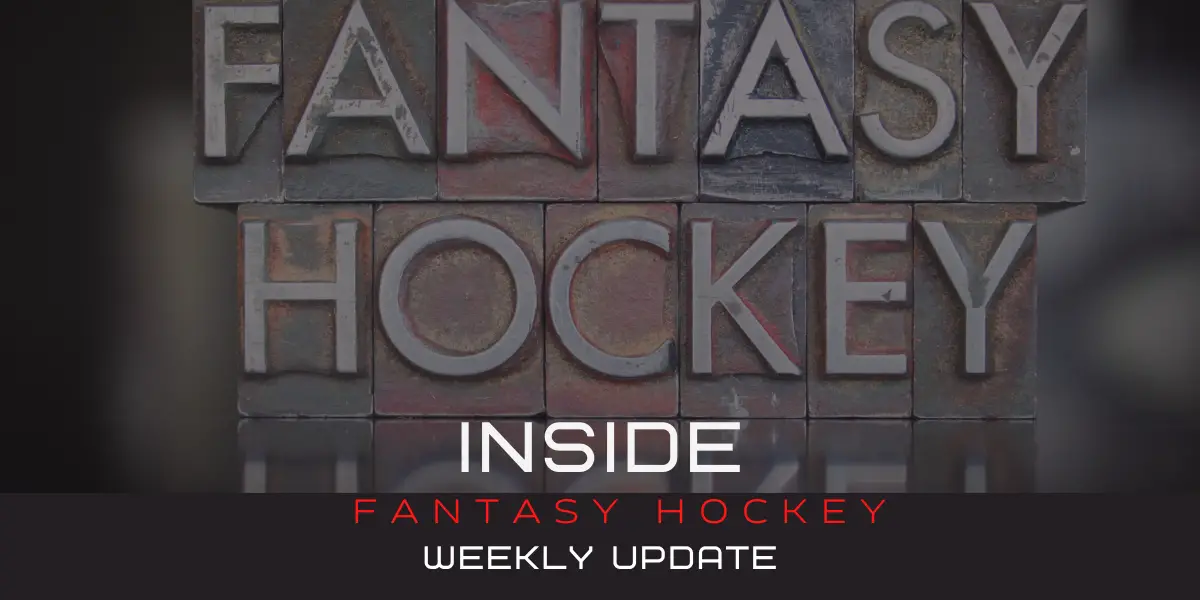 While the NHL season continues to march on, the Carolina Hurricanes, Florida Panthers, Edmonton Oilers, and St. Louis Blues lead their respective divisions. Covid protocol and early-season injury bugs have ravaged the league and the fantasy world at the same time. While a player missing 3 games in an 82 game season isn't the end of the world for a team in the midst of a season, for a fantasy owner, 3 games can make or break your week against that opponent. These two factors have made this season, and the last two seasons very difficult as a fantasy owner. Juggling the IR has become a sport in itself.
So this brings us to the meat and potatoes of this article, the top players in fantasy this last week.
Jacob Markstrom – Calgary Flames
Markstrom is having himself a Vezina caliber to the start of the season. This last week Markstrom won all three games played, recording two shutouts and only 1 goal against. Riding a hot October, Calgary went 6-1-1 and is one point behind Edmonton in the Pacific Division standings. Calgary has a team that is built to make the playoffs and contend, there should be no signs of a slow down for the Flames, especially since General Manager Brad Treliving has been rumored to be looking at the market for players available to bolster the lineup.
Overall the Pacific is a weak division and Markstrom should see continued success on your fantasy team this winter.

Alex Killorn – Tampa Bay Lightning
Killorn had an outstanding week on the Tampa Bay Lightning, 4 goals and 2 assists for 6 points in 3 games this week against Buffalo, Pittsburgh, and Arizona. I mention the teams due to circumstance, Pittsburgh will no doubt be a playoff contender in the Metropolitan Division however, they are missing a good chunk of their important players due to injuries. Buffalo and Arizona should take no explanation, these teams are going to be the field day of the NHL throughout the season for padding some stats. While this was a phenomenal week for Killorn, don't expect him to light up the NHL for the rest of the season. He will come back down to earth a little while still putting up a consistent scoring touch.
Dougie Hamilton – New Jersey Devils
Dougie Hamilton has been passed around the NHL since departing the Boston Bruins in June of 2015. Hamilton signed a 7-year contract with the Devils this offseason in hopes to make New Jersey his permanent home. Hamilton has definitely put his best foot forward to start the season, including this week, putting up 1 goal, 3 assists, and 19 shots! NINETEEN shots, from a defenseman! Hamilton has been known for his offensive prowess and being in NJ where there are not a lot of expectations on the team will help those talents flourish. Expect Hamilton to continue his scoring streak, but keep an eye on his +/-, I expect he will be heavily in the negative even though his production will continue on. Mackenzie Blackwood returning to NJD could significantly impact that however, so keep your eyes peeled!
Waiver Wire
Dawson Mercer – New Jersey Devils
Mercer is a name that most people may not even recognize, kind of the point of the waiver wire in fantasy if you ask me. Mercer is a rookie center on the Devils who is playing with Andreas Johnsson and Jesper Bratt. While the NJD is not expected to make a lot of noise in their division, the amount of injuries across the league is evening the playing field. Mercers' line has found chemistry and the scoring flair on that line should continue to produce. Likewise, with Dougie Hamilton, Mercer could benefit from no expectations in Jersey and put himself together with a rookie campaign.

Victor Olofsson – Buffalo Sabres
Olofsson has been riding the success of the early season stunners, the Buffalo Sabres. Olofsson has 5 goals and 4 assists in 8 games so far this season, an impressive feat from a defenseman on the Sabres. Olofsson currently has an injury and is expected to miss the next game, but have no fear, he will return and the production should continue while averaging 18 minutes of ice per night. Jack Eichel's status is another factor on Olofsson, you can expect that the Sabres will bring some type of roster player or two back in any Eichel deal and those pieces could contribute to some better production from Olofsson.
Isaac Lundestrom – Anaheim Ducks
Lundestrom has been part of the Ducks organization roster plans since 2018 when he broke into the NHL. Lundestrom struggled to stay in the lineup getting a very minimal amount of games the last few seasons. So far this year, IL21 has put up 1 goal and 7 assists for the Ducks in 10 games, this may be the year he finally breaks through and gets a full 82 game season. With the injuries and COVID protocol through the league this year, Lundestrom is a good addition to your roster while waiting for another player to come off the IR, his third-line minutes will give him enough time on ice to sprinkle some points into your weekly competition.