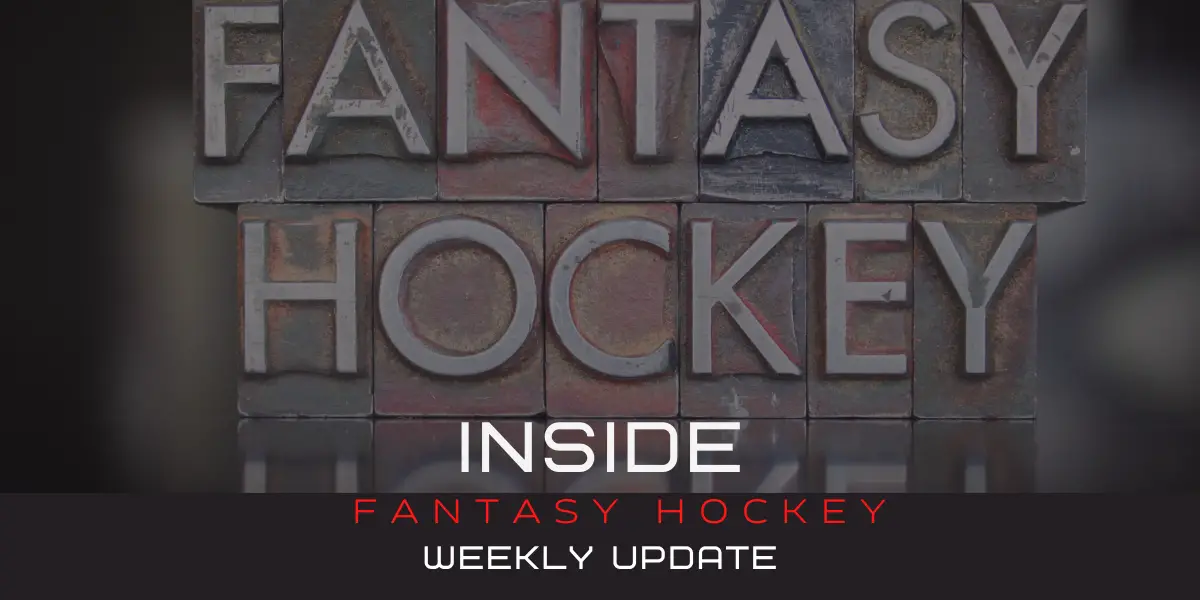 This week was a wild one, filled with some good stories and covid troubles. Vancouver and Montreal continue to struggle early this season, both fan bases bracing for trades or changes. Florida has continued their impressive streak, and Calgary jumps in the mix with an amazing stretch. With the ups and downs of the early season, this week was a fun one!
Fantasy Week All-Stars
Johnny Gaudreau – Calgary Flames
Johnny Hockey has faced a lot of criticism over the last year for his performance on the team and the overall lack of success on the Flames. Rumors circulated throughout the offseason and into the year that Gaudreau could be dealt out of Calgary. Despite the noise off-ice, Gaudreau has put his production into full swing this week with four goals and three assists on 23 shots. The Flames finally look like the team we all expected, which is a plus for Gaudreau. For those fantasy owners who have been nervous about his value due to the trade rumors. If Gaudreau can keep up this pace and keep Calgary in the mix, he will be a valuable piece of your lineup through the winter.
Jacob Markstrom – Calgary Flames
Another beneficiary of the Flames hot start was Jacob Markstrom, posting two wins: a shutout. Markstrom is finally showing signs of his Vancouver times, and Flames fans should be excited. Now that Markstrom has hit his stride, I fully expect him to play at a Vezina level in front of an experienced Flames bench boss Daryl Sutter. Sutter knows what it takes to get a team to a Stanley Cup Final, and you can bet he is driving these principles into his team and preparing them for the long haul. Most importantly, a defense-first mentality will help Markstrom put up some pretty good numbers to finish the year.
Marc-Andre Fleury – Chicago Blackhawks
Being traded out of Vegas wasn't a shock to most in the hockey world, considering Fleurys' contract. That still left a wonder within the league, especially the Blackhawks, if he would retire once traded to Chicago. Fortunately for Chicago, the Flower decided to play. After a complete circus of a start to the season for the Blackhawks organization, Fleury has played to his Vezina potential over the last two weeks. Fleury is currently on a four-game win streak while slated to faceoff against the surging Calgary Flames next. With the additions of Fluery and Seth Jones this offseason, we all expected the Hawks to be competitive and in the playoff picture. After the last two weeks, any fantasy owner with the option to acquire Fleury should be doing that immediately!
Waiver Wire
Scott Wedgewood – Arizona Coyotes
While most of the organization is in shambles and most players of value are on the trading block, Arizona still needs to field a team. Wedgewood is seeing a lot of ice-time with injuries and circumstances this year in Arizona. While you may not think of a Coyote as an attractive fantasy player this season, Wedgewood is consistently facing a lot of shots every game he plays. While he may not get you wins, he will continue to be a points powerhouse due to the number of saves he can make every game. Wedgewood is currently rostered on 5% of fantasy teams and could be a solid #2 or #3 goaltender to boost your weekly point production.
Joel Eriksson Ek – Minnesota Wild
Eriksson Ek has been one of the rising stars for the Wild the last couple of seasons. Over the previous week and a half, JEE has lit the lamp with three goals, two assists, and twelve shots on goal. Minnesota has a young team, JEE being one of the future leaders, the fun part with young teams is the wild scoring action you'll see. This scenario is no different; being able to play with someone of Kaprizovs talent will continue to help JEE be a point producer for the wild. The best part of Eriksson Ek, he is currently only rostered on 49% of leagues this year. Worth a shot during this long season of ups and downs.