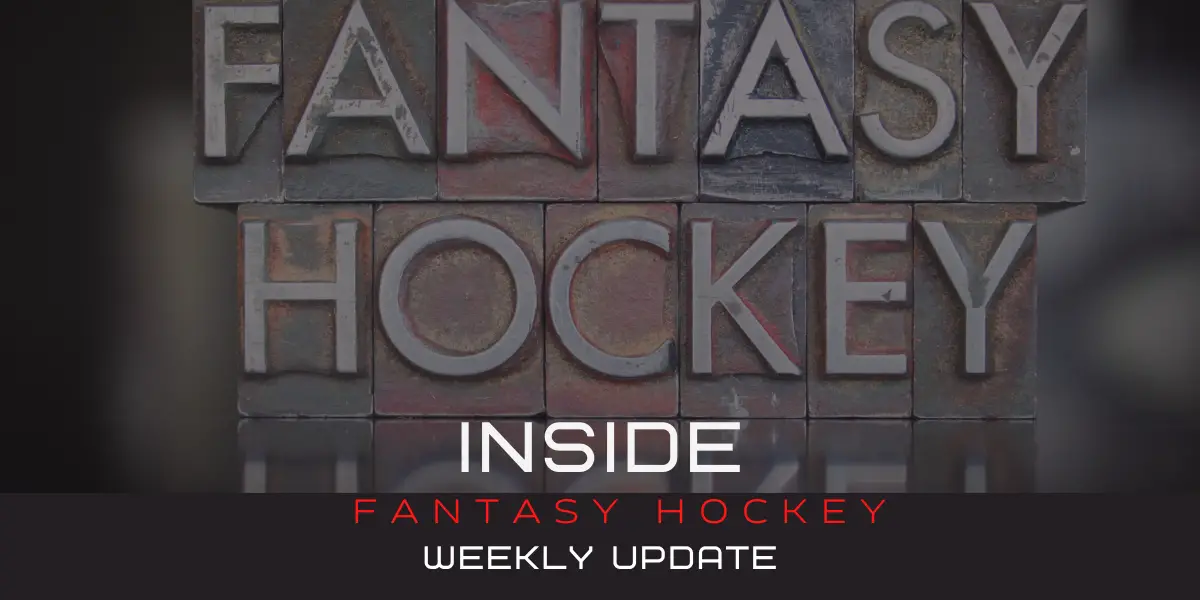 Week nine has come to a close, more than two dozen NHL players have entered COVID protocol, and the sense that the pandemic will drive players from wanting to participate in the 2022 Beijing Olympics is getting stronger. All signs point to a wild ride for the rest of the '21-'22 season, but let's focus on what happened last week! With a resurgence of the pandemic affecting teams, could the NHL bring back the taxi squad for the rest of the season?
Fantasy Week All-Stars
Nathan Walker – St. Louis Blues
This week, Nathan Walker, the first Australian NHL player, tops off the list with an impressive four goals and one assist after being called up to the St. Louis Blues. After a slew of roster transactions, Walker was inserted into the lineup and paid immediate dividends for the Blues. After spending his first five seasons with the Washington Capitals, Walker signed a 2-year deal with the Blues in hopes of finding his way into the lineup. So far this season, he has yet to crack the NHL lineup and has capitalized this week. While Walker may be pushed out of the Blues lineup as their players return, Walker may have earned his way into staying on the NHL roster, not being sent down to the AHL.
Max Pacioretty – Vegas Golden Knights
While Pacioretty has missed time this season due to injury, he is proving that he is a critical cog in the offensive dynamo that is the Vegas Golden Knights. Since returning to the Knights, Patches has tallied eight goals and six assists over an eight-game span. Pacioretty plays on the Knights' first line, along with Mark Stone and currently Chandler Stephenson. The silver lining to the production we see from MP67 is that it should only increase throughout the rest of the season. Earlier this year, the Golden Knights traded for Jack Eichel, who will be looked at as the number one center for the VGK. Having a line combination of Pacioretty, Eichel, and Stone will be a deadly combination. I am very excited to see how this line will perform. I would even go as far as to say those three players will be a point per game when the team is healthy.
Sebastian Aho – Carolina Hurricanes
Even though he missed the final game of the week due to Covid-19, Aho managed to have a great stat line. Scoring five goals and two assists in a three-game span, impressive. While having an overall outstanding season, Aho has tallied fifteen goals and seventeen assists so far this season while leading the Hurricanes to an impressive 19-7-1 start. Aho seems to have finally hit a stride in his game, and I know that he has better statistical years than his start so far, but it's different. Seeing him play and navigate the ice and put himself in a position to score, you can see the confidence and come into his own. I won't lie; I really my opportunities to catch a Hurricanes game because of Aho.
Waiver Wire
Nathan Walker – St. Louis Blue
I have never put a player into this piece twice in a week, but here we are. Nathan Walker has deserved it, without beating the proverbial dead horse here, Walker is the epitome of perseverance, and I have all the love for stories like his in the NHL.
Ondrej Kase – Toronto Maple Leafs
This was the opportunity Kase was looking for, and obviously, the talented forward group of the Maple Leafs doesn't hurt either. Kase has had injury issues for the past few seasons, playing less than a dozen games after being traded to the Boston Bruins at the Trade deadline pre-pandemic. Toronto had made a gamble on a player who would be desperate to prove himself on their roster, and a player who has excellent speed and good offensive instincts. So far this season, Kase has eight goals and five assists and is averaging over fourteen minutes per game. Kase is currently rostered in 20% of fantasy leagues this season. If you've got a player who hasn't met expectations or the Covid/injury bug is affecting your team heavily, pick this guy up.