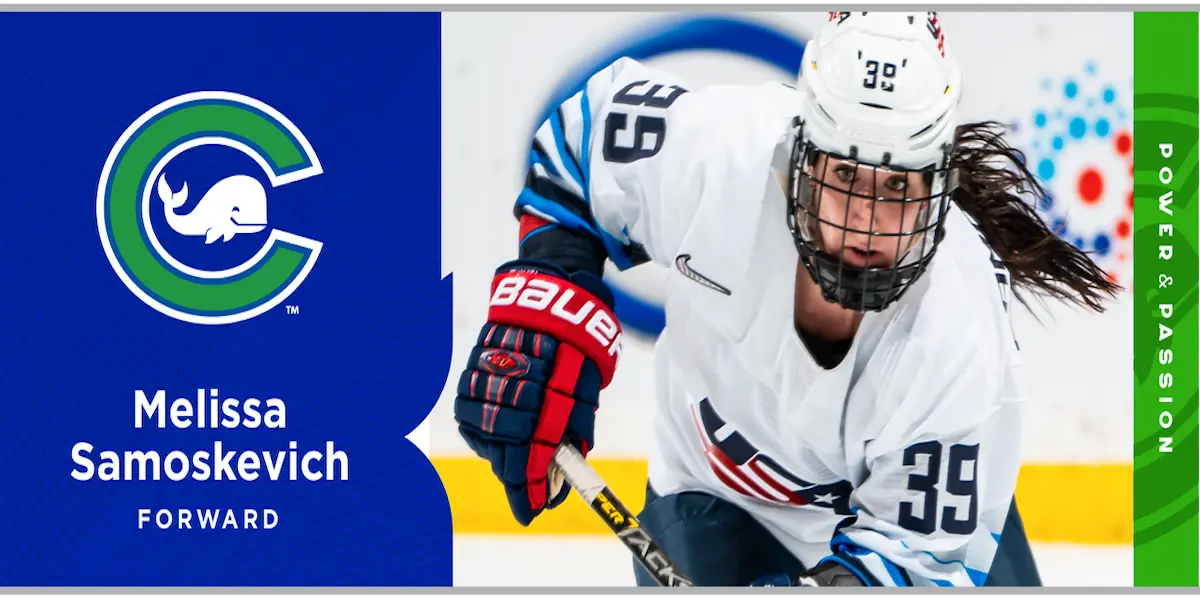 The Whale is coming for the Isobel Cup. They already have a potent offense with Amanda Conway, Taylor Girard, Kennedy Marchment, Emma Vlasic, Janine Weber, and Alyssa Wohlfeiler. On August 22nd, they made it even more potent by re-signing Melissa Samoskevich. The twenty-five-year-old Sandy Hook, CT Native, is returning to her hometown team with a one-year contract valued at $35,000.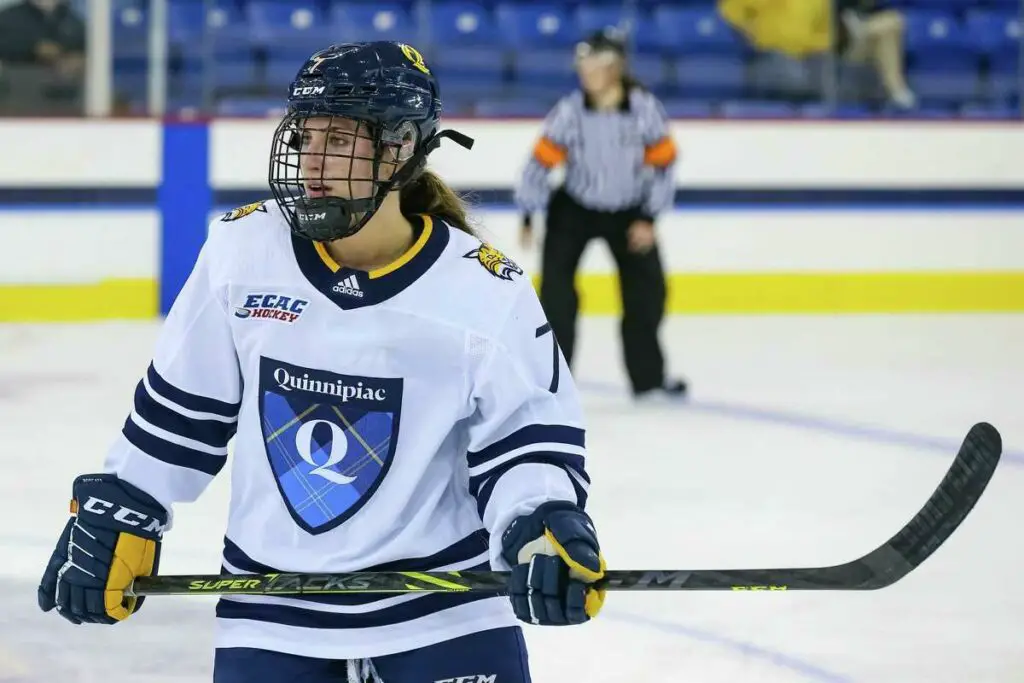 Samoskevich started her hockey journey at Shattuck-St. Mary's in Fairbault, Minnesota. In three seasons (16U 2011/12, Prep team 2013-15), she played 143 games, registered 186 points, and was a captain in the 2014/15 season. 
During her time at St.Mary's, Samoskevich also made her Team USA debut. In 2013, she was a member of the U18 Team for the World Junior Championship and took home silver. She played five games and had two assists. She made the U18 Team again in 2015. She was a tournament leader and one of the top three players with six goals nominated to the Media All-Star Team and took home the gold. She played 11 games for Team USA in 2018, including seven world championship games with two goals and another gold medal. Samoskevich has also played in the USA v Canada rival series six times, both with the U18 and U22 teams.
After her Team USA debut, Samoskevich committed to Quinnipiac University to play NCAA hockey. She played 144 games with the Bobcats and made a statement. In 2016, she was on the ECAC championship team that finished with a 30-3-5 record, a program best, and earned ECAC All-Rookie honors. She graduated with 54 goals and 109 points, fourth overall on the Bobcat's scoring list. In the 2017/18 season and 2018/19 season, she was team captain and led the team in scoring 13 goals, including five game-winners. 
Samoskevich's professional career started in the SHDL with Brynäs IF. In 8 games, she registered 6 points with six assists. She signed her first North American professional contract with the Connecticut Whale in 2020. She played one playoff game and played in seven games in the 2021/22 season. She scored one goal and one assist for two points. Samoskevich was also part of the Whale's first-ever Isobel cup final against the Boston Pride. 
Most recently, Samoskevich has been hired by Quinnipiac University as the Director of Player Development and Operations. This isn't her first time behind the bench; she spent two seasons as an assistant coach for Penn State women's hockey, where she helped the Nittany Lions have their CHA regular championship season. 
Samoskevich is an excellent move for the Whale, and the Team is very excited to have her back. General Manager Alexis Moed said in the Team's release, "Even in her limited time with us last season; she proved to be a workhorse who improved every game." She adds to an already elite group of forwards. She's powerful, plays both ends of the ice, has excellent offensive sense, and her coaching experience will make her a leader in the locker room. 
As Samoskevich gears up for her second PHF season, the Whale are gearing up for one fantastic season that may see them back in the cup finals. They are putting together a team with depth and experience that is prepared for whatever comes their way. This is going to be an exciting season. If you're not a Whale already, you may want to become one.