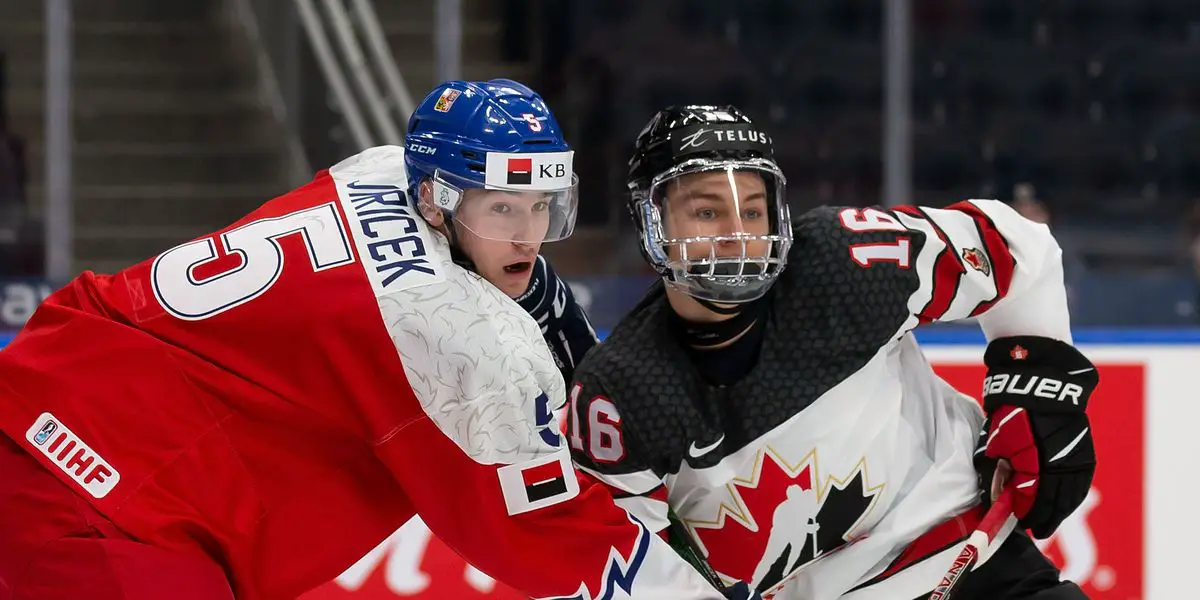 Drafts are a funny thing. Some players rise, some for no reason fall, and some fall because a surprise pick was made. That was the case in the 2022 NHL Draft when the Columbus Blue Jackets saw defensemen David Jiricek fall to them at No. 6. Elite Prospects had Jiricek ranked No. 2 behind Simon Nemec. Nemec went No. 2 overall to the New Jersey Devils. The Blue Jackets have called Jiricek up as Adam Boqvist has landed on IR due to a broken foot.
David Jiricek is the Blue Jackets top prospect. There is a lot to like about his game. The Blue Jackets have had difficulties grasping the newly implemented man-to-man defense. Jiricek is a staunch defenseman who thrives in man-to-man. His size allows him to close the gap with strong skating, quickness, and good lateral movement.
Jiricek is very good at forcing the attacker to the outside, something Blue Jacket defenders have struggled with. During training camp, Jiricek was one of the final cuts; it turns out he is among the first call-ups for the organization. While Jiricek has not scored many goals, he does have the offensive ability. In five games with the Cleveland Monsters, Jiricek had four assists and 4 points.
Again, Jiricek is a strong skater. His stickhandling is excellent. Jiricek has shown good vision and solid passing ability. He can start the transition up ice with his passes or his above-average puck handling. Jiricek can also quarterback a power play and is very good on the penalty kill.
What can not be overstated is that David Jiricek fits what the Blue Jackets are transitioning into. A man-to-man defense, which the Blue Jackets have been close to pitiful at picking up, Jiricek excels at man-to-man. The Blue Jackets have looked alright at times, but it has not been consistent. Perhaps, even though he is a rookie, Jiricek can be a shot in the arm the defensive unit needs.
Projected as a top-six defensive player pre-draft, it comes with merit. Jiricek was solid for the Monsters, and it became apparent quickly that his time in Cleveland would be short. Unfortunately, it took a player going to IR for the call-up. Ironically, the player whose roster spot Jiricek is taking (Boqvist) was one of the players who struggled mightily picking up the defensive scheme. Boqvist had been a healthy scratch in three straight games before playing against the Arizona Coyotes when he was injured.
Jiricek joins fellow 2022 NHL draftees Jaruj Slafkovsky (Montreal) and Shane Write (Seattle) as the only three rookies to play NHL games, as Jiricek will draw into the Blue Jackets lineup tomorrow night as the Boston Bruins come to town.
The boys are back after a long break but have plenty to talk about as the playoffs are in full swing. We go series by series, looking at how teams have fared so far and who will come out on top. Thanks for listening! Please rate and review our show on your favorite listening platform. Check out our partner's website at www.insidetherink.com for all your latest hockey news.