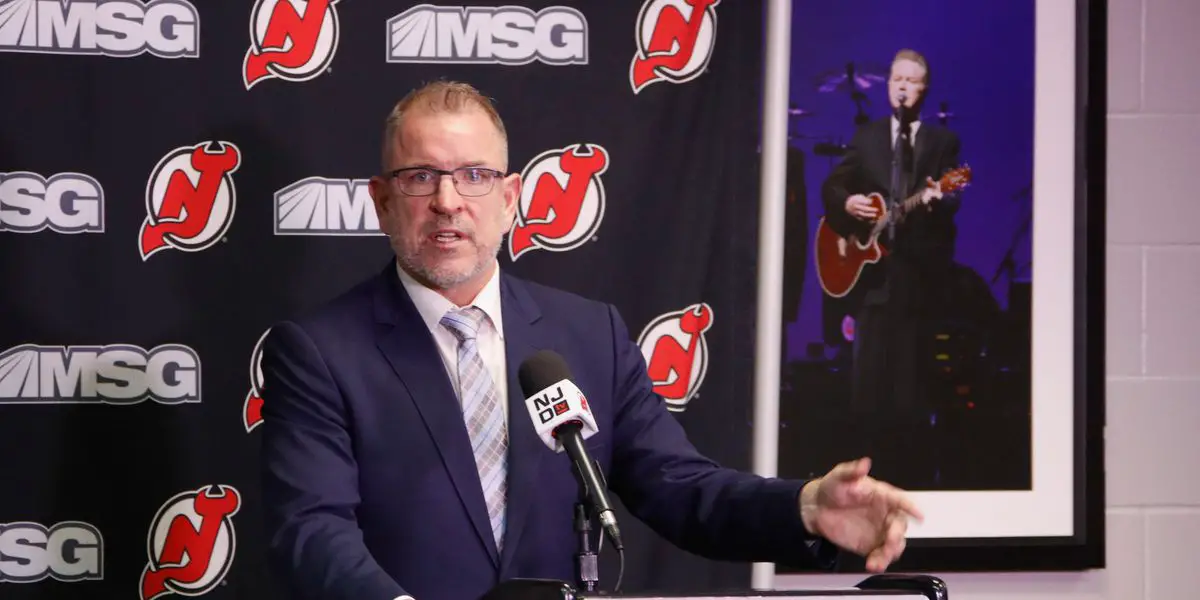 While the Stanley Cup Final is going on, the offseason has started for every other club. Organizations are looking for coaches, and others are examining ways to improve their teams for the next season. The lottery draft has already come and gone, and teams know their fate. Montreal was the big winner in that regard, but the biggest light shines brightly on the New Jersey Devils.
The Devils are no stranger to winning the lottery or a high selection. They have constructed their current core through those winnings. In 2017 the Devils earned the right to the first overall pick selecting center and current captain Nico Hischier. The club then won it again in 2019 and selected superstar in the making, Jack Hughes. Both have been signed to long-term deals. The focus remains on what the Devils do. Do they keep the pick and select a player to add to their more? Or do they trade it for a proven player worthy of a pick?
Trading The Pick
A few weeks ago, Tom Fitzgerald mentioned that he would be meeting with this staff. Together they would compile a list of players worthy of trading the pick for. The man wants to win and be more competitive. He showed it last offseason when signing defensemen Dougie Hamilton and trading for Ryan Graves. When you look at the second overall pick, you think of a player that's a generational talent. And while there are a few names on the chopping block, Fitzgerald needs to see if they are worth trading for.
The Devils have been linked to Minnesota Wild winger Kevin Fiala. While he may not be worth the second overall pick, he had a good season. In 82 games, he scored 33 goals, 52 assists, and 85 points. That would've made him the highest point-getter on the Devils. With Bill Guerin having his hands strapped cap-wise, it wouldn't necessarily cost the pick to land him.
If the player does not sign with Boston, then New Jersey should drive down there and go pick him up. David Pastrnak is a scoring winger the Devils need. He has eclipsed the 30 goals mark three times and has hit 40 goals twice. If not for the 2019-20 season shortened by the pandemic, he would have had 50.
These players are examples of the type of players that you move the pick for. A player who is established can impact your lineup immediately and doesn't require development. Whether it remains to be seen what they will do, all eyes are on Tom Fitzgerald.
Draft A Building Block Player
All eyes are on Montreal. While they are unsure who they will select, the Devils get the next pick. It would be a Christmas miracle if Shane Wright fell right into the lap of the Devils, but if not, there are two other players high on the radar. The Devils could look to select either center Logan Cooley or power forward winger Juraj Slafkovsky. Both are talented and fulfill needs on offense; it is just a matter of what they are looking for.
Closing Thoughts
Moving the pick for a proven player makes sense as long as the player they go after is worthy of the pick. You do not trade a high selection choice pick for a lesser value. That is not to say the player they draft lives up to that pick, but you see what I am saying. Drafting a young player to go with the young core of Nico Hischier, Jack Hughes, Jesper Bratt, and Dawson Mercer could bode well for the Devils shortly. All eyes are now set on the Devils; there could be joy or pain in Devils Nation come July.
Episode 51: Interview w/Jack Ahcan Episode 51 is back in action talking about the New York Paingers ITR bet, Can Buffalo Sabres make the playoffs? Is Vancouver in the wrong on the Boudreau treatment? Is Tocchet the right guy? Is Daryl Sutter the last Dinosaur in the NHL?YouTube: https://www.youtube.com/@insidetherinkTwitter: https://twitter.com/CueTheDuckBoatzFacebook: https://www.facebook.com/Cuetheduckboats/Thanks for listening! Please rate and review our show on your favorite listening platform. Check out our partner's website at www.insidetherink.com for all your latest hockey news. Also, catch all of the games in this year's NHL season by signing up for ESPN+ at Insidetherink.com/ESPN