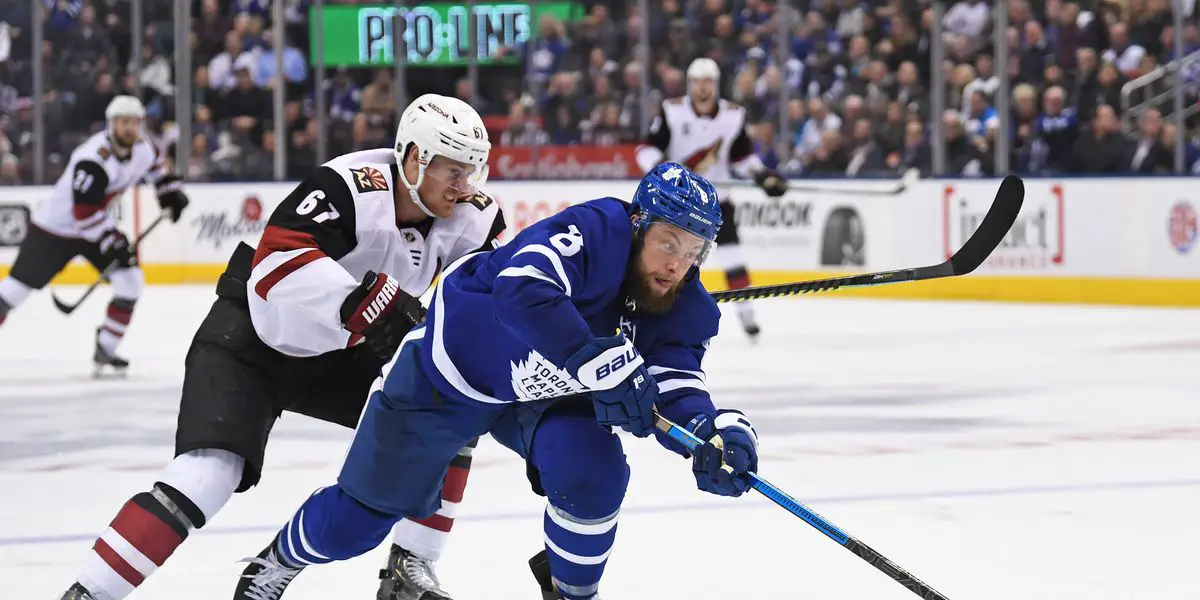 It is not a surprise to the Toronto Maple Leaf fans that the team has a log jam on their back end, specifically the left side of their defense. With the recent re-signing of Mark Giordano, it could put the Leafs in a spot where they try and ship out the contract of Jake Muzzin. Although he was solid in the playoffs alongside TJ Brodie, he has had some injury issues that have weighed heavy on his game, so what does this all mean for Jake Muzzin's future with the Toronto Maple Leafs? It wouldn't be an uncommon answer within Leafs Nation to have him stay and play alongside Brodie again and attempt to break through the first round again, but is that realistic with the salary cap issues the team has to deal with. 
The 33-year-old left-handed defenseman has two years left on his current deal at an AAV (Average Annual Value) of $5,625,000. He also has a no-trade clause that truly limits what the Maple Leafs can do. However, there still is a chance that he could be moved. There could be teams that could have interest in him and teams that will be interested in his services. Muzzin plays a hard-nosed defensive-style game that can jump into the rush and slap one by the goaltender, an attractive element, but he also has an excellent reputation around the league. These factors can play a massive part in a trade to another team, as long as he okays the deal. But the question is, what teams would be good suitors, and what ones would he waive the no-trade clause to go to? Well, we will look at suitors that I feel could benefit from a player like Jake Muzzin and the base of a trade that I would look at doing to move out that contract. 
I feel that the only team that we could assume he would waive to go to is the Los Angeles Kings and being able to return to where it all started for him. The other few trades are teams that I think would jump at a trade to acquire Jake Muzzin. 
Trade Proposals: * these trades are set for this offseason at the draft *
#1: Returning to the Los Angeles Kings
Los Angeles Kings:
Toronto Maple Leafs:
This deal will create cap space for the Maple Leafs and give the Kings another veteran defenceman to help teach their young core. There could be a real chance that Toronto could bring back a player in this deal, whether it be an experienced depth player like Brandan Lemieux or a younger talent such as Aidan Dudas or Jaret Anderson-Dolan. However, the primary purpose behind this trade for me is to recoup some draft capital and dump a decent size cap hit. 
#2: Mentoring the back-end in Detroit  
Detroit Red Wings:

Jake Muzzin (two years at $5,625,000)

Toronto Maple Leafs:
This trade addresses a need for both teams, Toronto lacks a player with the kind of playstyle like Tyler Bertuzzi, and Detroit lacks a defenceman who can log top-line minutes and mentor the younger back-end core. The added parts of the draft pick are to offset the cost of the contract changing hands, so the Maple Leafs don't need to retain any money for the second year of Muzzin's remaining years. The addition of Kase is a unique addition, but I feel that Toronto needs to decide on giving either Engvall or Kase a raise, and I would choose Engvall. Since Kase is an RFA, I thought that it provides Detroit control over his rights and a possible extension, as well as Kase seems like the type of player that could fit in the Red Wings system. 
#3: Joining the powerhouse Colorado Avalanche:
Colorado Avalanche:

Jake Muzzin (two years at $5,625,000) 

Toronto Maple Leafs:

Oskar Olausson (Entry Level Contract, three years at $894,167)
If Jake Muzzin has the Avalanche on his list of teams he agrees to waive to go to, and they are interested in acquiring his services, you have to get a deal done. The Avalanche has an above-average prospect pool for a top-tier team, so there are lots to choose from. In this trade, I have the Maple Leafs getting former Barrie Colt Oskar Olausson, a good OHL player, and a 1st round picks in the 2021 NHL entry draft. Jake Muzzin is still a good defenceman, and with a team like Colorado who has a lot of UFA's this offseason, you need to make them pay to get Muzzin. That is why I also added a 3rd round pick in 2023, which can turn into a good depth (Top 9) player down the road for the Maple Leafs. I also have the two teams swapping 6th-round picks in different years to help offset their assets within both teams' organizations. 
These trades are based on my opinion, how I value the players or assets in each of these trades, and the trade position included in the deal. It is a given that a team like Colorado would need to pay more to acquire a guy of Jake Muzzin's caliber, the trade with Detroit would be more of a hockey trade that could help shake the culture in both locker rooms. The trade with Los Angeles would be the only team that I could see Muzzin wanting to go to if he does waive his no-trade clause and leaves the Toronto Maple Leafs.