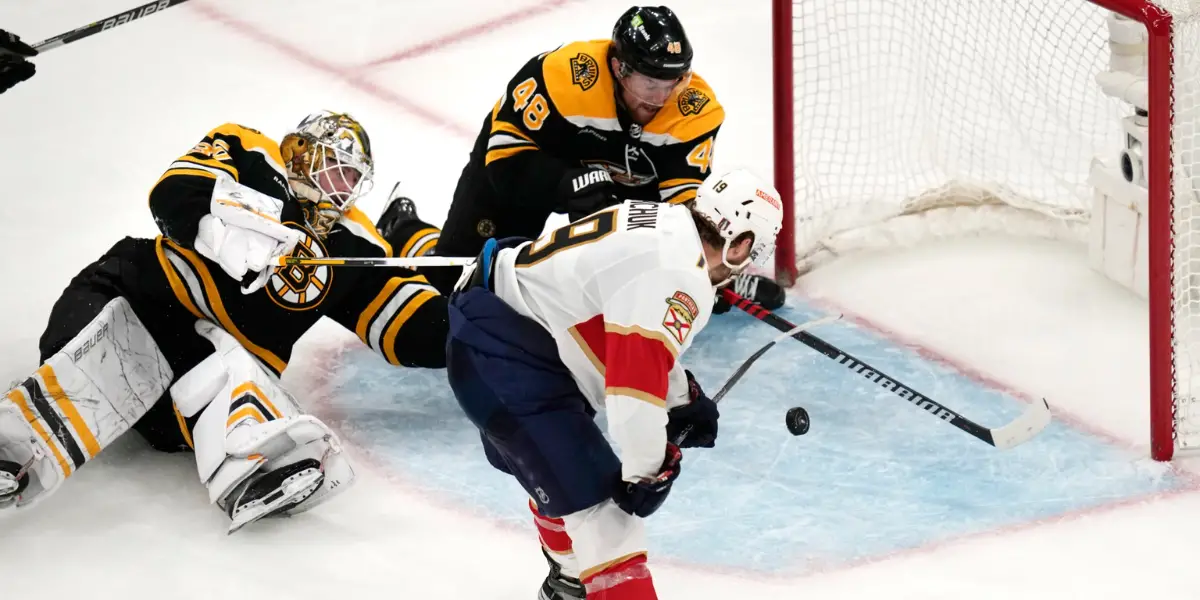 As members of the Boston Bruins clean out their lockers after suffering a historic upset after winning 65 regular season games in 2022-23, the organization is left to wonder just what happened to a team that collected 135 points and lost to a Florida Panthers club that had 43 fewer points than Boston during the season. Losing in the first round of a playoff series is always difficult, but it may never again be this hard. On top of that, the loss may signal the end for two longtime Bruins greats, Patrice Bergeron and David Krejci. And as Bergeron said postgame, "It's hard to process anything."
The Bruins showed few holes during the season and added depth at the trade deadline. Boston lost just 12 games in regulation all season. Coming into their first-round series with Florida, the Bruins were heavy favorites and won Game 1 without playing their best. After a Game 2 loss where the Bruins had 15 giveaways, it seemed that Boston had righted the ship by taking both road games to take a commanding three-games-to-one lead without the services of their injured captain Patrice Bergeron. All signs pointed to the Bruins winning Game 5 and advancing. Easy breezy.
But then something happened in preparation for Game 5 in Boston that was a real head-scratcher. Head Coach Jim Montgomery announced that Bergeron would make his series debut but would not be reunited with linemate Brad Marchand as Montgomery tossed the lines in a blender inexplicably. About eight minutes into Game 5, Montgomery changed the lines back, but the Bruins were already chasing the game and fell behind three times before losing overtime.
Then there was the goalie situation. Linus Ullmark was visibly favoring an injury, and as NHL analyst Kevin Weekes reported, Ullmark had a debilitating and painful injury. But Montgomery kept playing him while capable backup Jeremy Swayman was waiting in the wings. Ullmark proceeded to allow six goals in a 7-5 loss in Game 6 in Florida. Swayman was then called upon to play Game 7, just the fifth goaltender to debut in a particular series in the seventh game. Swayman allowed a soft goal early but played admirably in the deciding game.
How about adding defenseman Connor Clifton into the lineup in Game 6 to replace Matt Grzelcyk? Clifton turned the puck over, which led to a Panthers goal early, committed a penalty, and was a minus-3. The move backfired, and Grzelcyk re-entered the lineup in Game 7.
Ultimately, the Bruins beat themselves with poor puck management, declining goaltending, and confusing coaching decisions. Taylor Hall led the Bruins with five goals in the series and was a plus-4 in five-on-five play, but he saw his minutes diminish as the series continued. In the first period of Game 7, Hall played three minutes of ice time. It was another strange development in a series that was making less and less sense.
Was it a choke? Did the Bruins play too tightly when the Panthers started to surge back? The answer to both questions is probably yes. Did the coach overthink too many decisions that would come back to bite the team? Again, yes. When all was said and done, the Bruins created a perfect storm of mistakes that cost them their historic season.
Season 3 Premiere! Bruins Prospect Challenge recap. Training Camp begins. The Bruins have a new captain. Jake DeBrusk contract negotiations beginning soon. The Bruins Historic 100 and new sweaters!  The Centennial season is here! DraftKings Sportsbook – Boston's hometown Sportsbook is LIVE right here in Massachusetts! Bet local on all your favorite sports from the comfort of your own home with DraftKings. To celebrate, ALL new customers will receive up to TWO HUNDRED DOLLARS in BONUS bets when you sign up for DraftKings Sportsbook using code ITR! You can now bet local on money lines, spreads, props, and more with one of America's top-rated Sportsbooks – DraftKings Sportsbook!  Download the DraftKings Sportsbook app and sign up with code ITR to get up to TWO HUNDRED DOLLARS in BONUS bets to use now that mobile sports betting is live in Massachusetts. That's code ITR only at DraftKings Sportsbook. If you or a loved one is experiencing problems with gambling, call 800 327-5050 or visit helplineMA.org to speak with a trained specialist, free and confidentially, twenty four seven. 21+. Physically present in MA. Eligibility restrictions apply. Subject to regulatory licensing requirements. Eligibility and deposit restrictions apply. Opt in required. Bonus issued as free bets. Terms at draftkings.com/MA.