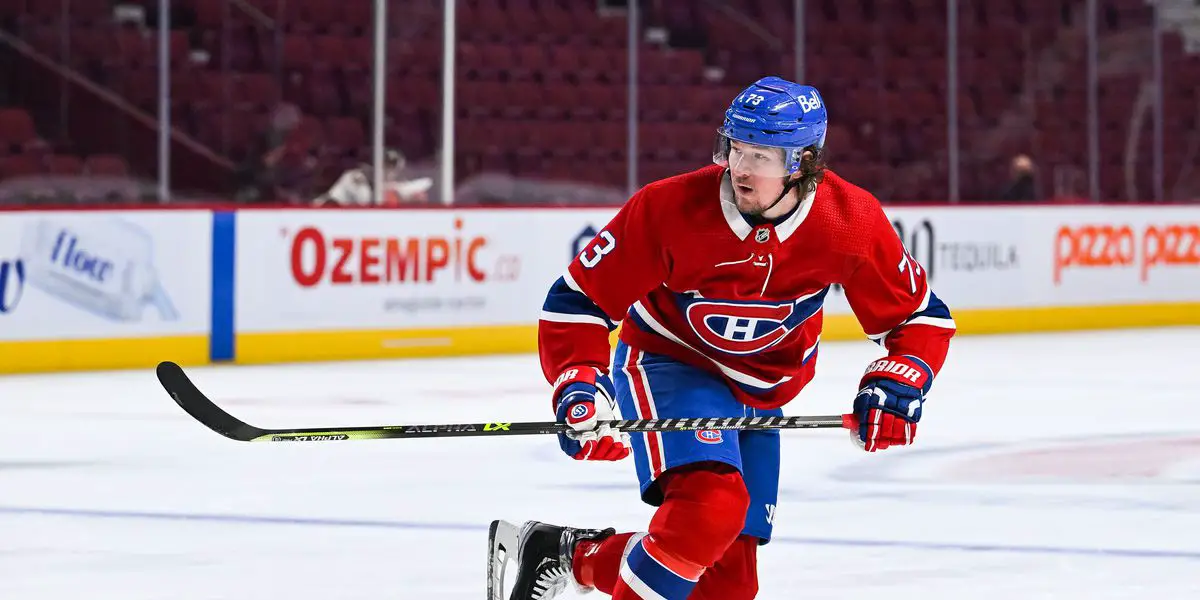 With the Montreal Canadiens ending their season with media availabilities recently, it's been a long, long, long season for fans. With playoffs right around the corner, Canadiens fans need a team to cheer for. Let's look at all 16 teams and make a case for why you should cheer for each.
Eastern Conference
Florida Panthers
Ben Chiarot got a lot of flack for his poor defensive game this season, committing turnovers, and being a problem on the breakout. Chiarot got traded on March 16th to the Florida Panthers, and they look to have one of the strongest defense cores out of all 8 Eastern Conference teams.
The Panthers are so deep defensively that Chiarot is slotted in on the 3rd pairing whereas, on Montreal, he was constantly playing top-4 or even top-2 minutes. It's always good to see a former Hab in the playoffs. Indeed, there are plenty of them. Canadiens fans know that Ben Chiarot's physical game style is made for the playoffs, and you don't want to go into the corners with him.
Washington Capitals
If you like cheering for the underdog, then this should be a team you might want to cheer for. They are heavy underdogs going up against the Presidents trophy-winning Florida Panthers.
It looks as though Ovi is good to go for game one, which should excite fans. He has 71 goals and 135 points in 141 career playoff games, and we can expect him to step it up even more.
The Capitals have many questions heading in, and one of the more glaring questions is the goaltending department. How well can Vanecek play? Will they eventually turn to Samsonov? The Capitals recalled Fucale this morning which led to even more questions because it seems a bit eerie that a team would carry three goalies in the playoffs. Maybe Fucale is challenging Samsonov and Vanecek for being the game one starter? During their 2018 Stanley Cup run, the Capitals started with Philipp Grubauer instead of Braden Holtby, which shocked many.
If you're looking for a former Habs player to cheer for, look no further than Lars Eller and Zach Fucale – with the latter just being recalled this morning. Lars Eller played a key role in the Capitals Cup win in 2018, and with Mantha and Oshie on his line, we can project him to have a strong playoff run.
Tampa Bay Lightning
It's truly incredible to see how well Steve Yzerman and then Julien Brisebois built the Lightning to be in contention for a chance to win three consecutive Stanley Cups, which would be a modern-day dynasty.
Throughout the 2021 run to the Stanley Cup Finals, I was a big Corey Perry fan. Hoping he would re-sign with Montreal, he made the best decision considering the stage of his career and went and signed a 2-year contract with the Tampa Bay Lightning, the team that beat him in the Finals.
He finished this season with 19 goals and 40 points in 82 games as a 36-year-old—what a bargain of a contract.
Toronto Maple Leafs
No. It was 3-1. They are probably going to choke another series in 7 games.
Boston Bruins
No.
Carolina Hurricanes
The Montreal Canadiens have "2" former players on the Hurricanes with Sebastian Aho and Jesperi Kotkaniemi. One of them was only signed for eight days until the Hurricanes matched the offer.
Kotkaniemi's first season with the Hurricanes finished with 29 points in 66 games. He was deployed mainly on the bottom six throughout the season and rarely saw ice time in the top 6.
Pittsburgh Penguins
This has been a dominant team for the past decade and a half. They've made the postseason 16 straight times!
Throughout those 16 postseason appearances, it feels like the Penguins always step it up a notch in the playoffs. Sidney Crosby will be the obvious notable, and as of late, he hasn't played up to superstar standards. In the last three playoffs, he had 1 point in 4 games in 2019, 3 in 4 games in 2020, and 2 in 6 games. The Penguins will need more from their captain to succeed against the New York Rangers.
This is likely the last time the core of Kris Letang, Evgeni Malkin, and Sidney Crosby get a chance at the Stanley Cup. With Tristan Jarry being out week-to-week, the first-round matchup against the Rangers is harder to go against as you may be forced to start one of Louis Domingue or Casey DeSmith.
New York Rangers
I think this was one of the surprise teams this season. The New York Rangers have built a tough, gritty team that no one should be looking forward to going up against.
There aren't many former Habs to cheer for on the Rangers, but they have some fun players like the smooth-skating Adam Fox or Artemi Panarin, who seem to just dance around defenders at will. Igor Shesterkin is another player you should cheer for as he put up crazy good goaltending stats this season. 2.07GAA, 9.35SV% and 6 shutouts. Those numbers rivaled Carey Price's when he swept the awards in the 2014-15 season.
Western Conference
Dallas Stars
Most Canadiens fans may want to choose the Stars as their team to cheer for in the playoffs. The sooner the Calgary Flames get eliminated, the higher up the Flames first-round pick is, which was traded to the Montreal Canadiens in the deal for Tyler Toffoli.
Former Hab Alex Radulov has had it rough this season and has seen a drop in his production. For someone known for his shot and offensive side of the game, four goals are lackluster and will be counted on to show up in the playoffs if the Jason Robertson-Roope Hintz-Joe Pavelski line doesn't show up.
Calgary Flames
Tyler Toffoli became a fan favorite in Montreal when he signed a 4-year contract. With Montreal, he scored 37 goals, 70 points. He embraced the team's culture, which was evident in his article in The Players Tribune.
But I haven't come close to winning a Cup since. I think about that every day. I really do. And it bothers me. That's one of the reasons I wanted to come to Montreal. Because I feel like this team, this city, feels the same way I do: We're hungry for a Cup."
Toffoli comes to the Flames with Stanley Cup experience and won his first Stanley Cup ring in 2014. The Flames are probably the most complete team and most built for the playoffs.
Los Angeles Kings
Another surprise team this season was the Los Angeles Kings. Many people had them outside of the playoff race, and they have shocked everybody and qualified for their first playoffs since 2018.
Phil Danault and Anze Kopitar will have their hands full trying to shut down the Art Ross winner in Connor McDavid and his duo Leon Draisaitl.
Montreal Canadiens fans will remember Phil Danault for his superb defensive style of play that shut down elite players such as Mark Scheifele, Mark Stone, William Karlsson, Auston Matthews, and even more. He signed a 6-year contract with the Kings, and it is off to a pretty good start.
In his first year wearing the Kings uniform, Danault finished with 27 goals and 51 points, which is a career-high for him.
Edmonton Oilers
It was rough for the Oilers as they were in the midst of a stretch that saw them on the outside looking in for the playoff picture. Ken Holland pulled the trigger on February 11th that saw Dave Tippett get fired and Jay Woodcroft promoted. Ever since then, it has been looking great for the Oilers.
Mike Smith is coming off a fantastic month of April that saw him earn the honor of NHL's three stars of the month. He had nine wins, two shutouts, .951SV%, and a 1.66GAA. The Oilers are riding hot right now, and Mike Smith looks as dominant as ever.
Montreal traded Brett Kulak on March 21st. He has always played a stable role for both Montreal and Edmonton. Canadiens fans may want to see him succeed as much as possible. He was one of the best defencemen in Montreal before getting traded.
This postseason, the Oilers may be one of the hungrier teams due to having the 4x Art Ross winner in Connor McDavid and Leon Draisaitl.
Nashville Predators
Smashville. Section 303 will be buzzing for games 3 & 4. Another major underdog team going into the playoffs, and what's not to like about upsetting a Stanley Cup favorite in Colorado.
Throughout the 2021 playoffs, Montreal was heralded as the underdog. If fans want absolute chaos to ensue, cheering for the Predators to upset the heavily favored Colorado Avalanche is the way to go.
The Predators have two former Montreal Canadiens, Nick Cousins, and Michael McCarron. Both will play a prominent role in the bottom six and try, and you can bank on both of them trying to set the tone early in the series.
Colorado Avalanche
What's not to like about the Colorado Avalanche? Cale Makar, Nathan MacKinnon, Gabriel Landeskog, Mikko Rantanen. They have one of the best rosters and can go toe-to-toe with anyone that comes in their way.
The last few playoff appearances haven't gone their way as it's very similar to that of the Washington Capitals as they seem unable to get past the 2nd round. Maybe this is their year.
Many Canadiens fans may choose the Colorado Avalanche as their team, rightfully so because the Habs traded Artturi Lehkonen to the Avs on March 22nd.
Lehkonen was an excellent pickup for the Avalanche and will be a key performer come playoff time. Many people remembered Lehkonen for his series-winning goal against the Vegas Golden Knights last summer.
St. Louis Blues
Gloria! Gloria! Gloria! The Blues are coming into this year's playoffs as one of the hottest teams in the league, and their offense looks virtually impossible to stop.
Marco Scandella is the former Hab that is on the Blues right now, and he played with Montreal during a portion of the 2019-20 season before being flipped to the St. Louis Blues.
The Blues are looking for better fortune this time around. Their last playoff appearance resulted in a four-game sweep by the Colorado Avalanche.
Minnesota Wild
Kirill Kaprizov is one of the most captivating players in the league and set a new single-season franchise record for the Wild with 43 goals this season. The Wild are going into the playoffs on an 8-1-1 run in their last ten games, and no matter who they start, they are in a good position against the Blues.
A trio of Montreal Canadiens are playing with the Wild right now. Jordie Benn, Nic Deslauriers, and Jon Merrill. The first-round series against the St. Louis Blues should be one of the most exciting playoff series.
What team you ultimately cheer for is up to you, but I made a case for each team. There are a lot of former Montreal Canadiens players that will be in the playoffs this year, and it will be fun to watch.