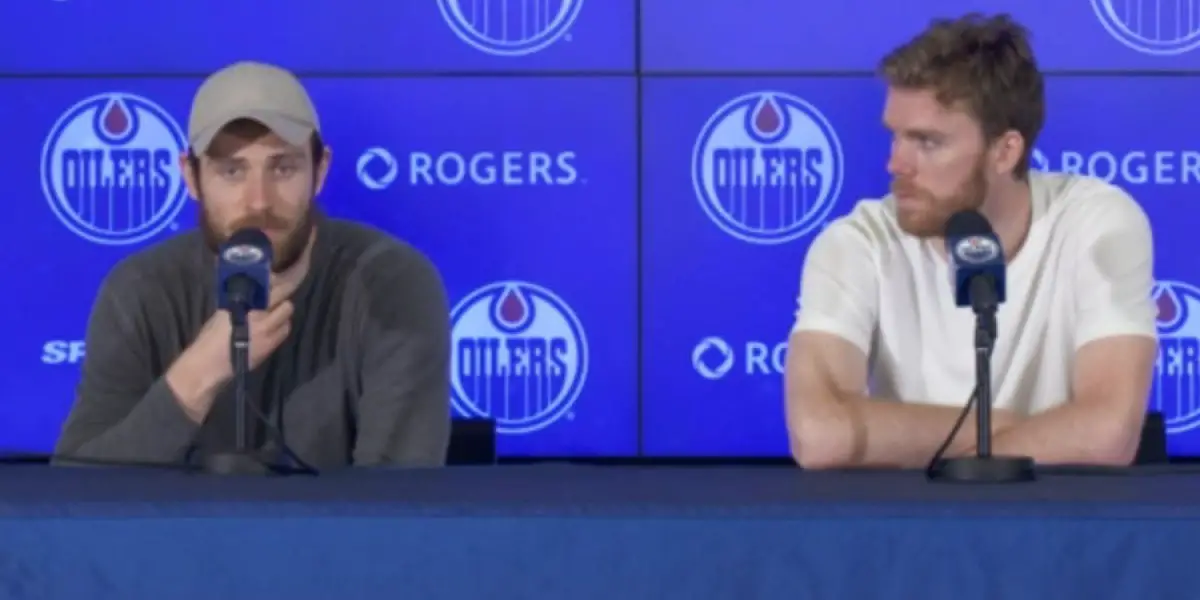 You could've made a drinking game out of all the times Ken Holland used the word "devastated" when talking about the mood of the Oilers franchise in this week's end-of-season press conferences. Instead of starting Round 3, they cleaned out their lockers earlier than they wanted. Three 100+ point players, including Ryan Nugent-Hopkins for the very first time. A goaltender nominated for Rookie Of The Year. Connor McDavid having the best individual season in the salary cap era. Leon Draisaitl breaking Playoff records. None of that is a concern for the players.
After reaching the Western Conference Finals last year, there was shock within the locker room that the increased expectations in these Playoffs were not met. It makes this year's postseason results hurt more. The team looked like they'd be a real Playoff threat when they ended the regular season being red hot at the right time with a 14-0-1 record. But as also evident by the Bruins and Avalanche, results are decided on the ice, not on paper. Both McDavid and Draisaitl looked like they'd just shared their version of Nathan MacKinnon's "Been here long, haven't won bleep" moment when signing off before the start of their summer. But despite the obvious disappointment, fans felt more optimism for next season than this one, if you can believe it. There will be anxiety when Connor and Leon need new contracts, but they were very strong about their commitment and desire to win in Edmonton. "There's nowhere else we want to win," said Draisaitl. And McDavid praised how greatly the franchise's culture has started trending upwards for as long as he's been an Oiler.
The team must take these frustrations and difficult mornings as a lesson that nothing is guaranteed in Playoff hockey. It all comes with maturity and growth. It'll feel good when they finally get to where they need to be, but it's not yet. Holland usually doesn't like to make bold deals involving draft picks and prospects if he doesn't think his roster is good enough to make a long Playoff run year after year. He would not invest in green bananas, as he put it. Hearing him keep the expectations high is a sign that we can expect more impactful moves from here on out. Even if it's not the sexy headliner, he may not drive fans crazy with his overly patient demeanor anymore. My thoughts on this year's Playoffs are…
Overcooked Stu
It is not Stuart Skinner's fault that he burnt out mentally throughout this postseason. This needs to be made clear, and he is still most deserving of the Calder Trophy, in my view. However, while you can't blame him for every goal against, it becomes increasingly impossible to have Playoff success when allowing four goals a night. I understand that Jay Woodcroft wanted to keep his faith in someone that saved the team's season in net. But that is still way too much pressure on a young goaltender. Jack Campbell made Oilers fans forget about his disastrous regular season in the games that he played in relief of Skinner, including the comeback from 3-0 down in Game 4 of Round 1. Soup's regular season stats didn't matter anymore as the Playoff stat sheets and eye test mutually agreed that he deserved another chance. Playoff hockey is where unlikely heroes are born, and I think we missed a good chance to see a big one in more than just one game.
Bigger Guns With No Trigger
The blame on the lack of scoring outside of the top 6 is a tad misguided. Edmonton's entire bottom six combined scored more goals than two thirds of their top 6. It's only a one goal difference, but we still expected more from a few top/second line forwards. Yes, there should've been a double minor given to Vegas for the high stick on a bleeding Mattias Ekholm late in Game 6. But as historical and otherworldly as the powerplay was, you can't always rely on it to miraculously make you forget the periods this team tends to take off some nights. I can give Evander Kane a pass because he dealt with tough injuries all year, and I thought he came back from his cut wrist a tad early during the regular season. All of that robbed us of the Kane that led last year's Playoffs in goals. Nugent-Hopkins only scored one Playoff goal in response to the best regular season of his career. He's an important player in other aspects of the game, but I suspect he will hold himself accountable for that lack of offense in the last month. Zach Hyman was at least an OT hero in the first round, but he wasn't the same Hyman we watched in last season's second round against the Flames. The series-clinching goal in Round 1 was Kailer Yamamoto's only highlight (a really big one at that), and he's just too small for a long-term top 6 role in the Western Conference. The bottom 6 stepped up when they needed to, but Round 2 saw a drop off in depth scoring as opposed to Round 1.
How Many Changes?
They don't need to blow it up. Their window to win a Cup just opened, and they are still in a respectable position. But we can expect two or three cap casualties this summer to re-sign key RFAs/UFAs. Their defense could also use a right-handed Ekholm type to slot in the top 4. Addition by subtraction will always be the main focal point for as long as the best offensive duo in the league resides in Alberta. Judging by Holland's presser, he will keep honoring his contract and work out the final year of it. There has been talk of former Oilers defenseman Steve Staios possibly taking over the GM reigns after the current guy retires. Holland responded he might like to have Staios learn as an assistant first. Steady Steve has had managerial experience since his playing career, so he wouldn't exactly be fed to the wolves if a change like this were to happen. He is currently working as part of player development for the Oilers franchise. He was the President and GM of the OHL's Brantford Bulldogs when they won league championships in 2018 and 2022. He does know about winning if that's a concern.
The boys are back after a long break but have plenty to talk about as the playoffs are in full swing. We go series by series, looking at how teams have fared so far and who will come out on top. Thanks for listening! Please rate and review our show on your favorite listening platform. Check out our partner's website at www.insidetherink.com for all your latest hockey news.