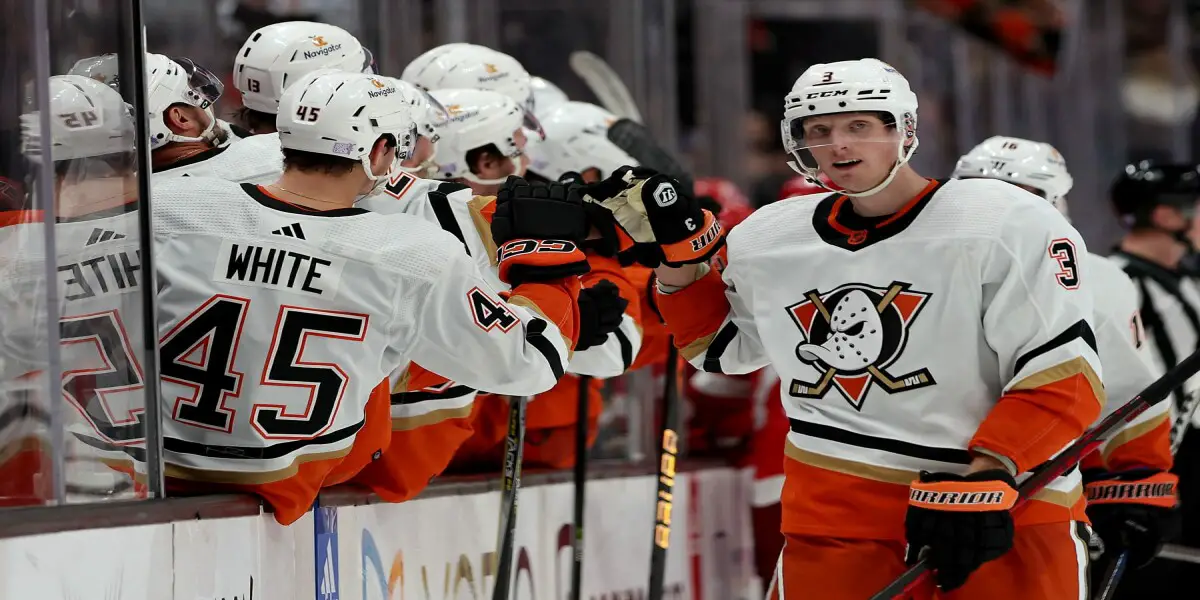 With the All-Star Game break now upon us, many hockey fans start to get excited for the upcoming trade deadline to see what moves their favorite team will make to take them to the next level.
But in the Ducks' case, they look to move on from some players to get assets back to strengthen their future as they are starting to see the light at the end of the tunnel in their rebuild. With a solid young core of Trevor Zegras, Mason McTavish, Troy Terry, and Jamie Drysdale, as well as one of the best prospect pools in the NHL, the Ducks' rebuild is nearing the end. Not to mention that the Ducks are looking at a top-three pick in this upcoming draft that features generational talent Connor Bedard and franchise players in Leo Carlsson, Adam Fantilli, and Matvey Michkov.
The Ducks currently have the third-worst record in the NHL, which is 16-29-5 with 37 points. The Ducks also sport the worst offense in the league by goals per game at 2.44 and the worst defense in the league by goals against per game at 4.06. 
Needless to say, the Ducks will be sellers at this year's March 3rd trade deadline. The Ducks have eight pending unrestricted free agents, or UFAs, on their roster, so it would make sense that about half of them will be shipped off at the deadline. Let us look at what Ducks general manager Pat Verbeek is dealing with in this UFA class.
Derek Grant, C
Grant is finishing his third tour of duty in Anaheim in the last six years. Grant has been dealing with injuries all year long and has been on the IR with a lower-body injury since December 3rd. In only 15 games played this year, Grant has two goals and an assist while mostly being the fourth-line center when healthy. 
The 32-year-old is making $1.5 million this year and is highly doubtful to return to Anaheim next season with the center depth they have now and that are on the way. With the Ducks positioned for a top-four pick in this year's draft, they will most likely land a stud center that could be NHL-ready by next season with the likes of Connor Bedard, Adam Fantilli, or Leo Carlsson. 
Since Grant is likely not coming back, I am sure that Verbeek will be looking for suitors at the deadline so the Ducks can at least get something in return. The big hurdle Verbeek faces, though, is Grant's health. If Grant can come back healthy and play every night, it is likelier that a trade will happen.
Jayson Megna, C
Megna was claimed off of waivers by the Ducks on December 6th. Splitting time with the Colorado Avalanche and the Ducks this year, Megna has no goals and three assists this year in 34 games played. Megna has not scored a goal in the NHL since 2017. 
The Ducks claimed Megna after Derek Grant and Isac Lundestrom went to the IR with injuries, so when both come back, Megna likely gets sent down to the AHL to play in San Diego. Seeing that Megna is likely in the AHL or on waivers by the deadline, I doubt we will see a Megna trade, and he will probably be put on waivers and claimed by someone else or walk away in free agency this summer.
John Klingberg, D
Anaheim's big fish free agent signing this past summer is not having the season he intended to have. After not getting the contract he wanted, Klingberg signed a one-year $7 million prove-it contract. Klingberg's style of play is very offensive at both ends of the ice. The defenceman will light up the scoresheet while not playing the best defensive game, leading to goals given up. And it has been more of giving up goals than scoring them.
Klingberg currently sits at six goals, 11 assists, and 17 points in 42 games this year. That is on pace to have 12-21-33, which would be career lows in assists and points. Then you add on the defensive mistakes Klingberg has made, and it adds up to a very disappointing season, to say the least.
TSN's Pierre LeBrun has reported that the Ducks' asking price for John Klingberg starts with a first-round pick. The Ducks are using Klingberg's reputation as reasoning for the high return, but it remains to be seen if other teams will bite. It seems as though it is a sure thing that Klingberg gets traded even with his struggles because, with a better system, he could very well return to form and help a contending team get over the hump.
Last year's trade deadline saw Ben Chiarot getting traded for a first-round pick, a fourth-round pick, and a forward prospect. Given that Klingberg is a much more valuable asset than Chiarot from a production standpoint throughout their entire careers, it is not crazy to think that even with Klingberg's struggles this year, the Ducks can still get a first-round pick.
There are a few teams that would be a good fit for Klingberg. One of them being the Toronto Maple Leafs. The Maple Leafs have five defencemen on the IR, including Jake Muzzin, Victor Mete, Timothy Liljegren, Carl Dahlstrom, and T.J. Brodie. With the thin blue line, the Maple Leafs would probably like to add some at the deadline and could take a chance on the high-risk, high-reward defenceman.
Another team that comes to mind is the Edmonton Oilers. The Oilers lack offensive depth on the blue line, and in general for that matter, and could use Klingberg's offensive mind. Klingberg's offensive play could pair well with the dominance of Connor McDavid and Leon Draisaitl. The biggest turn-off for the Oilers is Klingerg's defensive struggles because the Oilers are known for having shaky defense and goaltending issues, even with the emergence of rookie all-star goaltender Stuart Skinner.
The Seattle Kraken would be a fun team to land Klingberg as well. Outside of Vince Dunn, the Kraken have not gotten a lot of offensive production from their blue line, and John Klingberg could fix that as the Kraken currently sit one point shy of the Vegas Golden Knights for first place in the Pacific Division. The Kraken are looking to potentially make the playoffs for the first time in their two-year history, and a John Klingberg could be a shot in the arm for the team.
Similar to the Oilers, though, the Kraken have poor goaltending, and the defensive miscues from Klingberg could also sink them in the playoffs if his offensive production is not there. Another reason I am hesitant to say the Kraken would be players for Klingberg is that this is the first year of competing for this team, and they may want to keep their first round pick as they continue to build for their future. We also do not know if Verbeek is willing to make trades of this significance within the division. 
Kevin Shattenkirk, D
Shattenkirk is finishing up his three-year $11.7 million contract that he signed back after the 2019-2020 season, and he has not been the same player for the Ducks that he was earlier in his career with the St. Louis Blues. Granted, he has been surrounded by subpar talent in his tenure in Anaheim, but his offensive production has slipped, and we sit today. Shattenkirk does not even have a goal yet this season, with just 11 assists in 43 games played.
However, one thing that is nice to see from Shattenkirk this year is the improvement on turnovers. Last year, Shattenkirk was guilty of having 58 giveaways, 40 coming in the defensive zone. Shattenkirk is on pace for just 36 giveaways, 30 in the defensive zone this season.
Given his improvement from last year, Shattenkirk could be a decent trade candidate. The market for him is tough to gauge as it will probably depend on where the bigger-name defenceman goes first, like Klingberg. As for the return, the Ducks could get for Shattenkirk, given that the Ducks received a third-round pick for long time fourth line grit-grinder Nic Deslauriers, I would imagine that the Ducks could steal a second round pick from someone in a Shattenkirk deal. 
John Moore, D
Moore was one of the pieces that came to the Ducks in the Hampus Lindholm trade at last year's trade deadline. Moore has been on the IR for the entire season, and over half of the last year with an undisclosed injury, so he has yet to play a game in a Ducks uniform. Hopefully, Moore can get healthy again and return to the ice at some point.
Dmitry Kulikov, D
After getting traded to Anaheim over the summer, Kulikov is having some struggles this year, much like the rest of the blue line. Kulikov currently leads the Ducks in giveaways, according to moneypuck.com, at 36, with 33 of those coming in the defensive zone. 
Kulikov could be a trade candidate for a small return, but you also need to keep in mind that the Ducks need to stay above the cap floor. And with Klingberg and his $7 million salary likely leaving, the Ducks will be cutting it extremely close. The Ducks could, of course, take on a bad contract to remain over the floor. But with Kulikov's value being this low at this point, I am not sure if we will see a Kulikov trade by the deadline.
Nathan Beaulieu, D
Beaulieu received a professional try-out contract (PTO) from the Ducks back in September and earned a contract for this season. Beaulieu has appeared in just 24 games this season and has no goals and four assists. It has been a struggle this year for Beaulieu as he has just a 39% Corsi% and a 36.8% on-ice expected goal percentage. Poor defensive play has also gotten Beaulieu healthy scratched from the lineup throughout the year.
It is hard to imagine that Beaulieu is drawing any trade interest right now, so I guess he will finish the season with the Ducks. I also do not think that the Ducks will be bringing Beaulieu back for next season, given his poor play, the return of Jamie Drysdale, and the potential prospects that could be coming up and manning the blue line like Olen Zellweger, Drew Helleson, and possibly Pavel Mintyukov.
Anthony Stolarz, G
Stolarz has been a solid backup goaltender for the Ducks since he signed with the club in 2019. His stats have taken quite a hit compared to his previous three years in Anaheim. This year Stolarz is sporting a .895 SV% and a 3.88 GAA behind the worst defense in the league. Stolarz's goals saved above expected is currently at -0.20, which is not bad considering the team in front of them.
Stolarz is interesting because Ducks fans got a taste of the future for a couple of weeks back in December when top goalie prospect Lukas Dostal manned the ship and was dominant. Dostal made it clear that he is NHL ready, but with the log jam of John Gibson and Stolarz at the NHL level, Dostal has remained in the AHL, where he has been a brick wall. Dostal should be up with the Ducks by the start of next season and possibly as early as this season if Stolarz is dealt at the deadline. It seems pretty obvious that Stolarz will not be returning to the Ducks next season, with the likelihood that Dostal is on the way up. 
I would like to see Pat Verbeek trade Stolarz at the deadline so that they get something in return and not just let him walk and call up Dostal and run a Dostal-Gibson tandem. I would rather Dostal not be Gibson's backup because that will not do much for Dostal's development. Dostal needs to be getting good minutes to grow and mature, and Gibson has proven that he plays much better when rested, so it would make sense. Especially with rumors always swirling around if Gibson will be traded or not, having a rested Gibson gives the Ducks a better return if a Gibson trade were to happen.
On this episode of LAP, the guys go over the Ducks recent stretch of play, John Gibson's monster week and some small moves made by Pat Verbeek. The guys also cover the wild day that was Tuesday and some of the other trades that have happened since last episode. They also answer some listener questions and have a trade break while they're still recording!Follow Late Arrivals Twitter: @latearrivalspodInstagram: @latearrivalspodFollow the hostsChris: @CJKChelConnor: @91_PlutyJake: @_JRobles71Louis: @Louiex37*We do not own any of the music used in this episode*