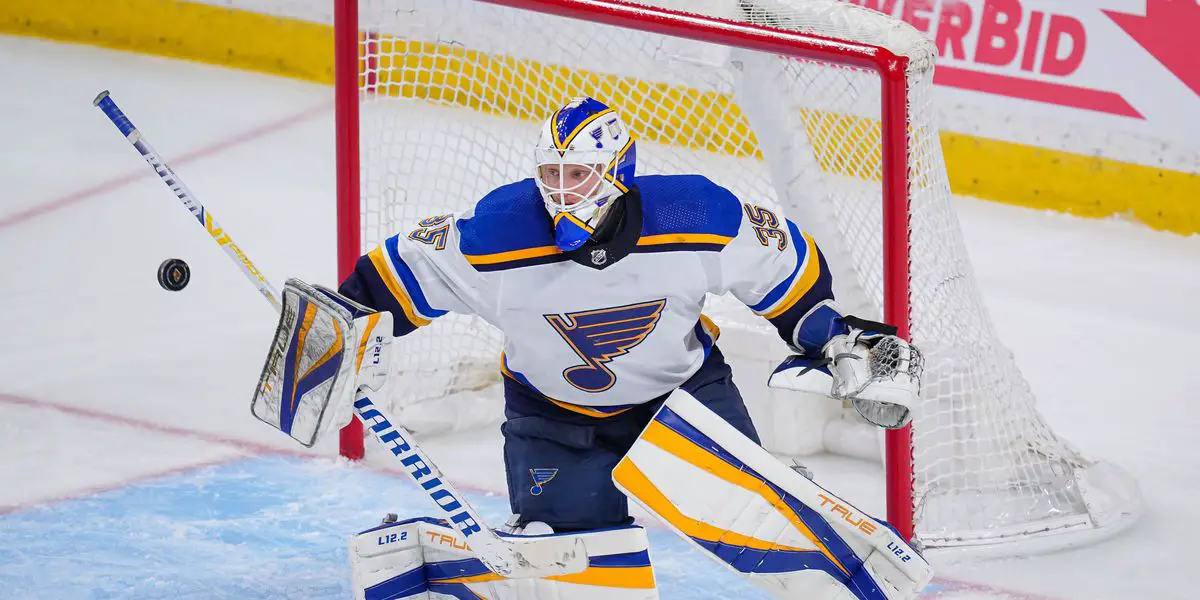 Now that the 2021-2022 season has come to a close with the Colorado Avalanche hoisting the Stanley Cup, other teams around the league can begin to map out their plans for free agency. While some teams have a ton of cap space and can throw money at UFAs and RFAs, some teams must be smart with the little money they have available. One position that a handful of teams will be heavily interested in this off-season is goaltender. Every team knows having a strong goalie in net can be the difference maker come playoffs, whether it be for the right or wrong reasons. We've seen what Andrei Vasilevskiy has done for the Tampa Bay Lightning over the years, and we just witnessed this year how the lack of goaltending for the Edmonton Oilers led many to wonder, could they have won it all if they had a legitimate goalie between the pipes? One name that will garner plenty of attention from multiple teams is Ville Husso of the St. Louis Blues.
How Good was Husso Last Season?
Husso is coming off a breakout year for the St. Louis Blues, where he backed up Jordan Binnington. Husso started 38 games, compiling a 25-7-6 record for a team that finished third in the Central Division with 109 points. His numbers were excellent, as Husso's goals saved above expected per 60 (GSAx/60) of 0.346 ranked 7th in the NHL, a number that puts him above some notable names such as Connor Hellebyuck and Juuse Saros. He finished the season with a 2.56 GAA, and his .919 save percentage (SV%) was also ranked 7th in the league.
While Husso had his fair share of struggles in the Playoffs as he finished with a 2-5 record while recording a 3.67 GAA and .890 SV %, there is still plenty of upside with the 27-year-old goalie. This was his first postseason appearance, and he should only get better from here on out. Four of his playoff games were also played against the dominant Colorado Avalanche, who went on to win the Stanley Cup Championship.
Many teams will be vying for Husso's services when free agency opens at noon on July 13th. Three of those teams that will be at the top of the list are the Toronto Maple Leafs, New Jersey Devils, and Edmonton Oilers. Each team needs solid goaltending moving forward so their team can take the next step in competing.
Blues
The possibility remains that St. Louis can find a way to extend their young netminder, but the price has to be right. The Blues currently have $11.28 million in cap space but need to re-sign David Perron and decide whether to bring Nick Leddy back, as well as a few others. They also may be looking to upgrade at other positions in free agency, making the price tag of Husso important.
According to Andy Strickland, "Been lots of chatter, but I expect the Blues to make a real effort to extend Ville Husso. He loves it in STL and has a great relationship with Jordan Binnington." While Strickland reports this information, most insiders expect Husso to go to market to see what he can get. The problem for the Blues is if they want an extension to get done they will need Husso to be willing to stay for less than what he would make on the open market.
Maple Leafs
The Leafs have many question marks at goaltending this off-season as their current starter of years past, Jack Campbell is an unrestricted free agent, and there have been no talks of him coming back. Campbell is heading to the open market to test his value leaving the Leafs with just Petr Mzarak under contract. The leafs have a little over $8 million left in cap space to make a deal. If the price is right and a bidding war doesn't erupt for Husso, the Leafs could find themselves in the perfect situation to retain his services. There is still the possibility that Campbell will return to Toronto, but at the moment, nothing is set in stone, leaving every option available.
Devils
By far the team with the most cap space of its competitors, the Devils have $25.3 million in cap space and would be able to outbid Toronto, Edmonton, and St. Louis if it came down to it. The Devils currently have two goalies under contract next season, with 25-year-old Mackenzie Blackwood signed for one year at $2.8 million and 33-year-old Jonathan Bernier for one year at $4.12 million. Blackwood is a young goalie with a lot of potential if he can take the next step. There has been plenty of trade rumors surrounding his name as many expect the Devils to move on and net a return. The Devils certainly could use Husso as goaltending, and defensemen were a significant weakness for them last year. If Blackwood does take the next step this upcoming season, pairing him with Husso as a 1A and 1B combo could do wonders for New Jersey as they would have a solid goalie tandem to lean on.
Oilers
The Oilers are a team that is in desperate need of goaltending but doesn't have much cap room available to get into a bidding war for a quality starter. They lost both their starting goaltenders from last year as Mike Smith's retirement status is up in the air, and Mikko Koskinen has signed overseas with HC Lugano. It has been reported that they are very interested in Husso, but like many other teams, the price has to be right. The Oilers have just under $8 million in cap space to work with a handful of RFAs and some UFAs, including Evander Kane, who is due a pay raise after his playoff performance. If the price for Husso jumps over $4 million a year, they most likely will be out of the race as they have other needs to address as well.
What Will A Contract Look Like?
When it comes down to the numbers, fans could see Husso getting a contract similar to the one the Bruins handed Linus Ullmark last season. Ullmark was also 27 years old at the time of the contract last off-season and was coming off splitting time in Buffalo. He went on to receive four years with a $5 million AAV. The bidding for Husso will start at around $4 million with four to five years for the term, but in the end, Husso will receive something similar to Ullmark's $5 million or more if teams get into a bidding war for his services.
The boys are back after a long break but have plenty to talk about as the playoffs are in full swing. We go series by series, looking at how teams have fared so far and who will come out on top. Thanks for listening! Please rate and review our show on your favorite listening platform. Check out our partner's website at www.insidetherink.com for all your latest hockey news.