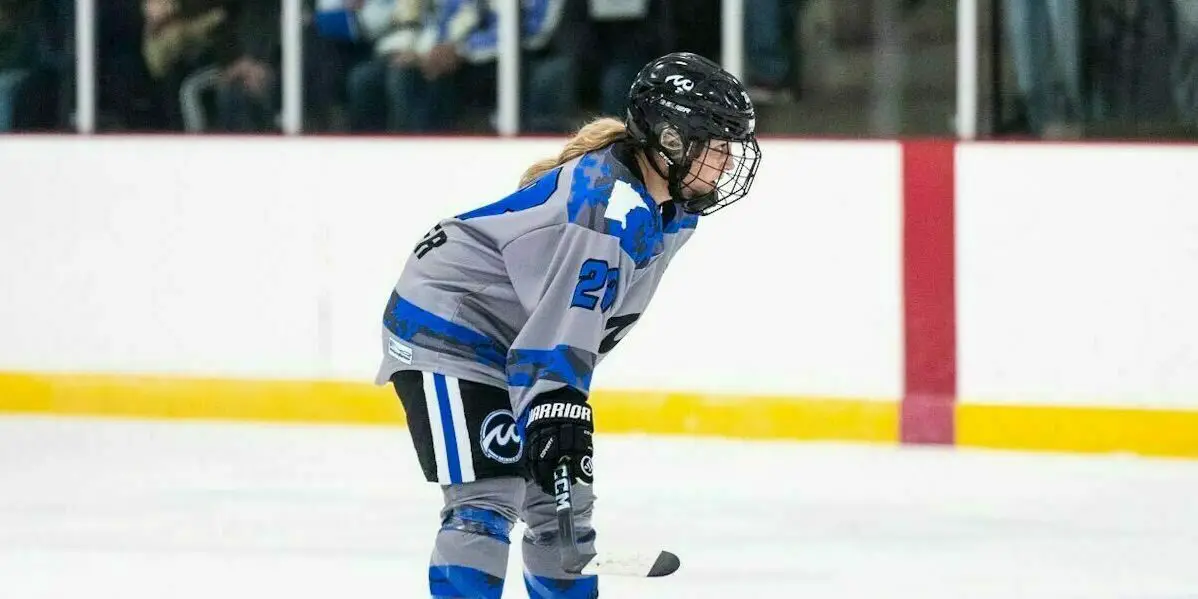 Minnesota Whitecaps defender Patti Marshall notched her first two PHF goals, both on the power play, as the Whitecaps took home their first win of the 2022-23 season by beating the Metropolitan Riveters 4-3.
Marshall, the 11th overall pick in the 2020 NWHL Draft, had 24 career PHF games and eight assists under her belt before registering her first goals.
Minnesota (1-2-2, 5 points) could overtake the Riveters (2-4-0, 6 points) for fourth place in the PHF with a win of any kind tomorrow.
---
The game started timidly, but Minnesota's early penalty kill was a good opening statement. They didn't let the Riveters get much of any momentum on a Stephanie Anderson tripping penalty just 2:21 in, instead generating some for themselves with a solid defensive performance.
The momentum continued to trend in Minnesota's favor, this time coming from the goaltending. Amanda Leveille arrived in a big way tonight after a mediocre start to the season, displaying the stellar form she's touted in recent seasons. A huge save on a Kennedy Ganser breakaway opportunity kept the game scoreless.
Then, Finally (with a capital F), Denisa Křížová recorded her first PHF point. Her beautiful backhand finish put the Whitecaps up 1-0 over eight minutes into the game.
Minutes later, it was an unlikely source giving Minnesota a 2-0 lead. A Sidney Morin floater from the point somehow made its way past Riveters goalie Eveliina Mäkinen, who was making just her second career PHF appearance.
The first period was undoubtedly Leveille's best period all season. Stopping all 15 Metropolitan shots, she allowed the Whitecaps to take what ended up being a much-needed multi-goal lead.
The second period was complete domination by the Whitecaps. Outshooting Metropolitan 14-9 in the frame, Marshall's two power-play goals seemingly put the game out of reach for the Riveters, who were beginning to look frustrated and undisciplined. Metropolitan took four consecutive penalties in the period, including back-to-back infractions by Kelly Babstock just 3:30 apart.
After Marshall's 4-0 marker, Minnesota's season-long inability to put in a full 60-minute effort returned. The Whitecaps quickly got into penalty trouble, taking three consecutive infractions as Riveters captain Madison Packer got the team on the board in the final minutes of the second, and Kendall Cornine had an unassisted power-play goal just 37 seconds into the third.
The Whitecaps could not generate much of any counterattack in the third period, as the Riveters held them to just five shots. After a strong opening ten minutes from Minnesota's top unit of Jonna Albers, Liz Schepers, and Sydney Brodt, Metropolitan did not give them any space whatsoever as the game continued.
With just under five minutes left, what was a slam-dunk game became a nailbiter. A behind-the-net pass from Babstock found Riveters winger Amanda Pelkey uncovered in the slot, and her one-time effort found the back of the net to make it a 4-3 game.
But some big stops from Leveille in the final minutes were able to hold off an unending Riveters attack, especially with Mäkinen pulled for the extra skater. She finished the night with 33 saves on 36 shots, well above her sub .900 season-long save percentage.
Forwards Natalie Snodgrass, Ronja Mogren, and Brittyn Fleming all contributed with assists. Sidney Morin had a two-point game, adding an assist to her first-period goal.
Sydney Brodt had a team-high five shots on goal but had no points and a -1 rating. Liz Schepers went 14 for 20 in the faceoff dot.
Of note, Riveters leading scorer Sarah Bujold (5G, 3A, 8P in 6 GP) was injured on the game's final shot attempt when a Riveters defender's slapper appeared to hit her up high. She was on the ice for a minute or two before gingerly skating off the ice with the help of a team trainer.
Minnesota will look to make it two consecutive wins against Metropolitan tomorrow at 1 p.m. local time.
Quote of the Night
Whitecaps defender Patti Marshall, on the team's second-period domination:
"That was big for us… we're getting pucks and bodies to the net and they're going in… we didn't want to be chasing."
Takeaways
Head coach Ronda Engelhardt should have one phrase written in the dressing room ahead of tomorrow's game – "Don't let up." Minnesota has shown the ability to generate a dominant attack and shut down other teams' top players for moments but has yet to demonstrate confidence throughout the length of a game.
Luckily for the team in front of her, Amanda Leveille is trending up in a big way. She was confident in her positioning tonight and moved well, stopping multiple good Riveters' chances.