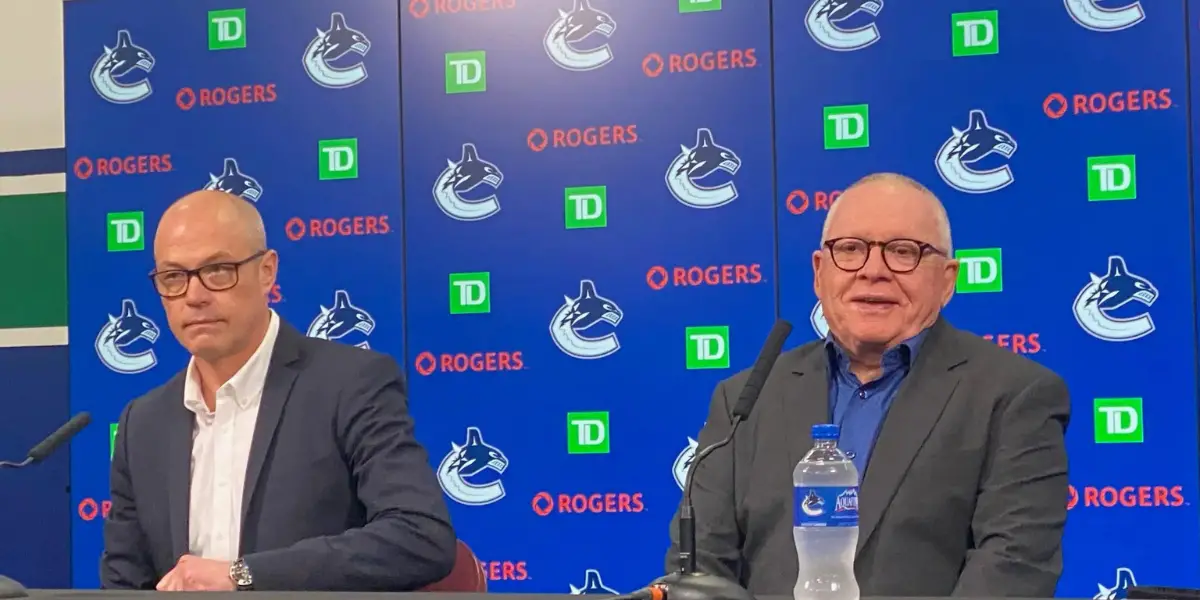 The Canucks had a very interesting end of the season which at one point had the team at 4th best odds to draft first overall. However, the team decided to turn things around and ended with the 11th best odds. With a 79.9% chance at picking 11th, let's take a look at who might be available and who I believe Patrik Allvin and Jim Rutherford should pick.
1. David Reinbacher, D, Kloten
A RHD who uses his long stick and frame to close out along the boards, but the consistency isn't there quite enough. The projection of Reinbacher's game comes from having faith in his raw tools and skill. The reason he's number one is he fills in what the Canucks need.
2. Andrew Cristall, LW, Kelowna Rockets
A top 10-20 prospect on many lists, I believe that Cristall could be a draft pick that, in 5 years, we look back on saying potentially a steal at the draft. As per The Hockey Writers, "Cristall is one of the top playmakers in this class, as he's very creative and evasive possessing high-end offensive IQ. He's very deceptive and shifty with his movements as he maintains great control of the puck, handling it confidently in high-traffic areas and even beating defenders one-on-one. Whether it's feathering a puck through a defender's stick or his feet, he's always making slick plays and dekes. His soft hands allow him to make moves in tight on the net to fool goaltenders and leave them in the dust."
3. Dalibor Dvorsky, C, AIK
Despite being a Left Handed D-man, Dalibor is in the range for this management team could take.
 Scott Wheeler of the Atheltic is reporting that He's a smart player, his on-ice vision is exceptional, he has a great shot, I think he reads situations on the ice very, very quick, and can adapt no matter what the level is. The only thing that needs time to develop is going to be his speed, as scouts are reporting that his speed just isn't there.
4. Nate Danielson, C, Brandon Wheat Kings 
Matthew Somma of Smaht Scouting reports that Danielson "Danielson is a complete player that can defend, carry the puck, stickhandle through defenses and score. Danielson is still coming into his own offensively, and as of right now, that's what's holding him back in our rankings."
5. Axel Sandin-Pellikka, D, Skelleftea
Another right-shot d-man that Allvin and co should be looking at. "He's the best offensive defenceman in this class; great mobility; really quick hands; a hard, accurate shot; and most of all, exceptional passing ability. His hands make him a master of walking the line, they're mesmerizing in their quickness, and the real danger is his ability to fire a dangerous shot or a perfect pass off of any one of those moves; that freezes defenders and essentially allows him free reign over the blue line, because no one wants to try him." – Smaht Scouting Winter 2023 NHL Draft Rankings
These are just 5 of the targets that should be on the Canucks Head office draft board. In my opinion, there are three on this list that they should really be the focus of. Axel Sandin-Pellikka, David Reinbacher, and Andrew Cristall fill the needs, and if any of them are available, this should be an easy first round for Jimmy, Patrik, and team.
HSP – May 29th 2023 – Canucks Cap Issues, CFL Pre-Season and Arturs Silovs is the man!!!
–
Hughes Sports Podcast- HSP
Introducing the Hughes Sports Podcast, your go-to source for insightful discussions and expert analysis on the hottest topics in the world of sports. Join your hosts, Jake and Kevin Hughes, as they delve deep into the captivating realm of sports.In our latest episode, we spotlight the Vancouver Canucks' cap issues, dissecting the complexities and implications of their financial challenges. Jake and Kevin meticulously analyze the team's salary cap situation, offering invaluable insights into the strategies the Canucks can employ to navigate this obstacle and achieve long-term success.But that's not all! We also dive into the exciting realm of Canadian Football League (CFL) pre-season action. With a keen eye for detail, Jake and Kevin break down the standout performances, highlight emerging talents, and provide a comprehensive overview of what to expect in the upcoming CFL season. Whether you're a die-hard CFL fan or a newcomer to the sport, this episode will keep you well-informed and ready for the gridiron action.And let's not forget our tribute to the incredible goaltending prowess of Arturs Silovs. Recognizing his exceptional skills and immense contributions to the sport, Jake and Kevin pay homage to Silovs' extraordinary talent and discuss how he has become a force to be reckoned with in hockey. From his remarkable saves to his unwavering determination, we delve into why Silovs is the man to watch out for.Tune in to the Hughes Sports Podcast for a captivating blend of SEO-focused copywriting expertise and in-depth sports analysis. Jake and Kevin Hughes bring their passion, knowledge, and wit to the forefront, delivering a podcast that will keep you entertained, informed, and craving more. Don't miss the latest episode—your ultimate sports fix awaits!