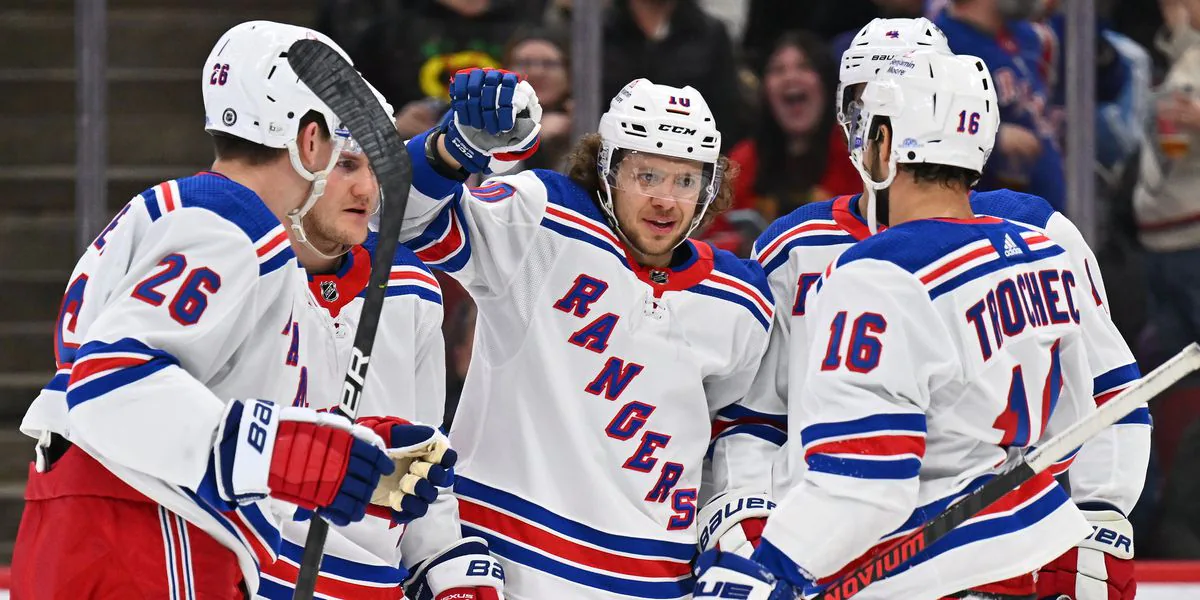 The NY Rangers are still not yet at the halfway mark of the season. However, this mini-holiday break feels like a fine place to assess what has been an erratic season while also pinpointing positive aspects that are beacons for optimism.
Consider the team won three out of their first four games, including two excellent wins against perennial playoff participants (say that three times fast), the Tampa Bay Lightning, and Minnesota Wild.
That fast start, however, was followed up by a baffling 20+ game stretch of inconsistent play and underachievement. The length of this malaise led to many, if not all, questioning this team's makeup. Worries were creeping in about whether this would become "one of those seasons ." After the loss to the woeful Chicago Blackhawks on December 4th, I wrote an article asking if that was rock bottom, hoping it was.
Thankfully, it turned out to be. Since that loss (and article, so feel free to give me false credit for this turnaround), the Rangers have won eight out of nine games and appear to have gotten back to the style of play that served them so well last season.
Despite this quick recap, I'd like to focus more on reasons for hope in the future, both tangible and hypothetical, of why this latest surge is sustainable and even brighter days could be ahead.
I've encapsulated them into four categories on why we could again be trending toward battling for the division instead of middling around the wildcard spot.
MORE TO GIVE
For this exercise, I will not focus on Fox or Kreider. Fox is having a terrific offensive year, driving a vast percentage of the play. We also knew it would not be very reasonable to expect another 52 goals/77 points from Kreider this year, but he's still been productive. So, we'll focus on the other offensive leaders on this team, who I believe still have more to give.
From an outside perspective, asking more of these two productive players might seem odd. If you look at the team's leaderboard, Artemi Panarin and Mika Zibanejad are at the top, averaging over a point per game. Panarin is on pace for a 96-point season, and Mika is projecting a healthy 35 goals.
However, if you dive beneath the surface and you've been watching the team, you realize that both players have another level to reach when it comes to production.
ARTEMI PANARIN
Bread will never become the shoot-first sniper he could be if he wanted to, but at least recently, he has begun to utilize his fantastic ability in that arena. Of course, scanning the zone and looking to pass will always be his primary mentality, but if he continues this trend of peppering in more shots from his arsenal, his goal totals and our success will continue to grow.
MIKA ZIBANEJAD
To me, the more important (and frankly more anticipated and exciting) development to come is the emergence of a Mika-On-Fire streak. We know it's coming. It always does. It's just a matter of when and for how long. To be honest, it's slightly disconcerting we haven't seen one yet. There is no doubt Mika is a significant point producer and an all-around two-hundred-foot player who is as valuable as they come.
Yet, you know what I mean, right? Too many times, his one-timer has just been slightly off. He's been passive in letting go of his shot when he's on a rush. Heck, most of his goals have been on the power play (only four even-strength). He's not ineffective but certainly has yet to have that mode where he looks like the most lethal 1C, not named McDavid, in the league.
Trust me. It's coming. When it does, the length and impact of it could spur the whole team back into the stratosphere we were expecting this season.
VEZINA IGOR
Igor Shesterkin deserves his own category. Frankly, he's been really good. But, unfortunately, he has just been a "victim" of his fantastic Vezina season last year, so now just being very good seems like a step back.
Granted, though, he has yet to be the complete brick wall he was last season, only in spurts. I implore you to take that as good news. If the rest of the team can fulfill their end of the bargain, we can succeed with this version of Igor. Though I have faith that we're going to see Vezina Igor start to break through as well. If that happens, that's more important than anything that has been or will be typed in this space. Knowing he's back there will only increase the confidence of the team and ripple throughout all other facets of the operation.
THE KIDS ARE ALRIGHT
So much has been written about the young talent on this team, a lot of this might be redundant. Most of the talk has been negative. Admittedly, the slow growth of most of our young base has partly been responsible for our choppy start.
However, in this case, recent trends and precedent should have this fanbase excited again, or at the very least, possess a healthy dose of guarded optimism.
Granted, we've seen these prolific phases out of our young stars before, only to have them fizzle, but this feels like it could be different.
Despite the possibility of injury always around the corner, Filip Chytil finally seems to have arrived. He's putting all the pieces together, and if he can stay on the ice, he looks like an integral player that can drive offense no matter who his linemates are.
It just so happens, at the moment, his linemates are Kakko and Lafreniere. Despite decent production, we're still hoping that the Laffy of the playoffs will show his face soon. Unfortunately, he's still playing a touch passive, including stretches of ice time that you barely hear his name. However, Kaapo Kakko, with five goals in his last eight games, has taken some strides that might finally see him start to reach his scoring potential. Add in the fact that Gallant hopefully seems to be putting some trust into Kravtsov (who appears to be getting more comfortable), and there is finally optimism that this young core will provide the impact we were "promised."
That optimism doesn't just lie on the offensive side of the ledger either. Lately, both K'Andre Miller and Braden Schneider have upped their level of play in all aspects of their game. Miller's emergence last year, especially, was a significant factor in the Rangers' long run. If he continues to display that form, and Schneider continues his upwards trajectory, the defensive corps could once again become a point of strength in front of Igor.
SOB PUCK! WHY DIDN'T YOU GO HOME? THAT'S YOUR HOME! ARE YOU TOO GOOD FOR YOUR HOME?! ANSWER ME!!
I'm hijacking a quote from Happy Gilmore for this section. Yes, it's a golf movie, but there's some hockey in there too, so it's apt.
Quite simply, this is about this team's horrible "puck luck" and bizarre fascination with hitting posts this season. This aspect isn't as tangible, and I have no empirical or anecdotal reasons why this will change.
All we can rest our hopes on is that if there are hockey gods, if these things DO even out over the course of the season, then we are on pace for a mess of goals coming our way.
Much like with Mika's hot streak, if the Rangers save this payback all for the playoffs, I'd be willing to wait.
THESE ARE THE RANGERS, MARC. SURELY, THE OTHER SHOE WILL DROP?
Okay, okay. For the sake of fairness, we do have to concede some things. First, it's possible that only some or NONE of those above aspects actually happen. The kids could stay inconsistent, or it's likely we have angered the hockey gods irrevocably. Despite that, there are a few pitfalls that could keep us from reaching greater heights.
THE METRO DIVISION AND EASTERN CONFERENCE
The competition in our way scares me the most about the prospect of the playoffs. That's why breaking out of that funk was imperative before we got too deep into the abyss, especially with what has been happening lately.
Every time we think Pittsburgh and Washington are ready to die off, they come back to life like a recurring soap opera character with quadruple amnesia. The Devils have stumbled a bit lately but clearly have become relevant. That doesn't even account for an inconsistent but revived Islanders squad.
My point is that, even more so than last year, spots will be limited, especially if you think Florida will find their footing or Detroit or Buffalo are for real.
There is no room now for another significant stretch of downplay. The next one of any real impact could be the difference between being in or out if the Rangers are not careful.
GIVEAWAYS
The Rangers have been better at keeping these in check during this latest winning run. There's no way that's not a coincidence. So if there's one genuinely dangerous thorn in this team's garden, it's this bad habit that needs to be suppressed.
Even when they cut down on the frequency of turnovers, they always seem to end up in the back of our net more often than not. Therefore, this team must clean up all the aspects that contribute to this trait.
Lazy blue-line passes
High-risk cross-ice passes
Weak clearing attempts
Bad positioning
It's unrealistic to ask for a spotless game, but the Rangers are at their best when they limit these and are not constantly shooting themselves in the foot. So keep them to a minimum, and watch the wins continue to rack up.
INJURIES
Injuries are such a stereotypical and generic fear for any team to avoid, but I bring it up for two reasons. First, how you weather through these storms is an underrated driver of teams that succeed. Secondly, and why it's a theme to worry about over the next forty-seven games, is that we've had a reasonably healthy start here.
Chytil has been the only player hit with any significant number of games missed, but otherwise, we've been relatively unscathed. Now hopefully, that luck continues, but it's a long season.
Whatever happens, this team needs to persevere. No team was hit harder in the offseason than the Bruins, and they not only withstood through it, they have THRIVED. Likewise, the Avalanche are just now climbing out of their abyss and have stayed right in the thick of things.
Depth will be tested, and as long as none are season-ending, how we deal with injuries will go a long way to either keeping us afloat or derailing the whole campaign.
.
In summary, maybe I'm naive, but I have really been encouraged by this latest run. These aren't just empty wins with smoke and mirrors. Instead, most have come about by employing many of the positive factors mentioned here.
Some might say the break came at a bad time since we finally started to hum, but that's no excuse. In fact, we play Washington first and then Carolina soon after, two teams that have been just as blazing hot as we have been. If our structure is sound and the team has indeed turned a corner, no obstacle should be too great or tough to stop our momentum.
In this weeks episode we have on Greg Kaplan from Blueshirts Breakaway. We discuss the Rangers, NHL growing the game, playoffs and a tad of the Mets.Thanks for listening! Please rate and review our show on your favorite listening platform. Check out our partner's website at www.insidetherink.com for all your latest hockey news.