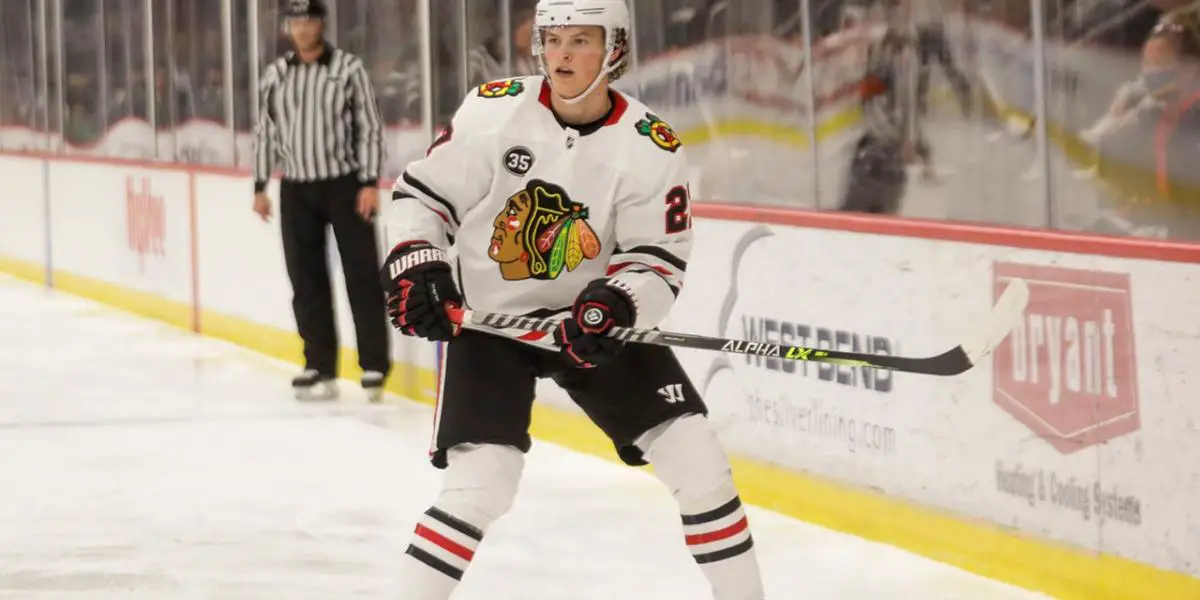 Lukas Reichel has been removed from the concussion protocol and looks prime to join the Rockford IceHogs in Ceder Park, Texas, Where they will take on the Texas Stars. Reichel was off to a hot start to his first professional season in North America. Reichel got into 15 AHL games Before taking a disgusting hit that Matt Donovan delivered of the Milwaukee Admirals. 
Now that he is healthy, will the Blackhawks look at calling up Reichel? This is something that Chicago should really think about before making the call. Reichel is still a young lad at the age of 19. Reichel was selected in the first round 17th overall in the 2020 NHL draft. Because Chicago does not have many high-end prospects in the system, they need to hit on Reichel if they want to open a window for a run soon. This season, Chicago also does not have a 1st round pick as it was a part of the Seth Jones trade. 
Chicago currently has Brett Connolly, who is 29 years old, on the NHL roster, and he was practicing on the second line. Connolly has had some success in the NHL, mainly with Tampa early on in his career. Connolly has played the majority of his career in the AHL. After getting a few AHL games in returning from injury, could this be Reichel's spot to take? 
Is the Nuremberg, Germany native ready for the size and speed of the NHL? Reichel played in his native country of Germany until this season when he came over to join the Blackhawks organization in Rockford. Reichel has already played with grown men in the DEL or Deutsche Eishockey Liga. This is the top league in Germany. Reichel would have a great rookie year in the DEL in 2019-2020, scoring 12 goals and 12 assists in 42 games. Reichel would follow this up with a solid second season leading to his first-round selection. He finished with ten goals and 17 assists in 38 games. Yeah, Lukas can produce points offensively, but the real thing that brought attention to him was his ability to play a mature 2-way game. Coming over to North America, there were many concerns about him adapting to the smaller ice and faster game. This has seemingly not been an issue for the youngster.
Reichel is the top-line center for the Rockford IceHogs and is the main player on their powerplay. He is 19 years old and already a player who impacts the game in every zone. Reichel will get a look in the NHL, and I believe this look is coming sooner rather than later. Chicago is in a huge hole when it comes to making the playoffs, it is not impossible, but it is improbable. Chicago should start to focus on the development of Reichel. If Chicago will play a 29-year-old who has struggled to stay up in the NHL on the second line, why not just allow your young prospect that ice time. It's only worth calling him up if he gets a look in the top 6 playing meaningful minutes. If they just stick him in the bottom six, his development would be better off in the AHL, where he's getting 1st line ice time. Reichel may be 19 but has been playing professional hockey against grown men for three seasons now, which allows him to adapt faster to the AHL game. Once he gets his legs back under him, it's time for Reichel to get a look in the NHL, even if it's just a five-game stint better to let him see the speed and strength of the NHL game.