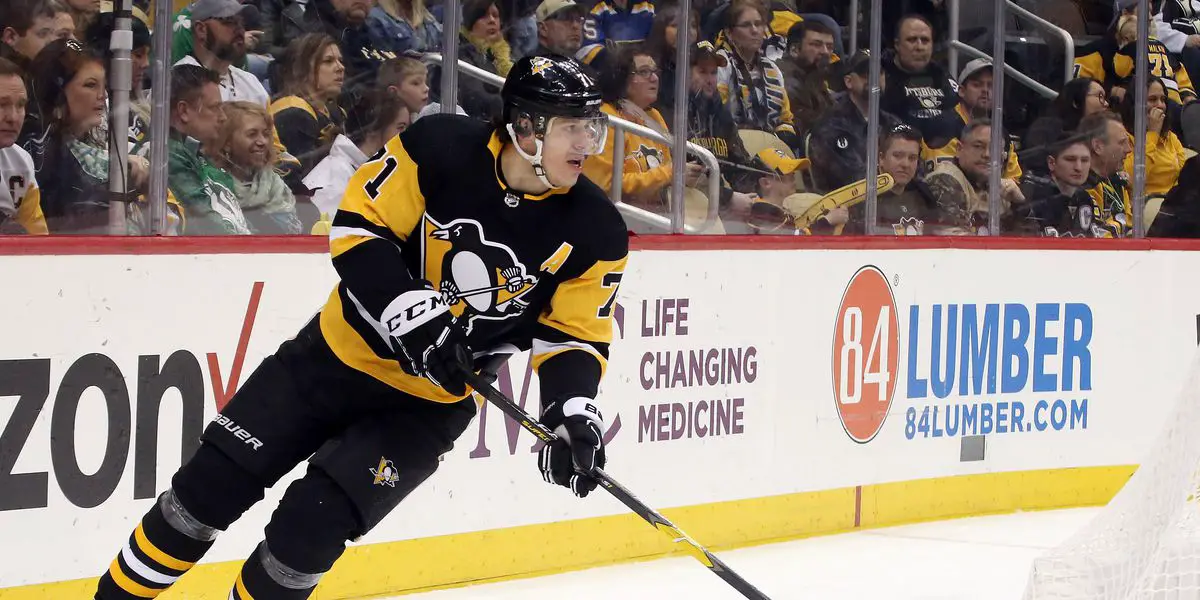 The Superstar Center
For the better part of two decades, the Penguins have boasted the best 1-2 punch down the middle. Sidney Crosby and Evgeni Malkin have been together for their entire careers and helped capture three Stanley Cups together. Malkin could have been the number one center on any team, but he helped form a duo that terrorized the league for a long time.
Evgeni Malkin has achieved a lot in his career. He has won the Art Ross twice, the Calder Memorial Trophy, Hart Trophy, Conn Smythe Trophy, and three Stanley Cups. In 981 games, he scored 444 goals, 702 assists, and 1,146 points. He has been well over a point per game player throughout his career. One day when it is all said and done, number 71 could be hanging in the rafters. But as of right now, he is a free agent, and his future with the club is uncertain.
Evgeni Malkin had another injury-riddled campaign for himself. After sitting out for half the season, he still managed to put up 42 points in 41 games, which is a stellar season. If he played an entire season, he easily could've eclipsed 80 points.
Ron Hextall has tough decisions to make. Both he and Kris Letang are UFA. There is not enough money to go around, and while Letang is mentioned to be the priority, there may not be enough in the financial well to retain Malkin. With the new ownership group in town, they would like to sign both of them and allow them to retire in Pittsburgh. It could be the end of an era in Pittsburgh, and it would be very strange to see him in another jersey.
The Contract
Years: 3
Money: $15M $5M AAV
Team: Dallas Stars
Why It Makes Sense
Out is the defensive scheme of Rick Bowness, and in is the offensive style of Pete Deboer. The coaching change opens up the door for the games of certain players to elevate. The team boasts young guns in Jason Robertson and Roope Hintz. Those two and linemate Joe Pavelski produced over 50% of the team's scoring. Depth scoring was an issue, but under new coaching, it could improve. They also have Tyler Seguin and Jamie Benn, but the team desperately needs offense. The core is as solid as it comes with boasting Miro Heiskanen and goaltender Jake Oettinger.
The Dallas Stars had the fourth-lowest goals scored in the league. The team has cap space at its disposal, with John Klingberg possibly on his way out of town. They could bring Malkin in and have him center the second line and take the pressure off the top line. Even with the need to sign Robertson and Oettinger, the checkbook is open for business for the long-time Penguins superstar.
Imagine a top six of Robertson, Hintz, Pavelski, Benn, Malkin, and Seguin. Stars fans should be salivating at the idea of this.
The boys are back after a long break but have plenty to talk about as the playoffs are in full swing. We go series by series, looking at how teams have fared so far and who will come out on top. Thanks for listening! Please rate and review our show on your favorite listening platform. Check out our partner's website at www.insidetherink.com for all your latest hockey news.