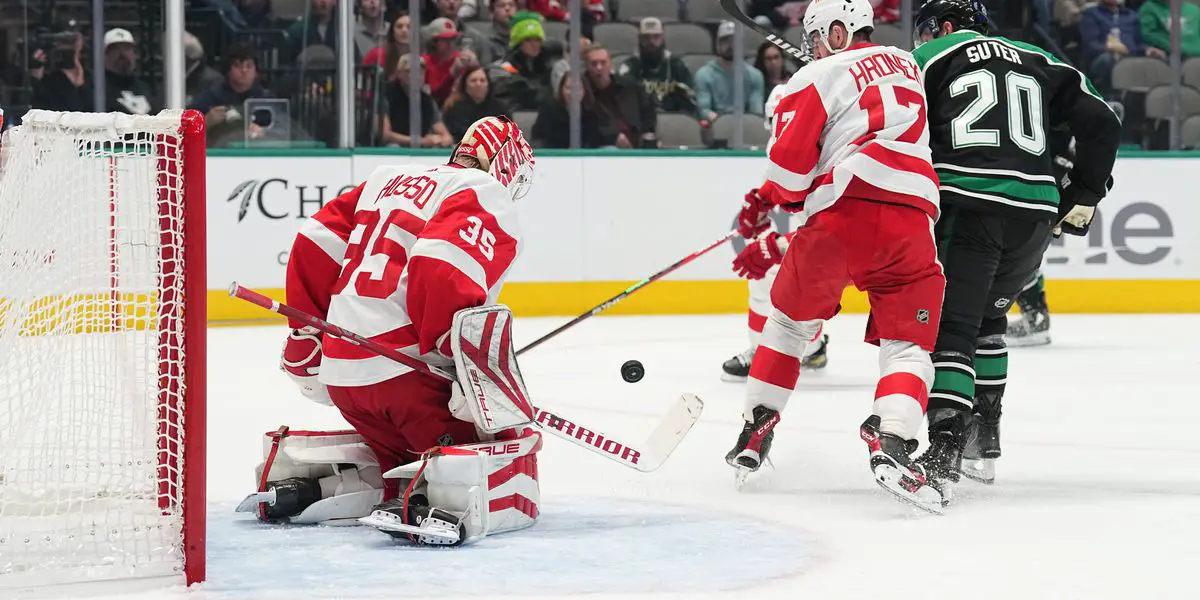 If someone were to tell you at the beginning of the season that the Detroit Red Wings would be in the second wild-card spot in the Eastern Conference as of Friday, February 24, you probably would have told them that they were crazy.
Well, do not look now, but as of this writing (Friday, February 24), the Red Wings hold the second wild-card spot with a 28-21-8 record and 64 points. The Florida Panthers have the same number of points, but the Red Wings have three games in hand.
The Red Wings are on fire right now. After beating the New York Rangers by a score of 4-1 on Thursday night, February 23, the team has won seven of their last eight games and is doing so by being consistent in every facet of the game.
For starters, they are getting outstanding goaltending from starter Ville Husso. Husso has won four of his last five starts and is currently 23-13-0-5 with a 2.85 goals-against average, a .907 save percentage, and three shutouts on the season.
The Red Wings acquired Husso, 28, from the St. Louis Blues on July 8, 2022, for the Wings' third-round pick (73rd overall) in the 2022 NHL Entry Draft. The team then signed him to a three-year, $14,250,000 contract.
So far, Husso has played up to his contract. He is winning hockey games, has the Wings playing meaningful hockey games, and, more importantly, is doing everything he can to try and get his team into the Stanley Cup Playoffs for the first time since the 2015-16 season.
The team is also getting strong play from their captain Dylan Larkin. Larkin, 26, leads his team with 57 points in every other offensive category.
Larkin has also done an excellent job of shutting out the outside noise regarding his contract situation. Larkin is in the final year of a five-year, $30 million contract and is set to become an unrestricted free agent this offseason, even though Larkin said back at the beginning of February that he sees himself as a Red Wing.
Lastly, team head coach Derek Lalonde has his team playing the game the right way. They are generating a decent amount of scoring chances, are cashing in on their opportunities, are defending well, and are getting better play out of their special teams.
One member of the Red Wings who agrees with that sentiment is forward Andrew Copp. After his team's victory over the Rangers, he explained to the media how his team is starting to understand what it takes to win games.
"We're understanding how to play the game," Copp said. "I think that even when we get leads, we're playing pretty mature. We're not forcing plays to the middle. We're not getting too many guys up in the rush. I think we've got to be really strong defensively. Special teams have been rolling pretty good. (Husso) has been pretty good, too. I think that's our recipe and then just being hard to play against, not giving them time and space."
There is still a lot of hockey left to be played, but if the Red Wings can continue their strong play, their dream of making the playoffs could become a reality.
The boys are back after a long break but have plenty to talk about as the playoffs are in full swing. We go series by series, looking at how teams have fared so far and who will come out on top. Thanks for listening! Please rate and review our show on your favorite listening platform. Check out our partner's website at www.insidetherink.com for all your latest hockey news.