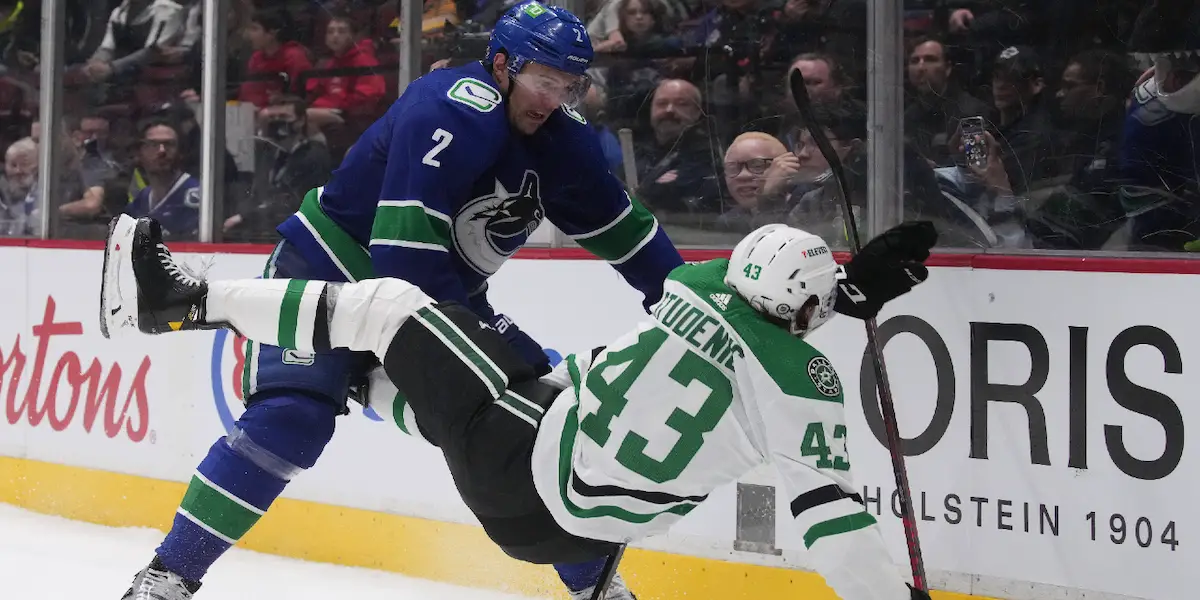 When a team has no glaring weaknesses and sits in second place in the Central Division past the mid-way point of the NHL regular season, finding trade targets who will fit in and not ruin team chemistry sometimes isn't as simple as one may think.
With a 31-16-1 record through 48 games, the Winnipeg Jets are in an excellent position to add players to fill out much-needed depth for a potentially long playoff run.
Considering Winnipeg's lineup, one area that could use addition is the defense group; acquiring a veteran defenseman would only strengthen an already solid defense and make it more reliable in a tough playoff series.
Now that the coaching disaster in Vancouver is over, more attention will be on the players who could be dealt by March 3rd trade deadline. One player Jets GM Kevin Cheveldayoff should be looking to add is Luke Schenn.
After this season, Schenn, an unrestricted free agent, carries a very reasonable $850 000 cap hit and would take no roster maneuvering cap-wise to make fit in Winnipeg.
The 33-year-old veteran right-side defenseman won back-to-back Stanley Cups with Tampa Bay in 2020 and 2021. With no lack of playoff success, the former fifth overall pick in 2008 by the Toronto Maple Leafs would add much-needed experience over Dylan Samberg.
How could a trade for Luke Schenn look?
To Winnipeg
RD – Luke Schenn
LW/RW – Nils Hoglander
LW/RW – Vasily Podkolzin
To Vancouver
C – David Gustafsson
LD – Logan Stanley
LD – Ville Heinola
2023 1st round pick (Winnipeg)
2023 5th round pick (New York Rangers)
Defenders with similar attributes as Schenn have shown to fetch a lot in previous trade deadlines. With his low cap hit and so many of the top teams in the NHL tight against the salary cap ceiling, it only makes Schenn worth that much more, and it could quickly become a bidding war for him if Canucks GM Patrik Allvin plays his card right.
Winnipeg already has Dylan Samberg playing ahead of Ville Heinola, and one could argue Kyle Capobianco is more reliable than Logan Stanley if needed.
With Gustafsson buried behind Dubois, Schiefele, and Lowry up the middle, Vancouver could offer him a better opportunity to top-9 minutes.
Winnipeg could add young forwards who have fallen out of favor in Vancouver, Nils Hoglander and Vasily Podkolzin. With Blake Wheeler not getting any younger, his contract expires after the 2023-24 season, and looking to add youth at the wing positions could only benefit Winnipeg in the long term with the lack of long-term certainty in their current bottom-6 forwards. Players like Hoglander and Podkolzin could benefit from a change of scenery with no immediate expectations and be given time to acclimate to a new franchise.
If the Jets were to acquire Schenn, moving Nate Schmidt to the left side would be an option to let Schenn slide into the right side on the third pairing with Schmidt mentioned above.
Episode 51: Interview w/Jack Ahcan Episode 51 is back in action talking about the New York Paingers ITR bet, Can Buffalo Sabres make the playoffs? Is Vancouver in the wrong on the Boudreau treatment? Is Tocchet the right guy? Is Daryl Sutter the last Dinosaur in the NHL?YouTube: https://www.youtube.com/@insidetherinkTwitter: https://twitter.com/CueTheDuckBoatzFacebook: https://www.facebook.com/Cuetheduckboats/Thanks for listening! Please rate and review our show on your favorite listening platform. Check out our partner's website at www.insidetherink.com for all your latest hockey news. Also, catch all of the games in this year's NHL season by signing up for ESPN+ at Insidetherink.com/ESPN