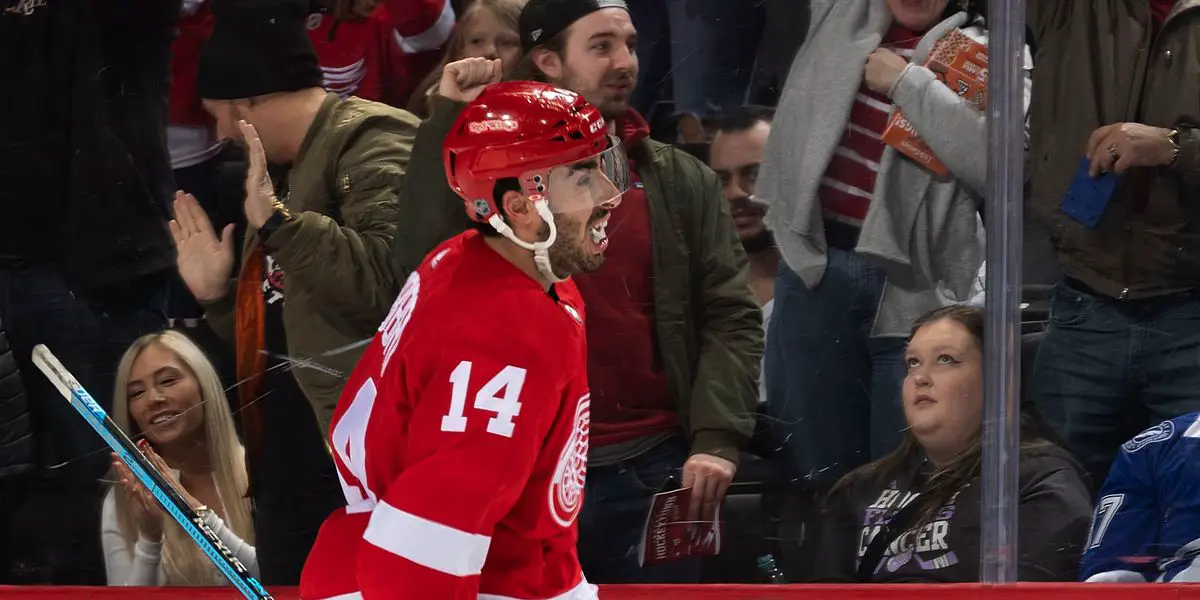 The prolonged holiday break was a bit of a blessing for the Detroit Red Wings as it allowed injured players a bit more time to heal. As mentioned, this team has some injuries, as most teams do. They also have some players that will be returning from injuries very soon, which will help the Red Wings make a serious push for a playoff spot. Tyler Bertuzzi, Robby Fabbri, and Filip Zadina are all due back in January, combined with the emergence of RW- Jonatan Berggren. This should help the Red Wings ascend the Eastern Conference.
With the return of Bertuzzi, Fabbri, and Zadina, the question becomes, where does the trio fit into the current Detroit roster? First off, this is excellent news for the Red Wings and GM Steve Yzerman's vision for his hockey team. Yzerman has said many times he wants to create depth. Head coach Derek Lalonde will be a step closer to having his complete arsenal at his disposal.
Lalonde will now have to fit Bertuzzi, Fabbri, and Zadina in with Andrew Copp, Dylan Larkin, Lucas Raymond, David Perron, Joe Veleno, Dominik Kubalik, Michael Rasmussen, Berggren, and another Red Wings player who has been out for a while Jakub Vrana. Please do not feel bad for Lalonde. This is an excellent problem to have.
More depth equals more scoring opportunities, and more depth also means that players who played on certain lines while filling in for injured teammates will go elsewhere. Creating the ability to impact games in ways the Red Wings were unable while players were out. This is something the Red Wings have not had in a while.
Again, Steve Yzerman has created depth. Not only has he created depth, but it is also quality depth that can impact games. How the lines will shake out is anyone's guess right now. Derek Lalonde can plug in a player and move players to different lines, and the team will be stronger because of it.
Currently sitting in fourth place in the Atlantic, about to get some key players back, the Red Wings are in a good position to stay in the playoff hunt. Not only that, the organization looks to be trending to the top of the Eastern Conference, even if that does not happen this year.
Steve Yzerman, who came back to the Detroit Red Wings organization, was widely tight-lipped about how long the rebuild the team was under would take. Rightfully so, solid drafts, shrewd trades, and free agent spending has shaped the Red Wings into an organization that looks like it will be an Eastern Conference mainstay for a while.
In this episode, we recap the Red Wings' last three games versus St. Louis, Philadelphia, and Pittsburgh. David Perron scored his first hat trick as a Red Wing, Simon Edvinsson scored his first NHL goal, and more! We also discuss the Red Wings signing prospects Carter Mazur and William Wallinder to their ELCs, their impacts for the rest of the season in Grand Rapids, and if they could make the Red Wings next season. Marco Kasper is also reportedly coming over to North America for the rest of the season and could possibly report to Detroit.We wrap up by discussing the bottom of the NHL and where the Red Wings rank in the draft lottery odds, and which teams would be the best fit for Connor Bedard.Please rate and review our show on your favorite listening platform. Check out our partner's website at www.insidetherink.com for all your latest hockey news.