The San Jose Sharks terminated Evander Kane's contract on Saturday morning for violating the AHL's COVID protocols, pending a potential grievance by the NHLPA. This comes after a pattern of poor decision-making that has tarnished the left winger's reputation, possibly beyond repair. It all started when news came out that Evander had filed for bankruptcy after allegedly gambling away millions of dollars. To make matters worse, his now ex-wife began making accusations of abuse, neglect and even accused Kane of gambling on his own NHL games. The league investigated that claim and found no evidence. However, the spectacle created by this very public feud between the two had become a distraction. If bad press from the gambling and ongoing divorce scandal wasn't enough, Evander was caught faking his vaccine documentation. After serving a 21 game suspension for using the fake vaccine card, Kane claimed that he had become fully vaccinated and began a conditioning stint with the Sharks AHL affiliate, the San Jose Barracuda. Despite all of the off-ice drama surrounding Kane, he played well in his 5 AHL games, putting up 8 points, and there was rumored interest from teams around the league looking to potentially acquire the forward, whose trade value had no doubt plummeted after all of the recent antics. When the Sharks terminated his contract, many assumed that the potential distraction Kane posed would likely be too much of a risk for any team to take the risk signing him. But is that the case? Could a desperate team like the Oilers benefit from his services? Let's take a look.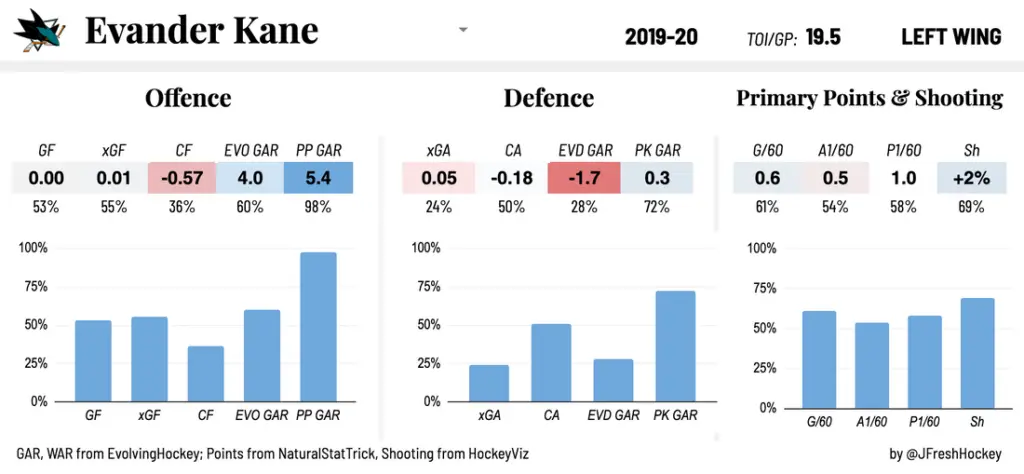 Evander Kane led the Sharks in scoring last season with 49 points in 56 games, which is about a 72 point pace over 82 games. This point total would have been third-best on the Oilers in 2021, behind only McDavid and Draisaitl. As you can see by the image above, Kane's Goals Above Replacement (a statistical model that combines multiple metrics to quantify a player's value) is quite good both on the PK and PP. Adding Kane could bolster an already deadly special teams group. This would give the Oilers some extra weapons to play around with, but it isn't the most urgent need for the Oilers right now, instead they are mostly looking to improve their play at even strength where over the last year, they have been outscored by more than double with McDavid, Draisaitl, and Nugent-Hopkins off the ice. Kane's even-strength numbers last season weren't as notable as the special teams, but still above average, as he achieved a 50% or better goal share, scoring chance share, and high danger chance share despite playing on a non-playoff team. While Kane's shooting percentage of just 9.16% is nothing to write home about, if he played with a deadly shooter like Leon Draisaitl, he could compliment the top 6 nicely. Here's an example of what I believe the lineup could look like by season's end with Kane in the fold.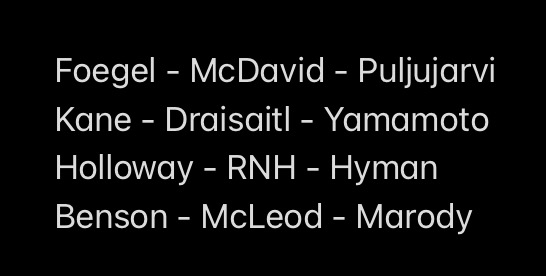 While there are several different combinations they could go with, I think the best course of action would be to have Kane play with Draisaitl and slide Nugent-Hopkins into the 3rd line centre position, which would at long last provide them with enough weapons on the wing to have Nugent-Hopkins play the position they have been seeking to fill for years now. I believe a Benson – McLeod – Marody line could be effective, as Marody has been lighting the lamp in the AHL and even recorded an assist with limited ice-time in his first NHL appearance this season. He deserves an extended look with his former linemates. Admittedly having Holloway here is a bit presumptuous. Still, he has so many tools that he brings to the table, such as his excellent defensive game and his speed, that I can't imagine a scenario in which he doesn't perform better than some of the struggling bottom-six forwards on this team. Even if Holloway isn't brought into the fold this year, Derek Ryan or Zack Kassian could be slotted into this lineup, and they would still likely be one of the most dangerous groups in the league.
Clearly, Evander Kane has the potential to change this forward group from a good one into a great one, but is it worth all the baggage? That's a tricky question. For starters, he would need to be brought in at a considerably low cap hit for this to even be possible, so the Oilers would probably have to be either the only or one of just a couple of teams willing to take a chance on Kane. Otherwise, he could get priced out of Edmonton's range. Assuming they can afford him, his potential to be a considerable distraction should he continue his off-ice antics could be a risk. If the Oilers were to sign him for close to league minimum, they could just send him to the AHL if things become too problematic. It is a risk that comes with an easy solution and a potentially high reward. The only question would be whether or not the Oilers would be willing to give a man that has, frankly, displayed some questionable character recently another chance. What would you do?