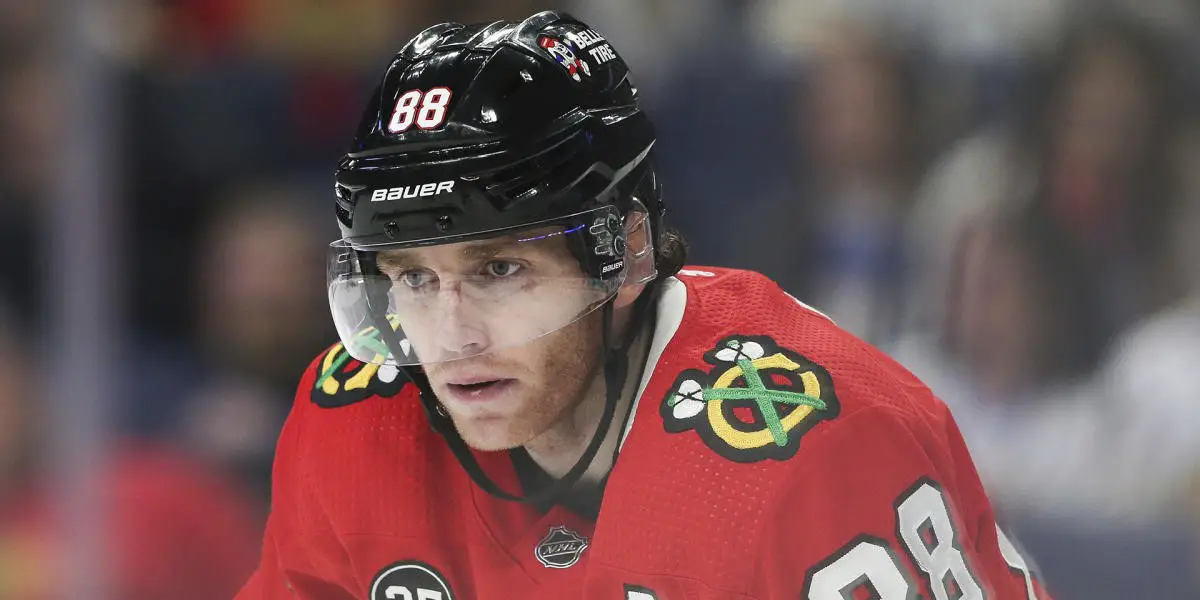 Like many other Oilers fans, I've had my heart palpitate, and my eyes roll at news centering around the Blackhawks superstar and the rumours of interest that Edmonton has in his services. No one will shut up about it, and it makes Oilers fans more anxious to just get on with or without it already. It certainly is exciting and nerve-wracking when the team you cheer for is in the middle of offseason smoke. But as it's also been noted, GM Kyle Davidson may more likely make that deal at the 2023 trade deadline instead.
When discussing any NHL player, as we debate about trade value, free agent value, and how to make it all work under the salary cap, there is always one question that us armchair GMs forget to ask ourselves. Does that player WANT to play for your team anyway? For the longest time, that was the issue with the Alberta capital every offseason. I became an Oilers fan around the time of their Stanley Cup Final run in 2006. After that miraculous year, I remember the summer of 2007 when Michael Nylander's agent reportedly agreed to a contract with Edmonton, only to find out a day later that Nylander signed with the Capitals. In the summer of 2008, they offered Marian Hossa a multi-year contract that would pay him up to $100M, $9M per year. He turned that down and signed for one year with the Red Wings, playing for a chance to win a Cup. Completing the hat trick of offseason letdowns was the summer of 2009, on a night where a trade with the Senators was reportedly completed. One that would've sent Dany Heatley to the Oilers in exchange for Dustin Penner, Andrew Cogliano, and Ladislav Smid. Only to hear the morning after that Heatley did not fancy a trade to Edmonton and would eventually be traded to the Sharks as the preseason was about to start. And then, of course, the Decade of Darkness started developing, and big name players weren't signing contracts to win draft lotteries.
So, should Oilers fans be irritated if all this build up about a potential blockbuster move ultimately led to nothing in the end? Or should they be excited, and should we just let people have fun once in a while? My answer? Both. We can be disappointed about not landing Patrick Kane and acknowledge that being in on such a player shows how far the Oilers have come from mediocrity. The first big name free agent signing for the Oil in the McDavid era was Milan Lucic in 2016 and, well, you know. Zach Hyman was signed by Edmonton last summer and looked great in his first Oilers season. Evander Kane became a big name after his half season sample size and re-signed. Jack Campbell was one of the big name goalies on the market this summer, and the Oilers got him. The narrative around Edmonton has been changing a little bit; they now look like a team that can contend and look for pieces to help them make a serious run. Now, with all this said, fans should not get their hopes up too high about this possibility until it was to happen officially, and it hasn't. The Rangers have also inquired about Kane, the Maple Leafs have also inquired. And it's not too farfetched to suggest that maybe, just maybe, the Buffalo native might want to go back home and play for the hometown Sabres. Just because we're excited doesn't mean it's guaranteed.
Now, on the subject of what trading for him will cost? Um… He's good, very good. Very good players tend to come with a hefty ransom. This is obvious, right? You can't wish for your GM to make a BIG move and then get angry about losing the assets they needed to part with. With Chicago's current rebuild plans, trading for Kane won't cost Ken Holland a Kailer Yamamoto or Ryan Nugent-Hopkins type. It should still cost him a Dylan Holloway or Philip Broberg type, as well as multiple draft picks. But lately, I've read some tweets from Oilers fans suggesting the cost shouldn't be that high. "Alex Debrincat didn't cost that much for the Senators." Because Debrincat is not a future Hall of Famer (as of now, though still good), nor is he an Art Ross, Hart, and Conn Smythe trophy winner wearing three Cup rings on his hand. Sometimes, the length of a resume matters more than we may believe. The Stars drafted Jarome Iginla, then traded him for Joe Nieuwendyk, the 1999 Conn Smythe winner, helping Dallas win their only Stanley Cup. You need to GIVE good in order to GET good back. Part of wanting your team to win it all means not favouring prospects over a proven star who can still put up 90+ points playing in his mid 30s; especially if he'd have Connor McDavid or Leon Draisaitl as his centerman. If I end up being wrong about the asking price, great; I won't complain. I just don't see Davidson feeling the same way.
And lastly, the most complicated point, cap space. Even when the Oilers have Mike Smith and Oscar Klefbom on LTIR, they will still barely be under the cap and need that limited space to re-sign Ryan McLeod. The Blackhawks will retain salary, but it still won't be easy to fit Kane in. To somehow make it work financially, Edmonton would have to move one of Warren Foegele, Jesse Puljujarvi, or Tyson Barrie. Half the Oilers fan base will say Foegele or Barrie, of course. And, look, I love Puljujarvi. With fans and media being divided on his importance to the roster, I've been on the "keep JP" camp all year long. But if he were part of Chicago's asking price, then even just half a season of Kane would be my ONLY reason to trade him.
Is it absolutely crucial to acquire another highly skilled forward? Not a whole lot. Is it more vital to address other areas of the roster? Perhaps. I like the team's defense as it currently is, but it might suit them more to go after a shutdown blue liner. The idea of pursuing Patrick Kane is still a cool thing, IF they're able to make it work. Again, it means the team has gotten better and only the really good teams try things like this. Could you imagine having two Kanes' on the same team, maybe even on the same line? "🎵Kane! Can you do the Kane Kane! Can you do the Kane Kane!🎵" Come on, Holland. Have a sense of humour and make that a thing.
The boys are back after a long break but have plenty to talk about as the playoffs are in full swing. We go series by series, looking at how teams have fared so far and who will come out on top. Thanks for listening! Please rate and review our show on your favorite listening platform. Check out our partner's website at www.insidetherink.com for all your latest hockey news.