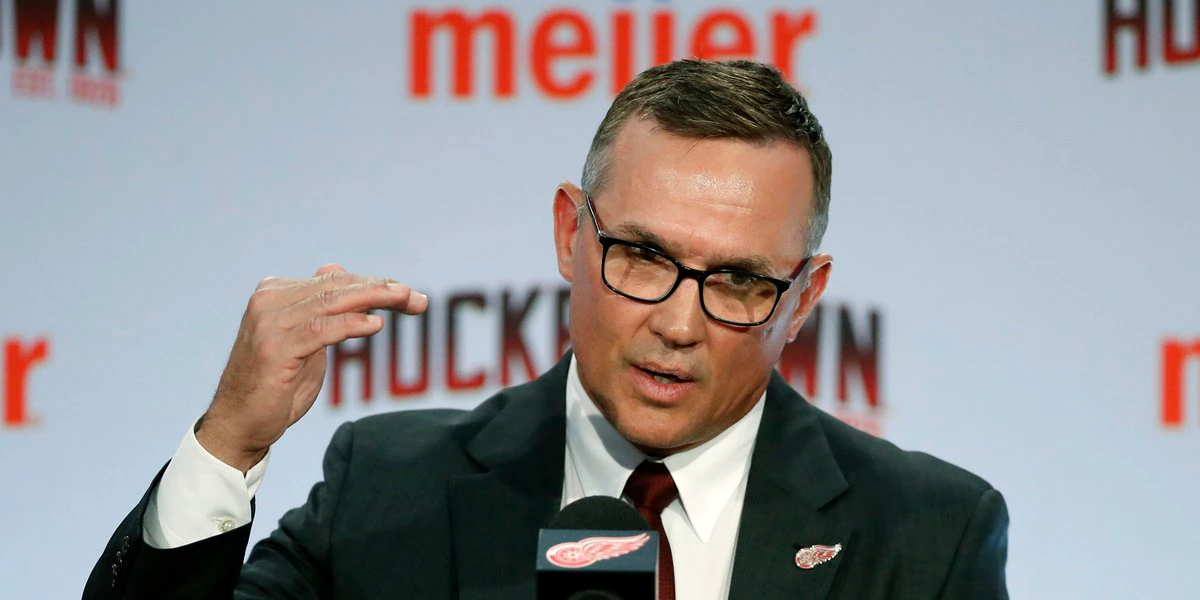 Dating back to when he first took over as General Manager of the Tampa Bay Lightning, Steve Yzerman's reputation as a builder has been up there among the best in the NHL. Whether drafting and developing the likes of Brayden Point or Anthony Cirelli or making a core shifting trade such as acquiring Ryan McDonough. Since returning to Detroit in April 2019, Yzerman has begun to attempt the same process as he did in Tampa.
Tearing the reminiscence of the team's previous regime, Yzerman gave himself cap flexibility, which is extremely valuable in today's NHL. In a recent fan confidence poll from The Athletic, the Red Wings management team ranked third only behind the Tampa Bay Lightning and the Colorado Avalanche. A part of Detroit's high ranking results from the Lightning's success over the past few seasons, from which Yzerman had a significant role in assembling. Since returning to Detroit in April 2019, Yzerman has begun to attempt the same process as he did in Tampa, which has given Red Wings fans hope for the future. Here are three trades that Yzerman has made that have improved the Red Wings and set them up for future success.
Jakub Vrana
The 2021 NHL trade deadline was shaping up to be quieter than most years, with primarily depth players being moved for future assets until the Red Wings and the Washington Capitals made a blockbuster trade in the eleventh hour on April 12th, 2021. The Red Wings traded forward Anthony Mantha in exchange for Jakub Vrana, Richard Panik, a 2021 first-round pick, and a 2022 second-round pick.
Mantha, signed to a four-year extension prior to the start of the 2020-21 season, was once viewed as a core piece of the Red Wings and a player who was going to help lead the team out of the rebuild. Throughout that season, Mantha was inconsistent in his production and effort, making him expendable. Washington was looking to shore up their top-six and shake up the roster after failing to make it past the second round since they had won the Stanley Cup in 2018. The Capitals had an underperforming player of their own in Jakub Vrana, who had fallen out of favor with the coaching staff and was playing limited minutes.
Since arriving in Detroit, Vrana has scored at the highest rate of his young career. In the eleven games to finish the 2020-21 season, the left-winger scored eight goals and added three helpers in 11 games. Vrana was poised for a breakout season heading into last season, only to be sidelined until March after needing shoulder surgery. He would only suit up in 26 games this past season but was still able to produce at a high level, scoring 13 goals and six assists.
It could be argued that Vrana for Mantha one for one is a win for Yzerman and his staff, but the assets on top of that could have plenty of upside down the road. Washington's 2021 first-round pick and an additional second-round pick were used for trading up to 15th overall, with Dallas at the draft to draft WHL goalie Sebastian Cossa. The 6'6 netminder has been a standout in the WHL over the past few seasons, posting a record of 50-10-4 and a save percentage of .927. Cossa also backstopped the Oil Kings' run to the WHL title, posting a record of 16-3 and a save percentage of .919. Cossa likely will spend next season back in the WHL, but it should be too long until we see him in Michigan.
The 2022 second-round pick was used to select Russian-born forward Dmitri Buchelnikov. The undersized winger put up big numbers at the junior level, scoring 41 goals and 34 assists in 56 games with SKA-1946 St. Petersburg. Since being drafted, Buchelnikov has been a standout in the KHL's preseason and even added SKA's fourth goal of the game on the powerplay.
Robby Fabbri
At the beginning of what would be one of the worst seasons for any team in the salary cap era, Steve Yzerman decided to take a swing on a reclamation project in Robby Fabbri in exchange for Jacob de la Rose. The Red Wings claimed de la Rose off waivers from Montreal a year prior, and he was deployed mainly as a fourth-line forward. Robby Fabbri was coming off his first of three ACL surgeries and had a down season in production, leading to him being pushed down the lineup, becoming the ideal change of scenery candidate.
Since joining Detroit, Fabbri has been a fixture in Detroit's top-six, scoring 41 goals and 79 points in 138 games. Through his development, Fabbri has changed his game, added more of a physical element, and is often the first guy on the forecheck. This past December, the Red Wings re-signed Fabbri to a three-year contract worth $4 million a season. Fabbri played 56 games in 2021-22, scoring 17 goals and 13 assists, playing mainly with Pius Suter and one of Filip Zadina or Tyler Bertuzzi.
Turning a 2018 waiver claim in de la Rose into a player who can play top-six minutes and will likely be a member of the team's top-nine barring how Fabbri recovers from surgery, is a tidy piece of work for Yzerman.
Alex Nedeljkovic and Ville Husso
Let's start with Nedeljkovic.
Heading into the Summer of 2021, the Red Wings had a glaring hole in goal at the NHL level and in the pipeline. After a Calder-nominated season, Carolina was in a strict salary cap position to pay their potential goalie of the future a hefty raise after a small sample size. With extra draft capital and plenty of cap space, Steve Yzerman moved the UFA rights of Jonathan Bernier and a 2021 third-round pick for the RFA rights of Nedeljkovic.
After the trade, Nedeljkovic and the Red Wings came to terms on a two-year contract extension worth $3 million a season. It had been since 2015 with Petr Mrazek that the Red Wings had a potential young starter on the roster, and after his 2020-21 season, Nedeljkovic had high expectations coming in. In the first two months of the 2021-22 season, Nedeljkovic was excellent for Detroit, posting a record of 7-3-3 and a save percentage of .917.
The rest of the year, however, Nedeljkovic's save percentage was sub .900 primarily due to the Red Wings' defensive woes, but the 26-year-old had a handful of games he'd likely want back. With an improved defense, a new defensive-minded head coach in Derek Lalonde, and a new tandem partner, Nedeljkovic could have a bounce-back season in 2022-23. Players often have strong seasons in a contract year, and Nedeljkovic will be looking to earn a raise on his next deal, whether in Detroit or elsewhere.
Now on to Husso.
On day two of the 2022 NHL Entry Draft, Steve Yzerman traded the 73rd overall pick to the St. Louis Blues in exchange for the UFA rights of Ville Husso. It was apparent that Nedeljkovic was not ready to have a nearly 60-game workload and needed a partner who could push him and split time in goal in a tandem. After the trade was finalized, the two sides agreed to a three-year contract worth $4.75 million a season, including a modified no-trade clause.
Like Nedeljkovic, Husso had his breakout season in his mid-twenties and took over his team's starting role. In 40 games, Husso posted a record of 25-7-6, a goals-against-average of 2.56, and a save percentage of .919. For most of last season, Husso was St. Louis's number one goalie, beating out Jordan Binnigton, but he lost the crease in the playoffs and also struggled when Binnigton went down in the second round. In the 2021-22 playoffs, Husso had a record of 2-5 and a save percentage of .890.
Husso paired with Nedeljkovic gives the Red Wings a 1A-1B tandem with upside but also a lack of NHL experience, with only 145 regular season games split between the two. Both have shown they perform well, competing against one another, starting for the crease, and the two should push each other to perform at a high level.
After an eventful trip up to Traverse City, the Red Wings have begun preseason action. In this episode, we recap Detroit's games versus Pittsburgh and Chicago while also pointing out top performers. We also give our biggest storylines around the rest of the preseason. Thanks for listening! Please rate and review our show on your favorite listening platform. Check out our partner's website at www.insidetherink.com for all your latest hockey news.