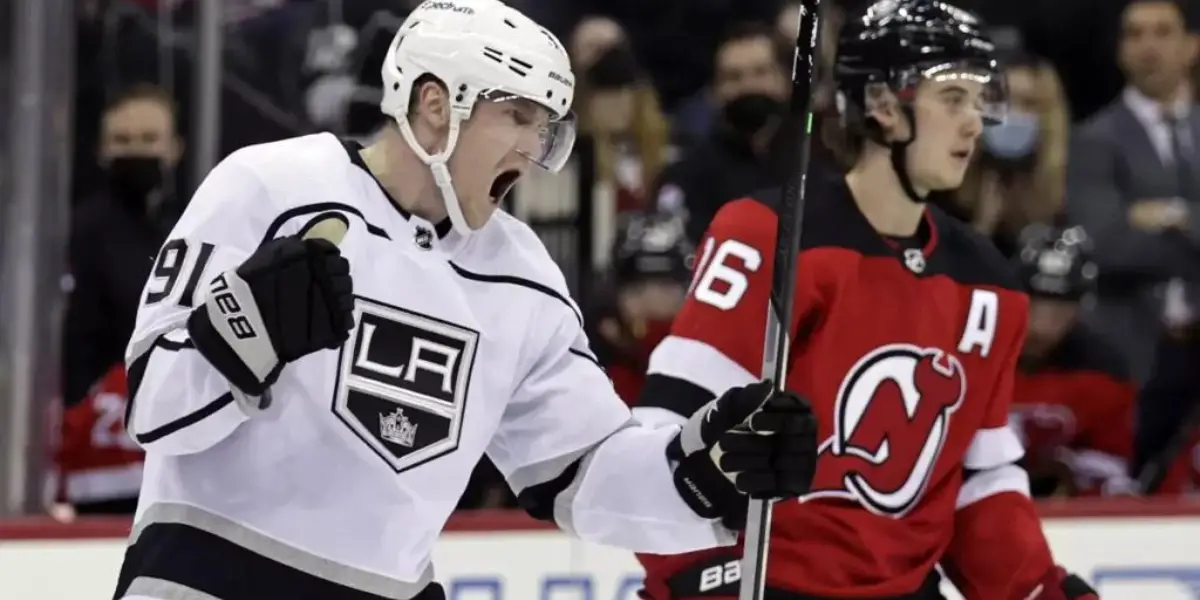 In a year where the LA Kings were no longer playing with 'house' money, many blue-chip prospects stepped into more significant roles. Gabriel Vilardi has broken out, and with a hopeful bridge contract on the horizon, he seems to be a lock to score 50-60 points when healthy (iffy history). This is after a year where Adrian Kempe became the elite player he is today, scoring 35 goals last year, to 41 this year. The next player that took steps to breaking out was 2020 2nd overall pick Quinton Byfield. Byfield was thrust into a top line role as a winger next to Anze Kopitar and Adrian Kempe. This trio was formidable during their time together. Byfield averaged slightly over 14 mins a game and finished the season 53 GP 3 -19 – 22 points to go with a +13. Tough to see him live up to his draft position, but the tools are there, and I continue to peer over at the development of Buffalo's Tage Thompson. (Not the same skillset, but the size factor) Besides these two young guns, the Kings are left with a handful of forwards with pivotal seasons ahead for the organization and for the young men's careers.
Carl Grundstrom
57 games played: 12 goals, 7 assists, 19 points, -4
Carl plays a heavy game, something that the Kings desperately need in their lineup. Though they aren't a small team, they certainly don't play a heavy game. Carl's game is a welcome sight to the lineup and has risen to the occasion come playoff time going back to last year, filling in the role of Viktor Arvidsson with success.
He has a heavy shot, lays the body with a 6′ heavier frame, has above-average edge work, and has above-average speed. Carl represents a package for a player that the Kings do not have in their system. The issue is that he has never gotten consistent top six ice time. The second-round pick in 2016 is 25 years old and has never fully broken out of the bottom six unless there was a major injury. Carl enters his final year with the Kings at a 1.3 cap hit. If you can't give him ice time to blossom into a lethal power forward that he could be, let him go play for a team that will and have 1.3 million more to persuade Vladislav Gavrikov to stay.
Jared Anderson-Dolan (JAD)
46 games played, 7 goals, 5 assists, 12 points, -11
JAD will have to be re-signed this offseason. He's a second-round pick that is only 23, with a 2-way skillset, and has a leadership background; I don't see Rob Blake letting him walk. Though he has arbitration rights, the hope is that Blake can work on a short-term deal with JAD and offer a 'show me' like the contract Gabe Vilardi received last year.
He found himself a healthy scratch through various stretches during 22-23. The Kings squad proved to be a very deep team, making roster decisions difficult for Todd McClellan. JAD was a tough out, for he has been clinical at the AHL level, mostly as a pivot on the power play. He hasn't fully been allowed to be a staple on PP2 at the NHL level, mostly due to Arthur Kaliyev being the pivot off the half-wall (and, realistically, a higher threat). If and when he is resigned, look for JAD to have a make-or-break season with the Kings.
Rasmus Kupari
66 games played, 3 goals, 12 assists, -5, 54.6% on draws
Another player who needs re-signing (no arbitration rights) will have a pivotal season coming up. Kupari has a tantalizing skill set that is very reminiscent of a right-handed Adrian Kempe. However, since his draft year, Kupari has only shown flashes of his skill, and at times, he looks like he skates faster than he processes the game. It is undeniable that when he puts it all together, the product is mouthwatering:
If Kupari can add some more muscle to stay on his skates more often and try to get back to a better finishing touch (I'm looking at you too, Byfield), he could have a breakout year. To give him full credit, Kupari broke out this year as an excellent penalty killer, and his faceoff percentage was also excellent. At 24 next year, he will need to take a huge step forward, or else the Kings could start leveraging the 2018 first round pick on the trade block.
The boys are back after a long break but have plenty to talk about as the playoffs are in full swing. We go series by series, looking at how teams have fared so far and who will come out on top. Thanks for listening! Please rate and review our show on your favorite listening platform. Check out our partner's website at www.insidetherink.com for all your latest hockey news.