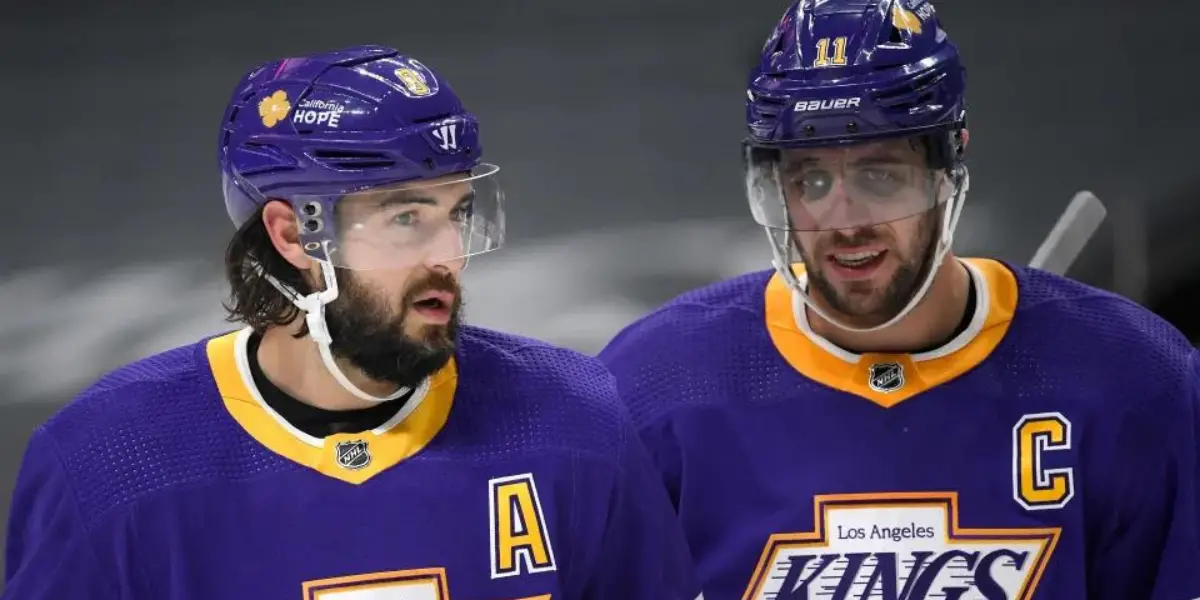 The formidable 'Holy Trinity' in hockey is a team that covets a: world-class goaltender, defenseman, and centerman. It is a recipe that has a proven track record, with the 2012-14 championship era LA Kings as a perfect example. They weren't a juggernaut regular season team but were systematic in a seven-game series. The Kings won their championships through excellent drafting, timely prospect building/call-ups, and savvy trade acquisitions: see Marian Gaborik, Jeff Carter, Mike Richards, Jarret Stoll, and Matt Greene. Through the draft, had cultivated franchise icons in Dustin Brown, Jonathan Quick, Anze Kopitar, and Drew Doughty. Since the championship era has long been over with: Dustin Brown retired in 21-22. Jonathan Quick is on his third team (in the Finals, nonetheless) in the form of the Vegas Golden Knights and will be heading to free agency this summer. The LA Kings are left with just Doughty and Kopitar from their championship core. Both players have not fully handed over duties and responsibilities to the next generation.
Anze Kopitar
22-23 Season Stats: 82 GP, 28 – 46 – 74, +20
The Kings captain had an excellent season, playing in all 82 games for the first time since his MVP 2017-18 season, dominating the faceoff circle – 55.9%, and leading the team to back-to-back postseason births for the first time since 2013, 2014 seasons. The downside is that he will be 36 going into next season. He is still penalty-killing, a staple on the powerplay, and playing tough minutes. The heir apparent in young Quinton Byfield has not and doesn't look ready to take the reins from their cornerstone center iceman. As the center under Kopitar, Phillip Danault is a fantastic shutdown, Selke-type player to have down the middle, but they should not be the 1A. Kevin Fiala, if healthy, should have passed Kopitar in the scoring title for the team but was not to be. Kopitar once again led the team in points.
Without question, Kopitar is as durable as ever and will mostly likely take on similar duties he had in 22-23. It is imperative for longevity that more of Kopitar's minutes be given to Quinton Byfield, who should project to start at 3C next season. As Dustin Brown got older, he saw less time on the PK, to no time at all.
Biggest Question for 23-24: Should your best player be off the penalty kill – even at 36 years old?
Drew Doughty
22-23 Season Stats: 81 GP, 9 – 43 – 52, +12
Drew Doughty, once again, was an NHL leader in ice time during the regular season. He was a force on the defensive side of the puck. There are concerns over his offensive game, but he pieced together a relatively healthy offensive season. His contract hasn't particularly aged well considering, but Doughty stands by playing "winning hockey," sacrificing personal points for team wins. He's as competitive as ever, but just like Kopitar, is turning towards his mid-thirties, turning 34 in December. He hasn't put up double-digit goals since his 2017-18 season. His heir apparent is Brandt Clarke, who is the Kings most hyped prospect, and possibly one of the most hyped-up prospects in the game. Take Doughty off the ice, and there is a complete lack of offensive flair to the Kings Defensive corps. The Sean Durzi experience is too much risk vs. reward. Brandt Clarke could be the boost the Kings need. If not Clarke, give AHL star Jordan Spence a chance already.
Doughty hasn't been a major offensive threat in a quite some time. He still runs the point on the first power play (4 PP goals total last year) and anchors the first defensive pair. Your best offensive defenseman on the current roster outside of Drew is Sean Durzi, and he is the most mistake plagued defenseman. Outside the current roster is Brandt Clarke, who isn't a lock for the roster come opening day. The defense has many questions regarding Vladislav Gavrikov, Alex Edler retiring, and the question of both Sean Durzi and Sean Walker. I expect Drew Doughty to lead the D corps yet again, and his offensive trailing ever more off, souring his lucrative contract for national media to point out around the hockey world.
Question for 23-24: Should Drew Doughty be getting number one PP unit time?
The Kings are on the cusp of greatness and also disaster. They have made the playoffs in back-to-back years but have gotten bounced in the first round back-to-back. They are riding a very fine line. Two Hall of Fame locks are being utilized as if they were still in their primes. The Kings wave of youth, while incrementally getting better, has not fully grasped the opportunity and taken leaps forwards. The clock is ticking on these championship players.
Required Summer Reading:
3 Players with Make-or-Break Seasons going into 23-24
What does the Blue line look like next season?