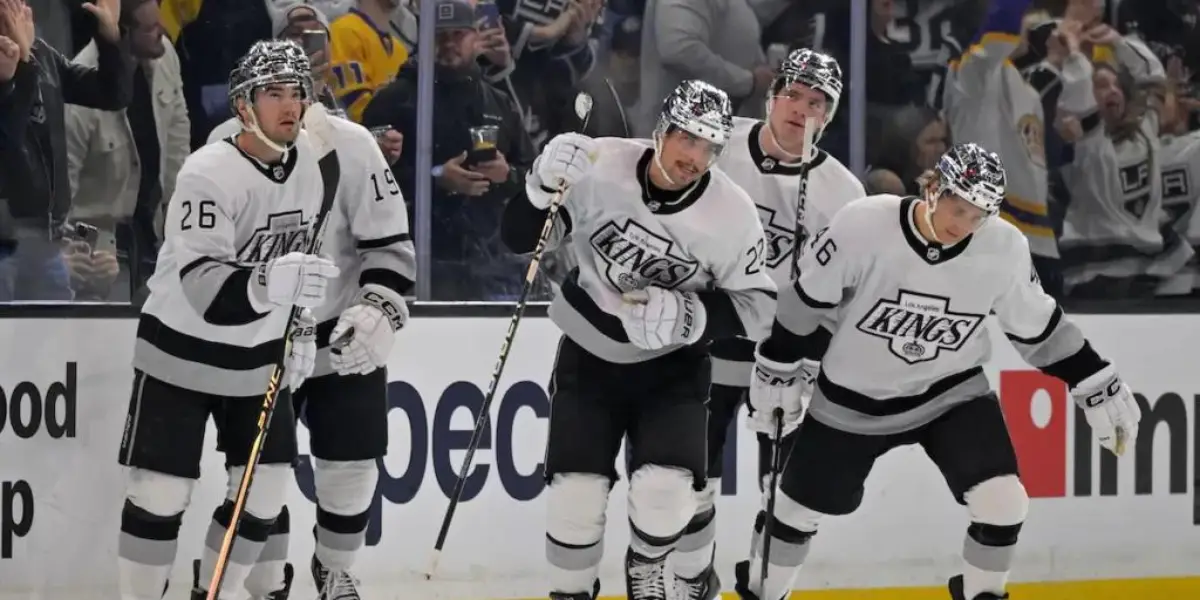 The LA Kings made the playoffs for back-to-back years for the first time since 2013-2014. While they played with house money last year, this year's expectations were higher than ever. These expectations were expanded on with Rob Blakes's potential rental move, sending franchise icon goaltender Jonathan Quick to Columbus for Vladislav Gavrikov and Joonas Korpisalo. The Kings failed to get past their newly established playoff rival Edmonton Oilers. Damage has been done. Can Rob Blake salvage most of this team? The salary cap is expected to grow a little; players need to be signed, and players need to potentially be moved. Who stays, and who goes?
A Lock to Stay
Drew Doughty
The cornerstone of the LA Kings' defense is locked in until 2026. He isn't getting any younger, and the hope is that he can continue to hold off father time in pursuit of another championship. Of course, expect him to compete again for the NHL's top TOI per game next year. While he did have his best offensive year since 2017-18, there is a concern that his offense is starting to trail off. The 11-million-dollar defenseman recorded nine goals and 43 assists for 52 points as a +12. Drew Doughty plays "winning hockey," much like the culture we have seen in this franchise for a long time, and does not sacrifice defense for offense.
Mikey Anderson
He was extended to a very savvy extension by Rob Blake and is going nowhere for quite some time, for quite a reasonable price that should age well for this franchise. A top-pairing shutdown defenseman, Anderson has commonly found his most regular competition against Leon Draisaitl, Connor McDavid, and Mark Stone. As a member of the emerging leadership core, Mikey is influential and an essential part of the team moving forward. Looking forward to seeing him build off his 20-point +20 season.
Matt Roy
Steady Eddie has continued to be a stabilizing force on the blue line, and his play rose to the occasion during the playoffs. He has a shutdown style that is sometimes gritty and overwhelming to forwards. He also has a robust and accurate clapper. Matt Roy spent most of the year playing with the King's most mistake-prone defenseman in Sean Durzi, who is playing his offside. After the deadline, Matt Roy formed a formidable pairing with Vladislav Gavrikov, looking to be one of the best defensive pairings in the NHL to finish the regular season. He is an absolute lock for next year's roster, practically irreplaceable with his current cap hit of 3.15 million.

The Free Agents
Alex Edler
Edler was excellent coming over in his first season as a LA King. He formed a consistent and reliable defensive pairing with Matt Roy. Even though the Kings implemented load management, Edler was a liability. He spent most of the time with Sean Walker, who had taken a long time to adjust to missing most of last year with a season-ending injury.
Edler simply lacks foot speed and is easily burned by above-average speed. The Durzi-Edler pairing come playoff time was disastrous. It is time to let the Vancouver Canucks legend to move on or retire.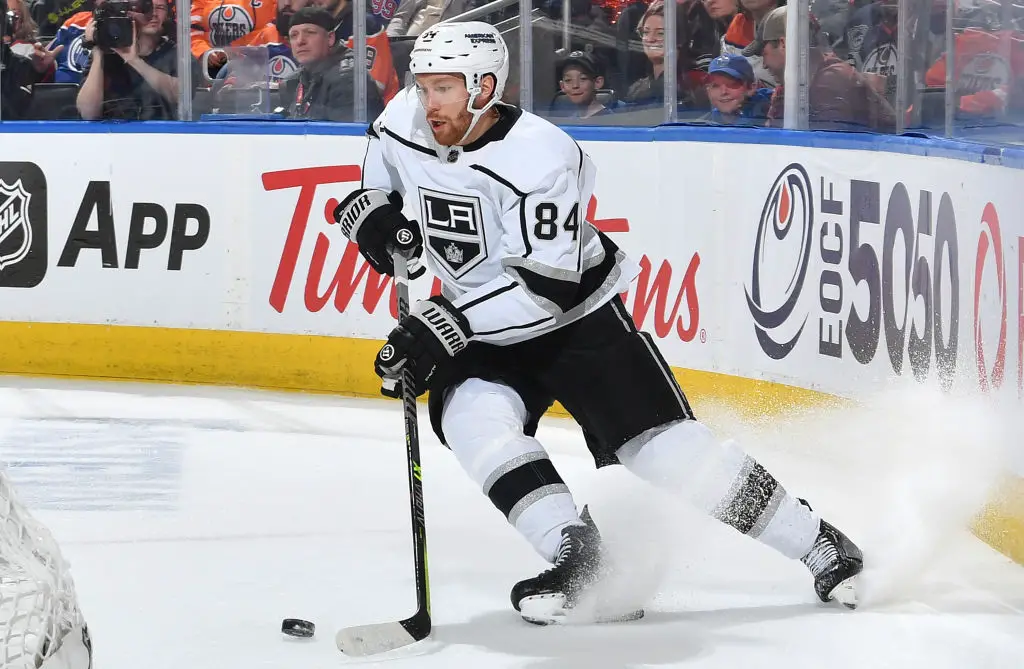 Vladislav Gavrikov
Gavrikov has options and could test the free agency market. With Zach Werenski injured in Columbus, he stepped into a more expanded role and looked like a very reliable top 4 defenseman on a poor team. The Kings had been looking for a left-handed top 4 defenseman for years, even with the Jakob Chychrun rumor saga ending. He fit in seamlessly well; he took away tough minutes from Doughty-Anderson. Bringing back Gavrikov will be tricky but should be an all-in effort by Rob Blake and company. A five-year, 4-5-million-dollar range would be a massive win for Blake. Shedding some contracts will help him in this endeavor.
The Seans
Sean Walker and Sean Durzi might be at the end of the line for the LA Kings. Both will be entering the final years of their contracts. Rob Blake will need to squeeze the cap to make room for a new contract for Gabe Vilardi and hope to offer something of worth to Gavrikov. Sean Walker was not the same after his season-ending injury last year, and though he came back into partial form, he is already in his "prime." The Sean Durzi experience has had very mixed results. A defenseman that took over for Drew Doughty last year, playing in a number one role, did not achieve building on the previous year. He digressed in a more sheltered role. He was the clear cut most mistake-prone defenseman while playing his offside. He even burned the Kings consistently on his strong side. It didn't matter; the talent coming from the prospect pool was cheaper and enormously better than the two Seans.
The Reinforcements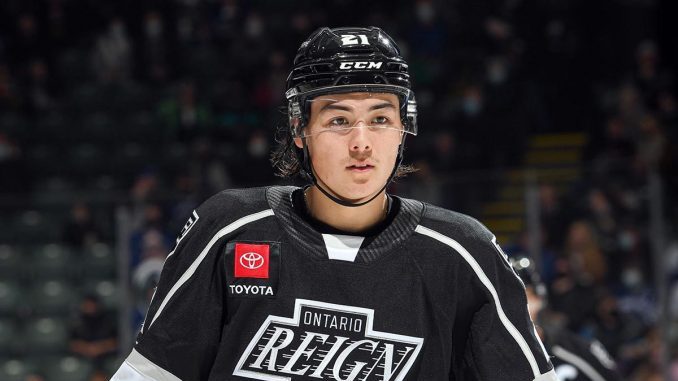 Significant upgrades are lurking in Ontario/ prospect system—younger, faster, and more able-bodied players. What we have is two lefties and two righties.
Jordan Spence (R) has been a star in the AHL, with an 87-point total in 102 career games. He has been up and down with the LA Kings going back to last year. He may be undersized, but the Kings are used to lacking size on the blue line. What they need now are slick puck movers. Spence is the epitome of a smooth puck mover. He'll be turning 24 next February in his last year of almost minimal salary.
Tobias Bjornfot (L) will need to clear waivers next year. He's another fleet-of-foot defenseman, but in Toby's case, he's gotten a plethora of time in the NHL, and in fact: He played the most regular-season games for a Kings defenseman last year. He is inconsistent; he gets bullied sometimes. The hope is that off-season training gets him heavier/meaner on the puck. He might never break through his Ryan Mcdonagh comparison at his draft day, but he can certainly be a pivot on the third pair while providing some offense and reliability.
Jacob Moverare (L) has spent parts of three seasons in Ontario. We have seen him come up to the big club for periods in the last few seasons, mainly as a backup for Edler/size matchups. He is a cerebral, lengthy, and physical (not overly imposing) defenseman. He needs to gain the footspeed to be a full-time NHLer. He may be the only player who can swap out Edler, and you would notice little difference. Now more than ever, next season is a "show me what you got" season for Moverare.
Brandt Clarke (R) is the most hyped defensive prospect since Drew Doughty. This is a dominant player with superstar potential. He didn't look too out of place during his 9-game trial with the Kings this year, and with some more minutes, he could blossom under Doughty to be the number two on the blue line. Rob Blake shied away from confirming Clarke as a lock for the Kings next year but expected him to compete for a spot. Future cornerstone needs to play NHL minutes.
What we hope/expect to see:
Doughty-Anderson
Clarke-Gavrikov
Roy-Bjornfot
Spence/Moverare
The offseason will be a busy time for the LA Kings, and we shall see what comes out the other side. Rob Blake must get creative to salvage the essential/critical cogs from the last two seasons. Resign Gavrikov, extend Vilardi, find a way to ship out both Seans and, if possible: find a way to cornfield Cal Peterson's contract. For all hopes and illustrative purposes: that's the D core we should see come October.
The boys are back after a long break but have plenty to talk about as the playoffs are in full swing. We go series by series, looking at how teams have fared so far and who will come out on top. Thanks for listening! Please rate and review our show on your favorite listening platform. Check out our partner's website at www.insidetherink.com for all your latest hockey news.