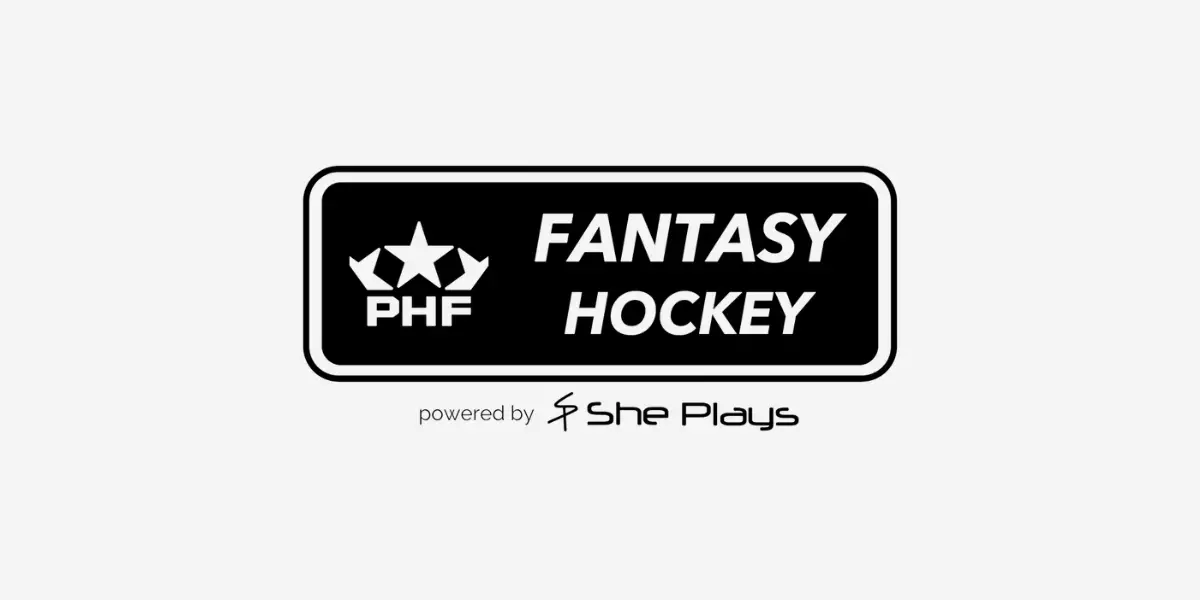 Many hockey fans enjoy partaking in fantasy leagues throughout the season. Head-to-head, different statistics, keeper leagues – ask a fantasy team GM, and they can probably spend a lot of time talking about the squad they drafted and the clever pun they chose for a team name. Up until now, these fantasy leagues primarily covered the NHL and its players. Fortunately, thanks to a newly-announced partnership between the Premiere Hockey Federation and She Plays Fantasy Hockey; fans can now compete in PHF Fantasy Hockey.
She Plays covers a wide variety of women's professional sports leagues, from NWSL to the WNBA, making this an exciting partnership for both sides. The app is available for both Apple iOS and Android devices and allows users to sign up, join leagues, become a commissioner and create their own league, and draft a team. Each team consists of eight players (three forwards, two defenders, and three flex spots of forwards/defenders/goalies, with two of those players being on the bench) who earn points for a wide variety of stats and bonuses. For example, a goal is three points, and a hat trick bonus is three points, meaning a hat trick would be worth 12 points. There are also point deductions for penalty minutes, lost faceoffs, and a faceoff percentage between 0 and 25%.
This is a huge achievement for fans of women's hockey and the PHF, giving viewers the chance to immerse themselves into the game they love and connecting them to the players they root for (or against, depending on if you're willing to draft a rival team's star player). Getting involved in fantasy sports increases the fanbases' knowledge of the players' stats and provides extra incentive to tune in every weekend to watch if a player they drafted scores a shorthanded goal for 4 points or if their goalie gets lit up for five goals against, hitting the team with -5 points. For people who are unable to watch a game, the app includes live scoring to provide owners with up-to-date point totals for their team – and their opponent's.
This partnership is reflective of the growth the league has been achieving, along with the recently-announced salary cap increase for next season, a partnership with the Pittsburgh Penguins to host a game between the Connecticut Whale and the Montreal Force at UPMC Lemieux Sports Complex, and the 2023 All-Star Weekend to be held in Toronto.
With the season already in progress, fantasy team GMs have had the opportunity to see who's hot and who is underperforming. The easiest first-overall draft pick would be Toronto Six's Brittany Howard, who leads the league in goals (12) and points (16). Taylor Girard of the Whale is currently leading her team in assists and points, with Connecticut having only played seven games thus far. In terms of goaltending, Corinne Schroeder's seven wins (totaling 21 points) and four shutouts (8 points) would be an amazing flex addition to any team.
Before you draft your team, be sure to check out the PHF stats website, and the She Plays Fantasy App FAQ page to cultivate a team capable of crushing your friends and earning you bragging rights that will carry you throughout the off-season.
Download the App
Salary cap raise 1:00All star game 7:44beauts outdoor game 10:10ECHL all star game 12:24 Live fantasy hockey draft 16:00Hockey jerseys reviews 37:36