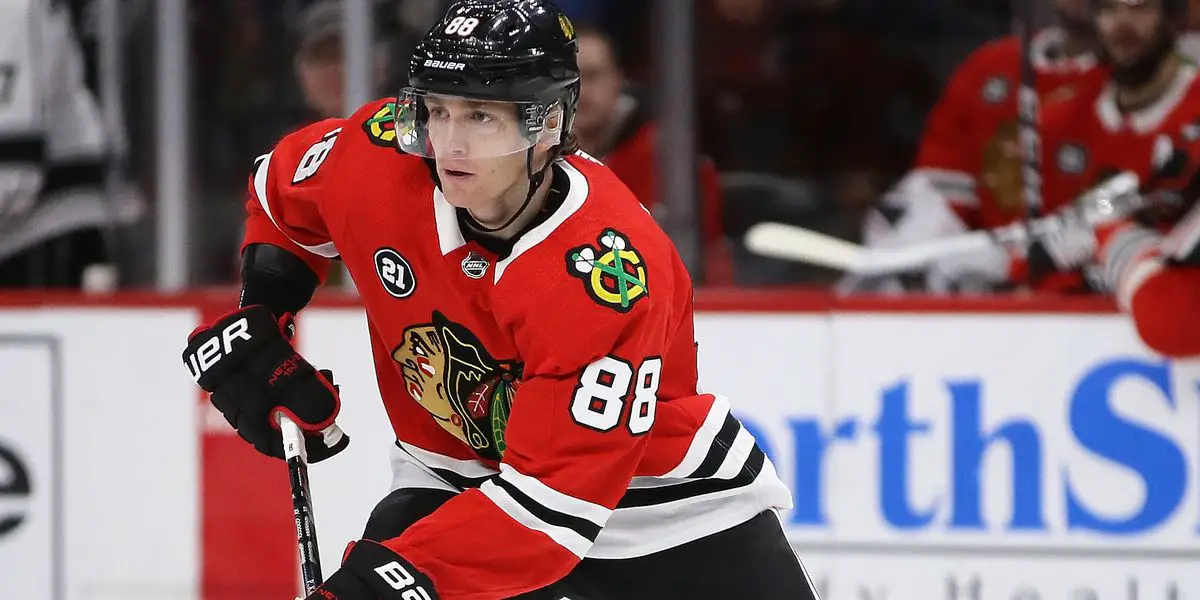 On the morning of free agency, all Blackhawks fans woke up to a gift from Frank Seravalli. Blackhawks fans can rejoice! Patrick Kane and Jonathan Toews made their best Leonardo DiCaprio impression and are STAYING…
IF AT ALL! But things could be a little murkier just as the last few seasons have gone for the Blackhawks. Pierre LeBrun tweeted a statement from Pat Brisson (Kane, Toews, and Seth Jones agent).
This is a little less than reassuring that Kane and Toews will finish their career as Blackhawks, but Hawks fans should take solace in knowing both players will be on the ice wearing a Blackhawks sweater oping night.
Davidson said he had spoken with both Toews and Kane," "I thought it was healthy, open communication, open dialogue as it has been in the past. It was necessary, I felt. It's never easy losing great players and great friends off the team."
Kyle Davidson had this to say about if Kane and Toews would want out of Chicago at some point "I think it's really hard to handicap at this point because it's all so fresh. I don't think I have a fully formed opinion on that one, one way or another, right now."
Kane is only 287 points behind the great Stan Mikita for the franchise lead-in points. Could Kane's desire to break this record be enough to scratch his competitive itch on a team that might struggle to win games? Let's hope so! Kane would need to pace around 75 points over four seasons to catch Stan Mikita.
Let's hope so! Kane would need to pace around 75 points over four seasons to catch Stan Mikita.
As for Toews, it could all depend if he can get back to the elite player where he could help a team win before he decides on his next step.
The Buyouts
Davidson would stay busy and buy out the likes of Henrik Borgstrom and Brett Connolly. This was due to the lack of a role they would have had in the NHL.
Free Agency signings
Max Domi- One Year, $3 million
Andreas Athanasiou- One Year, $3 million
Colin Blackwell- Two Years, $1.2 million
Luke Philp- One Year, $750,000
Dylan Sikura- One Year, $750,000
Brett Seney- One Year, $750,000
Alex Stalock- One Year, $750,000
This outstanding work by Davidson brought in low-risk, high-reward players without sacrificing any term. The locker room might be a little awkward at the start of training camp. Max Domi has some apologizing to do…
Once Domi gets his apology out of the way, he's prime to play on a line with Patrick Kane. Domi is a former first-round pick and has shown in the past he can put up points in the NHL. During the 18′-19 season, Domi played in 82 games and scored 28 goals and 44 assists for 72 points. Since then, Domi has lost his game a little. With the help of playing alongside Kane, If the season goes right, the Blackhawks could look to flip Domi for a first-round or second-round pick at the deadline.
Andreas Athanasiou is the only other "major" signing. SPEED is what Anthanisou is. He will slot in nicely in the middle six. Chicago will also look to flip him at the deadline for future draft picks.
Conor Bedard, That's what the Stalock singing is all about. He is a below-average backup who will help the Blackhawks lose games next season, and that's what Davidson wants.
Dylan Sikura is back and should get a great chance to show he's a full-time NHL player. Sikura should find a place in the middle six and maybe even get some power play time.
Overall, Blackhawks fans should feel better now than before the start of free agency. Davidson did admirable job signing players, but most importantly, 19 and 88 will be pulling on the red Blackhawks jersey to start the season.
Season 2 Episode 10: Is Patrick Kane The Greatest Blackhawks Player Of All Time
–
Cue The Dagger
In this episode, we discuss if Patrick Kane is the greatest Blackhawks player of all-time, Lukas Reichel's one NHL game, and his unbelievable shootout goal. We also break down Seattle's chances of making the playoffs, is hitting and fighting making a comeback? and much more NHL news and topics  #Blackhawks #ALLCAPS #NHL #SeaKraken #LetsGoBuffalo