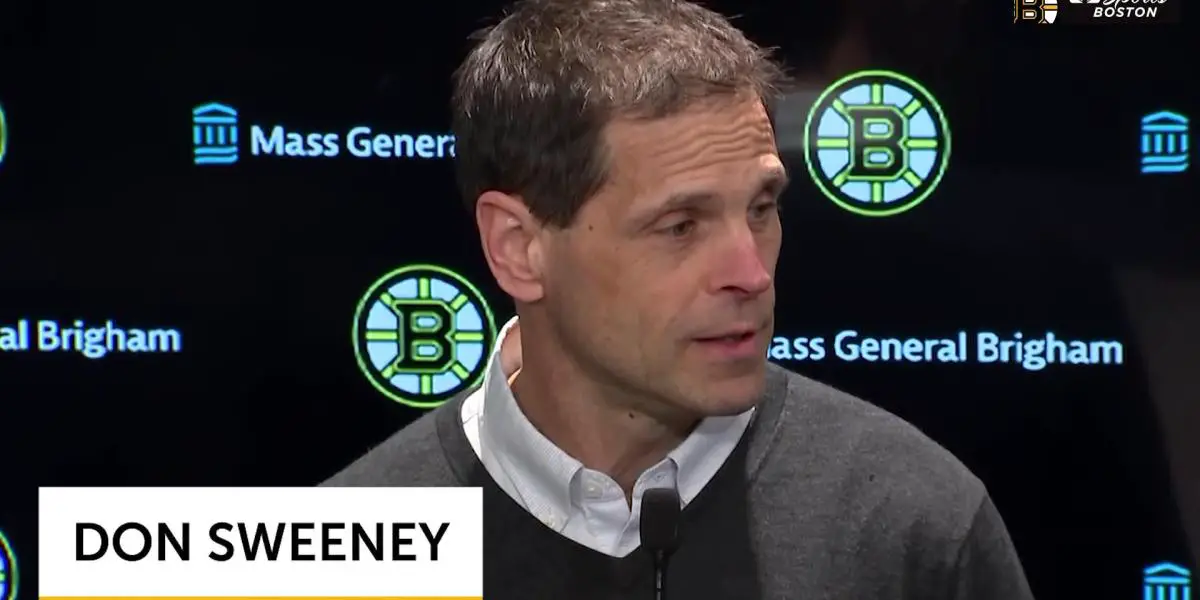 Boston Bruins general manager is nearing a contract extension with the club and took some responsibility for the team's first-round exit at the hands of the Carolina Hurricanes. One of the great debates about the Bruins is the evaluation of Sweeney as the general manager. Some fans would love the Bruins to move on, and others feel he's done a fine job and want to see how Sweeney reshapes an aging roster. So why not take a look at Sweeney's trade history since becoming the general manager in 2015. Minor trades were not included in this article. Here are all the trades and whether the Bruins "won" or not.
June 2015: Carl Soderberg to Colorado for a 2015 sixth-round pick (165 – Oskar Steen)
Soderberg would have four more productive seasons in the NHL. Steen just signed a one-way deal with the Bruins. This might be the last chance to show he can play in the league. Trade result: Loss
June 2015: Dougie Hamilton to Calgary for a 2015 first-round pick (15 – Zach Senyshyn), 2015 second-round pick (45 – Jacob Forsbacka-Karlsson), 2015 second-round pick (52 – Jeremy Lauzon)
Hamilton is a high-end offensive defenseman but was not a good fit in Boston. The Bruins had no choice but to trade him, and Hamilton is currently on his fourth team in nine years. The value wasn't bad at the time, but all three picks are gone from the organization, and all that is left from this trade tree is a 7th-round pick in this year's draft from the Josh Brown trade. Not great. Trade result: Loss
June 2015: Milan Lucic to Los Angeles for Martin Jones, Colin Miller, and a 2015 first-round pick (13 – Jakub Zboril)
At the time, Milan Lucic was not playing with the same physicality that made him such a fan favorite in Boston. His salary became prohibitive, and it was time to deal him. The return was decent at the time. Jones was a hot prospect who was then traded for a 1st round pick. Miller was a serviceable defenseman who was lost in the expansion draft. Zboril just signed a two-year deal to hopefully build on a good season cut short by an ACL injury. Overall, still a slight loss for Boston. Trade result: Loss
June 2015: 2015 fifth-round pick to Minnesota for a 2016 fifth-round pick.
This trade looks like a minor deal on the service, but the player selected by Minnesota is Kirill Kaprizov, who registered 47-61-108 this season as a dynamic winger. Cameron Clarke, who the Bruins selected, did not. Ooof. Trade result: Loss
June 2015: 2017 third-round pick (80 – Kirill Ustimenko) to Philadelphia for Zach Rinaldo
The third-rounder did not amount to anything, but still a loss on principle. Rinaldo was not a fit. A real head-scratcher. Trade result: Loss
June 2015: Martin Jones to San Jose for Sean Kuraly and a first-round pick (29 – Trent Frederic)
The first win for Sweeney. Kuraly was a good bottom-six player with some playoff production. Frederic has improved some but will need to be even better to stick past this season. He is not a first-round talent, but at least he is on the team. Trade result: Win
July 2015: Marc Savard's contract and Reilly Smith to Florida for Jimmy Hayes
The good news: The Bruins found a taker for Savard's $4 million salaries. The bad news: Reilly Smith is a far better player than Jimmy Hayes. Trade result: Loss
February 2016: Anthony Camara, 2016 third-round pick (75 – Jack LaFontaine), 2017 fifth-round pick (142 – Jack Dugan) for John-Michael Liles
Liles played 53 total games for the Bruins and six in the playoffs. No harm, no foul on the picks. Trade result: Draw
February 2016: 2016 fourth-round pick (105 – Evan Cormier) and 2017 second-round pick (49 – Mario Ferraro) for Lee Stempniak
Not a bad deal on the surface, but there is one major factor to consider. The Bruins had Stempniak in training camp and cut him. Then they used draft picks to re-acquire him. So that's not great. Trade result: Loss
March 2017: 2018 fifth-round pick (150 – Declan Chisholm) for Drew Stafford
Stafford was a true rental who performed admirably. In 18 regular-season games, he posted 4-4-8 and scored two goals in the playoffs. This is the type of rental that works. Trade result: Win
February 2018: Rob O'Gara and a 2018 third-round pick (88 – Joey Keane) for Nick Holden
Similar to Liles deal. Rental defenseman. Not much lost. Trade result: Draw
February 2018: Frank Vatrano to Florida for a 2018 third-round pick (77 – Jakub Lauko)
Vatrano has his faults but scores goals in the NHL. Lauko was a good prospect who is now struggling to get top-six minutes in the AHL. When it happened, it was a decent deal. Now, it is not. Trade result: Loss
February 2018: Matt Beleskey, Ryan Spooner, Ryan Lindgren signing rights, 2018 first-round pick (26 – Jacob Bernard-Docker) and 2019 seventh-round pick (216 – Massimo Rizzo) to New York Rangers for Rick Nash
It could have been a win for the Bruins. The positives were getting rid of Beleskey and Spooner. A big negative is trading Lindgren, who is a big part of the Rangers defensive corps. Nash was a good get who had concussion issues, which is too bad. Trade result: Slight loss
February 2018: 2019 fourth-round pick (123 – Antii Saarela) to Chicago for Tommy Wingels
Another minor rental. Wingels, was ok. Nothing really lost. Trade result: Draw
September 2018: Adam McQuaid to New York Rangers for Steven Kampfer, 2019 fourth-round pick (99 – Cade Webber), and 2019 seventh-round pick (192 – Jake Schmaltz)
McQuaid was a key member of the good Bruins teams in the early 2010s. His physical style and rugged toughness have been missed since. Kampfer was a serviceable depth defenseman and still works in the organization. It's not a terrible deal, as McQuaid was near the end of his career. But you would have still liked a better prospect. Trade result: Slight loss
February 2019: Ryan Donato and a 2019 fourth-round pick (99 – Cade Webber) to Minnesota for Charlie Coyle
A big win here. Coyle has had some ups and downs, but he is a good third-line center. Donato is bouncing around the league. The Bruins also re-signed Coyle. Trade result: Huge win
February 2019: 2019 second-round pick (61 – Nikita Okhotiuk) and 2020 fourth-round pick (120 – Ethan Edwards) to New Jersey for Marcus Johansson
Good rental trade here. Johansson had 11 points in 22 playoff games and developed great chemistry with Charlie Coyle. The Bruins came within one game of winning the Cup. Trade result: Win
February 2020: David Backes (some salary retained), Axel Andersson, and a 2020 first-round pick (27 – Jacob Perrault) to Anaheim for Ondrej Kase
This deal was largely about making Backes' contract more palatable. Andersson and the first-round pick haven't amounted to anything for the Ducks. Kase has been hampered by concussion issues and never was able to stay on the ice for Boston. Trade result: Draw
February 2020: Danton Heinen to Anaheim for Nick Ritchie
This was a trade where the Bruins were looking for size and a heavier game than Heinen could provide. Ritchie never really gave the Bruins the type of snarl and grit that Bruins were seeking. Heinen has been a solid forward with Anaheim and now Pittsburgh. Trade result: Loss
April 2021: 2022 third-round pick (87) to Ottawa for Mike Reilly
When Reilly first arrived, he showed some of the puck-moving ability the Bruins were looking for on the back end. Since then, Reilly has been inconsistent defensively and somewhat redundant with Matt Grzelcyk, also a left-shot puck-mover. It should be noted that the Bruins have another third-round pick at 93. Reilly re-signed for three years but may be trade bait this summer. At the end of the day, Reilly is still better than what can be had in the third round. Trade result: Win
April 2021: Anders Bjork and a second-round pick (53 – Alexander Kisakov) to Buffalo for Taylor Hall (and half his salary) and Curtis Lazar
The home run for Sweeney. Hall had 60 points this season and signed at an affordable price for four years. Lazar was a valuable fourth-line center. Even if Lazar walks in free agency, this is a trade for the ages. Trade result: Huge win
July 2021: Daniel Vladar to Calgary for a 2022 third-round pick (93)
Vladar was expendable with Jeremy Swayman and newly acquired Linus Ullmark in the mix. Vladar had one glorious moment by beating the Bruins in Boston. Since then, he has not been good. And the Bruins recoup their third-round pick that was traded for Reilly. Trade result: Win
March 2022: John Moore, Urho Vaakanainen, 2022 first-round pick (23), 2023 second-round pick, and 2024 second-round pick to Anaheim for Hampus Lindholm (half of the salary retained) and Kodie Curran
Great deadline deal for Sweeney that was made even greater when Lindholm signed an eight-year extension at an affordable price. Lindholm was injured toward the end of the season and then in the playoffs, but this is a top-pair partner for Charlie McAvoy for the next few years. A bonus was moving the contract of John Moore. Trade result: Big win
March 2022: Zach Senyshyn and a 2022 fifth-round pick (151) for Josh Brown and a 2022 seventh-round pick (199)
This trade ended up being a way to find a place for Senyshyn, who is a much-heralded first-round bust. Brown did not provide the physicality the Bruins wanted and only played one uneventful playoff game. It's unlikely that Brown will be re-signed. Trade result: Draw
Trade results record: 8-11-5
Overall, the trades have gotten much better returns for the Bruins. It may be that Sweeney learned from his early deals. Some of these deals would be better if the draft picks were hits rather than misses.
Season 2. Episode 38. Special Guest Terrence Wallin
–
Bruins Benders Podcast
Maine Mariners Coach Terrence Wallin makes a return visit to recap the season. Should the Bruins make room for Tyler Bertuzzi? Will the Bruins move some core pieces? I guess there is more time for golf and more!