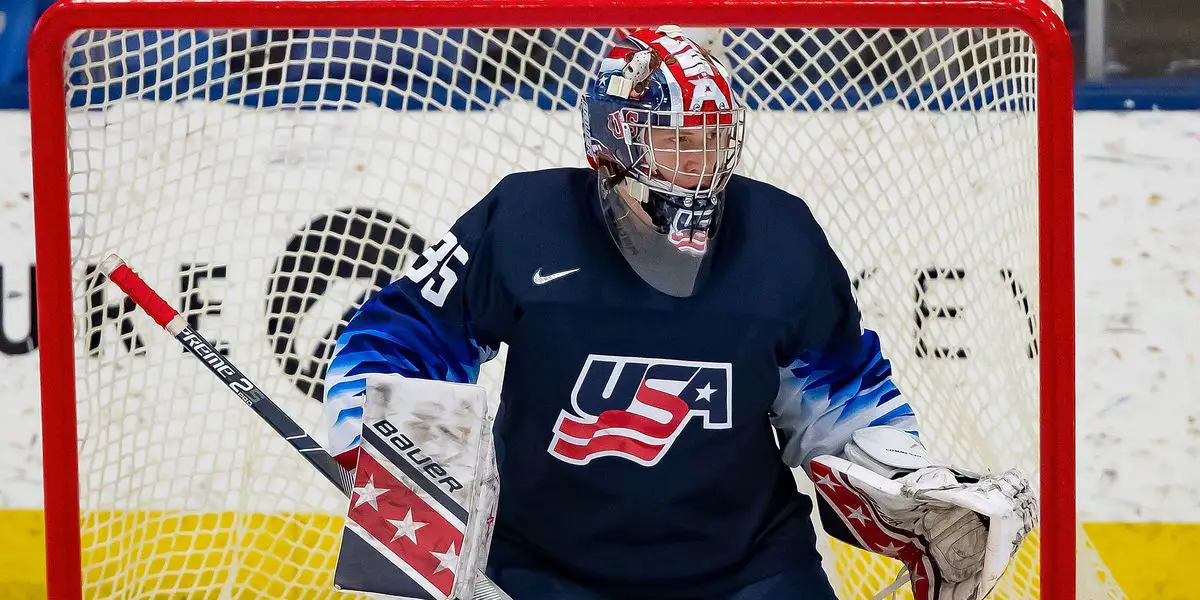 Lucas Reichel:
Taken 17th overall by Chicago, Reichel by far has the most hype behind him. Standing at 6′ 3″, Lucas brings a solid two-way game. Playing overseas in the DEL has allowed him to get used to playing with grown men, making his adjustment to the AHL smother. Reichel has six goals while scoring an impressive hat trick on November 7th. Reichel will also bring some playmaking ability with him, four assists already through the first ten games. Chicago should take their time with him. This NHL season has a 2-week Olympic break. At this time, they should look if he's ready to get a look in the NHL. At the moment, Reichel is a -4 and still has some work to do in the defensive zone. Reichel projects to be a top 6 forward that plays a solid 2-way game while bringing some offensive upside, maybe 60 points if he reaches his peak. There is a lot of excitement to see the Nuremberg, Germany native in the Blackhawks jersey. It's best to take time and allow him to develop. He's only 19 years old and can be a nice piece to the future core.
Drew Commesso:
Commesso is going to be a starting goalie in the NHL. He does a great job coming out of his crease and attacking the angel. Commesso also has the ability and speed to get back and make saves if he gets caught too far out. The Boston native had a superior pedigree as he started his college career with Boston University. Since leaving the United States Development Program, Commesso has posted a .915 SV% as a freshman. This season he has a .891 SV%. Drew is still 19 years old, and goalies take time to develop. Commesso has the intangibles you want in a goaltender. He remains calm and relaxed when he gives up a goal, then forgets it and moves on to the next shot. Drew also has incredible vision and reads the play with the best of them. Commesso is a few years out but is by far the guy I'm most excited to watch grow. Drew will be the next great Blackhawks netminder.
Ian Mitchell:
The Denver University product has exceeded expectations early in his hockey career, suiting up for 42 NHL games. Over that span, he has notched three goals and five assists. Mitchell has shown his young age in the short amount of time he's played in the NHL. Mitchell still needs time to develop, get a little bigger, and defend better in his own zone. Mitchell can turn into an excellent solid top 4 two-way defenseman. He will need to find a way to play stronger and be more dependable in his own zone. Mitchell should be called up to the NHL to play in games as players get hurt or are not playing well. Mitchell will need to take the next step if he wants to stay up on the NHL roster the next time he gets his look.
Alex Vlasic:
Heading back to Boston University, Vlasic is gargantuan. Standing at 6'6″ and weighing just shy of 200 pounds, Vlasic is a force to reckon with. Alex is going to bring a hard-nosed defensive game. His offensive upside is limited. Vlasic will play more like Hjalmarsson, blocking a ton of shots and playing the body on anyone he can touch. The Blackhawks haven't had a true shutdown defenseman since Hjalmarsson. Being as tall as he is, it may take him a little longer to adjust to the game's speed as he continues to climb the ranks, and you can expect to see him in 2-4 seasons, depending on his development. Once he's ready to go, you can expect him to play 17-25 minutes each night and to be the anchor of the penalty kill.
Nicolas Beaudin:
At 22 years old, Beaudin is the closest on the list to crack the roster. Playing in 21 NHL games, Beaudin has scored two goals and four assists and is a + 1 on his career. Beaudin doesn't have a crazy high upside but again can grow to be an excellent top 4 defenseman with nice offensive upside. He's a guy that will fit in nicely on the second powerplay unit. Beaudin is NHL ready and should be getting the chance to play over a guy like Gustafsson. Nicolas has shown his ability to make plays with the puck and is not afraid to shoot the puck from the point. Beaudin needs to find a consistent game, and he will become a common sight on the blueline in Chicago.