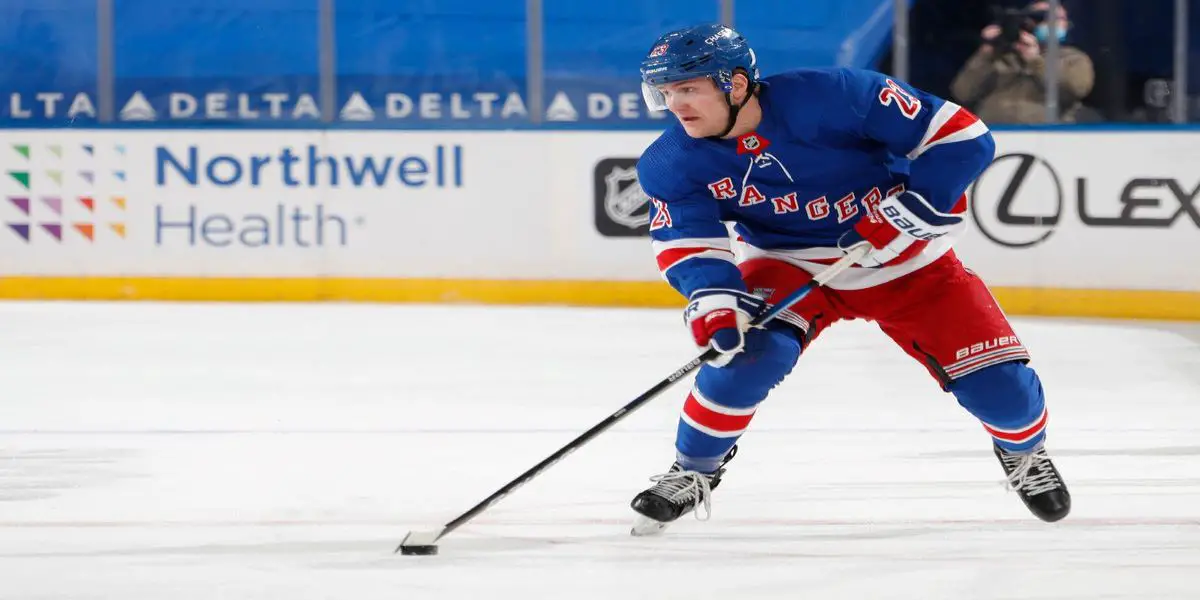 Midseason grades for players have been coming out during the past week on seemingly every publication. It makes sense given the fact there are no NHL games till Monday. So, while everyone else focuses on the players, let's take a look at the much-maligned moves of Chris Drury after he was thrust into his duties due to the surprise firings of John Davidson and Jeff Gorton last May.

The moves (not in any particular order):

• Fired David Quinn.
• Hired Gerard Gallant.
• Extended Ryan Lindgren to a three-year, $9 million contract, with an AAV of $3 million.
• Traded Pavel Buchnevich to St. Louis in exchange for a 2022 2nd round pick and F Sammy Blais.
• Traded a 7th round pick to Tampa for Barclay Goodrow.
• Extended Barclay Goodrow to a six-year, $21.85 million contract, with an AAV of $3.642 million.
• Signed Patrick Nemeth to a three-year, $7.5 million contract, with an AAV of $2.5 million.
• Traded Brett Howden to Vegas for a 2021 4th round pick and defenseman Nick DeSimone.
• Extended Igor Shesterkin to a four-year, $22.666 million contract, with an AAV of $5.65 million.
• Traded a 3rd round pick in 2022 for Ryan Reaves.
• Extended Ryan Reaves through 2022-2023 for $1.75 million.
• Signed Jarred Tinordi to a two-year, $1.8 million contract, with an AAV of $900,000.
• Extended Libor Hajek to a one-year contract worth $874,125.
• Signed Greg McKegg to a one-year contract worth $750,000.
• Extended Filip Chytil for two years, $4.6 million, with an AAV of $2.3 million.
• Signed Dryden Hunt to a two-year, $1.525 million contract, with an AAV of $762,500.
• Extended Mika Zibanejad for eight years, $68 million, with an AVV of $8.5 million (starting in 2022-2023).
• Extended Adam Fox for seven years, $66.5 million, with an AAV of $9.5 million (starting in 2022-2023).
• Drafted Brennan Othmann with pick #15 in the 1st round of the 2021 NHL Entry Draft.

While these are not all of Drury's moves in his first ten months on the job, these are the most significant and bandied about amongst the fanbase. Let's examine a few of his more prominent decisions, starting with his most controversial.

Everyone jumped all over Drury when he traded away fan and locker room favorite Pavel Buchnevich this offseason. It was well documented that after last season Buch was due for a raise as an RFA. The return of Sammy Blais and a 2nd round pick had the majority of the fan base perplexed. When Buch was extended in St. Louis for a very reasonable four-year, $23.2 million contract (AAV of $5.8), everyone became even more incensed. Ironically, it's a similar level of frustration that has been exhibited with Alexis Lafreniere being placed on the 3rd line. If the Rangers were to resign Buch to that exact same deal, one of Lafreniere or Kappo Kakko would be stuck on the third line with nowhere to go up in the lineup for years to come. Buch was the odd man out the instant that second lottery ball with the Rangers logo popped up.

Now, they didn't have to trade him this past offseason. That's a fair argument. Perhaps the trade market would have been more robust this upcoming offseason if Drury decided to keep him this season on a bridge deal and then flip him, but then that would have come at the expense of Lafreniere and or Kappo's growth. If you can't see the two of them getting better, especially Lafreniere when he's placed on the top line with Kreider and Mika, then we're both watching a different sport.

However, most of the ire from the fanbase seems to be over the return. Sammy Blais was never going to replace Buch's production, and he never had to because they already had his replacement on the roster. He was a solid 3rd line piece added to the roster who unfortunately got hurt in a dirty play by P.K. Subban. I, for one, loved what he was doing on the ice prior to his injury.

The hard truth is that backup goalies and wingers aren't as valuable as centers and defensemen. The Rangers fanbase seems to value some of their guys a little higher than others, not like other fanbases. Remember when Cam Talbot was supposed to fetch a 1st rounder? How's the trade market for Georgiev?

While I agree that return for Buchnevich lacked something, I don't think it's as atrocious as some believed. I would have been satisfied if that 2nd round pick was a first-rounder, given Sammy Blais was still involved.

Take a look at the Mark Stone trade to the Vegas Golden Knights for a reference point. Stone, who was traded at the same age as Buchnevich (26), was also on the eve of a new contract. Stone is the better player of the two and fetched a return of a 2nd rounder, Erik Brannstrom and Oscar Lindberg (who has been playing in Europe since the trade). The Senators were trading the better player, and they got the better prospect in return, but the deals aren't dissimilar.