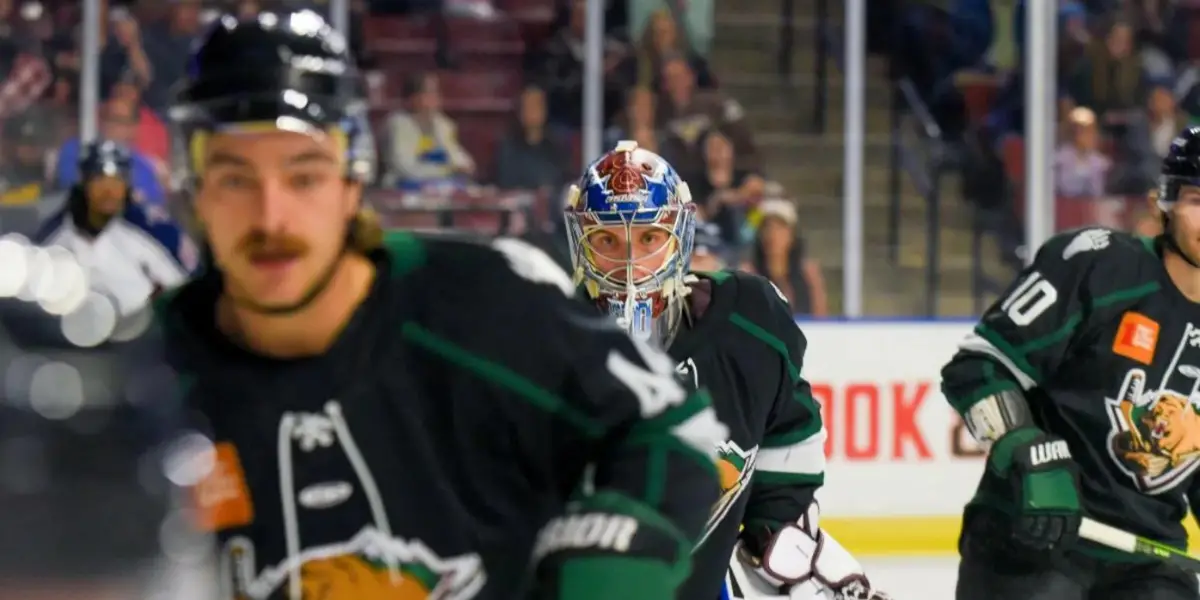 WEST VALLEY CITY, UT: The Idaho Steelheads collected a 3-2 overtime win over the Utah Grizzlies Wednesday night in front of 4,328 fans at the Maverick Center. Idaho will take on Utah Friday night on the road for game four at 7:10 p.m. 
Just 35 seconds into the game, A.J. White drove down the center lane in the offensive zone and kicked the puck to the left circle for Wade Murphy. From the left dot, Murphy zipped a wrist shot over the glove of Trent Miner, giving Idaho a 1-0 lead. Shots were 15-14 in the first in favor of the Steelheads, with Idaho taking a 1-0 lead into the dressing room for the first intermission.
Cameron Wright tied the game at 1-1 with a power-play score at 8:16 of the second period on a wrist shot from the top of the left circle upstairs on Adam Scheel. 28 seconds later, Dylan Fitze made it 2-1 Grizzlies cashing on a two on one. At 11:46 of the middle frame, just four seconds after a power-play, Owen Headrick fired a shot from the right point, which was tipped through the high slot by Colton Kehler and into the back of the cage. The score read 2-2 after 40 minutes of play, with second period shots favoring Utah 10-8. 
Idaho started overtime on the power-play with a 1:45 seconds carrying over from a hooking minor at the end of the game. Just 26 seconds into overtime, after an initial shot was blocked, Owen Headrick held the left point and slid the puck to Willie Knieirm over at the right circle. Knierim fired a low wrist shot beating Trent Miner far side for the 3-2 overtime win. 
Adam Scheel made 25 saves on 27 shots in the win, while Trent Miner kicked aside 34 of 37 he faced in the loss. 
Another Solid game from the Grizzlies that saw a lot of penalties called both ways, as the head of officiating for the ECHL was in attendance at the game. It was a tight back-and-forth game. Very physical with many after the whistle dust-ups. This looks as if this is going to be a much harder series for the Steelheads than the numbers may have indicated. Idaho was missing some key members of the team and were still able to get the victory. We will see what transpires on Friday night at the Mav.
THREE STARS 
Willie Knierim (IDH)
Wade Murphy (IDH)
Colton Kehler (IDH)
GAME NOTES 
Idaho finished 1-for-7 on the power play, while Utah was 1-for-8. 
Idaho outshot Utah 37-27. 
Owen Headrick tallied two assists, while A.J. White, Jade Miller, and Dawson Barteaux collected one assist each. 
Wade Murphy finished with a game-high seven shots on goal.  
REMAINING SCHEDULE 
Game 4 – at Utah Friday, April 28 at 7:10 p.m. (MT) 
Game 5 – at Utah Saturday, April 29 at 7:10 p.m. (MT) 
Game 6 – at Idaho Monday, May 1 at 7:10 p.m. (MT) *If Necessary* 
Game 7 – at Idaho Tuesday, May 2 at 7:10 p.m. (MT) *If Necessary*