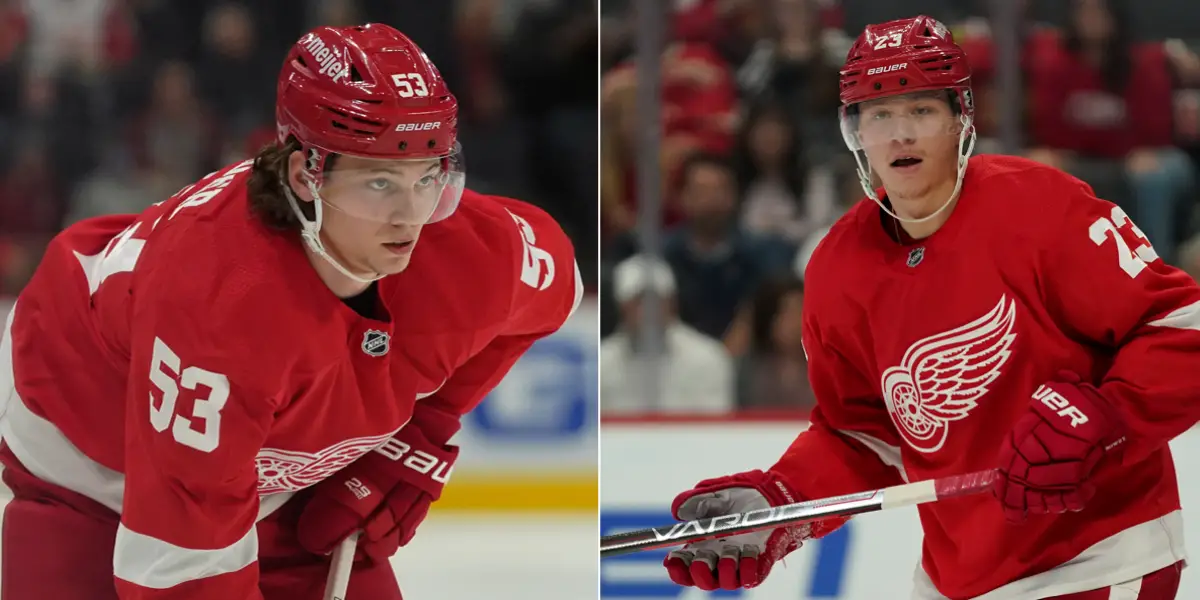 There's been a lot of debate online recently between the fan bases of the Anaheim Ducks and the Detroit Red Wings about their respective rookie of the year candidates. Ducks' forward Trevor Zegras has been plastered all over Twitter with his "Dishigan" assist and, most recently, his "Michigan" goal against Montreal last week.
From this discourse, a lot of what seems to be pandering towards Zegras from the NHL for the Calder Trophy with the highlight videos and articles like this from NHL.com.
In this particular article, when discussing the Calder race, NHL.com references Moritz Seider and rookie point leader Lucas Raymond in a single sentence each. Trevor Zegras takes up most of the article when it is meant to reflect the entire race. When Zegras is brought up, all but one paragraph discusses his assist to Sonny Milano versus his actual play.
This isn't meant to be a slight on Trevor Zegras's play. He has been one of the best rookies in the NHL and a big part of the Ducks' success so far this season. Zegras's 32 points rank second on the Ducks and only behind Lucas Raymond (35 points) in rookie scoring. He has also been very good at generating offense as according to Natural Stat Trick, Zegras has an xGF% of 53.27%, which is second on the Ducks.
As flashy as Zegras has been this season, there arguably hasn't been another rookie this season that has made more of an impact than Moritz Seider.
Since being the reach at 6th overall in the 2019 NHL draft, Moritz Seider has done nothing but overachieve in his young career. He played big minutes in the AHL as an 18-year-old and recorded the third-best points-per-game for a U20 defenseman all-time with .45. Last season in the SHL, he was awarded the defenseman of the year and also won the EliteProspects award for the best junior-age player. This season, Seider quickly became Detroit's #1 shut-down defenseman and has been able to produce offense at a similar rate as the top rookie forwards.
Usually, with a rookie defenseman, an adjustment process and the coaching staff is easing them into the NHL. Seider has only played under 20 minutes in four games this season, three of those being related to an injury. His zone starts percentage has primarily been in the defensive zone. Seider at even-strength has started only 71 times in the offensive zone, verses 148 and 116 in the neutral and defensive zone, respectively. Seider also has a positive Goals For % at 50.79%, which for a 20-year-old rookie is very impressive. He is a fixture on the penalty kill and quickly beat out Nick Leddy as the point man on the first power-play unit.
This season, Seider is averaging 22:35 minutes of ice-time a game, which is the most by any Red Wing this season. He has four goals and 25 assists for 29 points in 45 games, which is on pace for 53 points in an entire season. Seider became the second rookie defenseman in Red Wings' history to record 25 assists in 45 games or less, the other being Nicklas Lidstrom.
Since the 94-95′ season, only two rookie defensemen have recorded over 50 points. What you see with the top teams in the NHL is that they have a #1 defenseman that can play those hard shut down minutes but also can score over 50 points a year. Seider has a real chance to become that, and it is something a few years ago Wings fans could only dream of. On The Production Line Podcast, I predicted a 25 point season for Seider, which looking back on now, I underestimated his offensive game.
Seider has been a clutch scorer as he has scored two of his four goals in overtime. He became the first Red Wings rookie defenseman to score his first and second career goals in overtime and the 5th in NHL history. On December 4th versus the Islanders, Seider dominated the overtime and wired home the winner.
In this game, Seider played over 27 minutes and was the best player on the ice. This video from IceHockeyGifs showed all of Seider's best qualities and what he can do to control a game. The way Seider plays, it's unfair to compare him to Lidstrom, but it's hard not to see the similarities. One of the more underrated parts of Seider's game is his ability to break up passes, which was one of Lidstrom's best skills. Seider can control the play of the game in all three zones, no matter who's on the ice like Lidstrom did.
Over the past 22 games, Seider has had two goals and 13 assists and has been playing some of his best hockey. This past Friday versus Pittsburgh, Seider was matched up against one of the greatest players to ever play, Sidney Crosby, and did not disappoint.
In this video from Ice Hockey Gifs on Twitter, you see Crosby become visually irritated with Seider as he isn't able to create anything offensively. At one point during the game, Crosby and Seider get heated and end up each getting roughing penalties. At the most crucial time of the game, Seider can catch Crosby on a breakaway and deflect his shot high of the goal. Seider even fakes Crosby out with an in-between the legs deke, which is impressive against any player, but Crosby isn't just any player.
Makar vs. Seider
It is rare for a defenseman to win the Calder Memorial trophy. Only 4 have over the past 20 years, those being Cale Makar 2020, Aaron Ekblad 2014, Tyler Myers 2010, and Barret Jackman 2003. There hasn't been a Red Wings rookie to finish in the top-3 in Calder voting since Jimmy Howard in 2009. Detroit hasn't had a rookie win the award since 1965 with Rodger Crozier. This year, the Red Wings have three legitimate contenders with Seider, Raymond, and Nedeljkovic.
Comparing Moritz Seider to the last defenseman to win the Calder Trophy, Cale Makar, it could be argued that Seider has had the bigger impact between the two in their rookie seasons.
Cale Makar won the Calder Trophy at the end of the pandemic, shortened 19-20′ season. With the Avalanche, Makar put up 50 points in 57 games, a 72 point pace! As a rookie defenseman, if that pace had continued over 82 games, he would be second all-time only to Larry Murphy. Makar averaged the third most ice-time for an Avs' blueliner at 21:10 minutes a night. 
Makar's defensive partner, most of the season, was Ryan Graves, who's a very underrated stay-at-home defenseman. He allowed Makar to be able to take chances offensively and play in the rush. Also, having Nathan Mackinnon and Mikko Rantanen to pass to your rookie season helps. Makar even finished 8th in the Norris Trophy, voting for a defenseman of the year.
Unfortunately, Moritz Seider has not had that luxury this season. Being primarily paired with either Danny DeKeyser or Jordan Oesterle, Seider has had to carry the play on the backend when he's on the ice. After having back surgery during the 19-20′ season, DeKeyser has been a shell of his former self. With limited strength and not the fastest player, DeKeyser has been a liability this season. While Jordan Oesterle is an improvement, he's not a reliable top-four defense option. 
The Calder Race
This year, the rookie race has the feeling of being tight until the end of the season. The rookie of October and November went to Lucas Raymond and Moritz Seider, respectively. That was the first time since December 2016 and January 2017 that rookie teammates won in consecutive months, the previous being Auston Matthews and Mitch Marner. December went to Trevor Zegras, who had 11 points (2 goals and nine assists) in only nine games.
Zegras has been very impressive this season with his ability to drive a line at 20 years old and already be one of the most skilled players in the NHL. is "Dishigan" assist is an innovation to the game of hockey and changes how teams have to defend behind the net. The impact has been felt all over hockey as kids are now practicing the move. Even Red Wings prospect Cross Hanas pulled it off a few weeks after. The NHL, with the new TV rights deal with ESPN/TNT, has a huge opportunity to grow the game to a level that wasn't possible last season, so it is understandable why the NHL is making Trevor Zegras the rookie poster boy.
The three finalists this season seem all but set with Moritz Seider, Trevor Zegras, and Lucas Raymond. All three are deserving candidates, but Seider's value has been to the Red Wings this season is greater than the other two players. Moritz Seider has been able to defend at a high level versus the NHL's top lines every game, partnering with replacement level defenders while also carrying transition and offense from the backend. At the end of the day, the NHL doesn't decide who wins the Calder Trophy; it is the writers, and they will have a tough decision.
With five picks in the top-50 of the 2023 NHL Draft, the Red Wings are in prime position to make a trade for a top-six forward. We breakdown fits of players that are potentially on the trade market and what a potential package could look like. We also start with how Red Wings at the World Championships are performing, focusing on Dominik Kubalik, Carter Mazur, and Lucas Raymond.