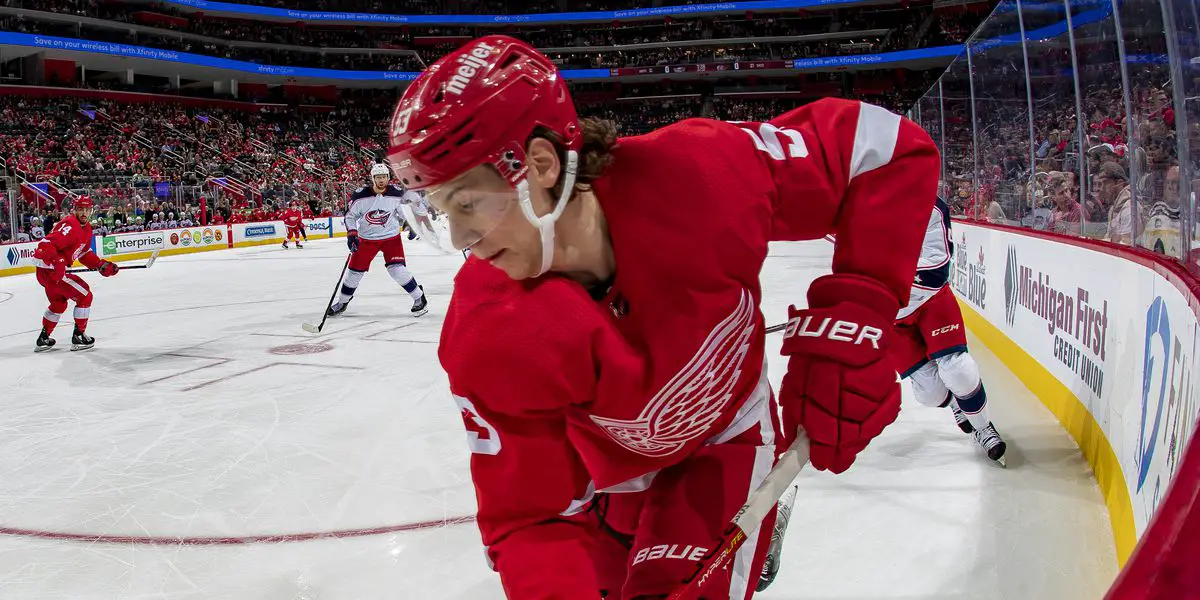 Moritz Seider has been outstanding on defense for the Detroit Red Wings this year. The former 6th overall pick from the 2019 draft has come a long way in just a short period of time. Fans who initially questioned the pick are now in full agreement that Detroit General Manager Steve Yzerman made the best choice when selecting the colorful Seider.
To start the season, Seider was paired with veteran blueliner Nick Leddy. A strong start for Seider, coupled with defensive lapses for Filip Hronek, necessitated a move on the blueline whereby Seider ended up playing most of the season with Danny DeKeyser. Even though DeKeyser struggled throughout most of the campaign, Seider flourished, and by mid-season, he was garnering the most ice time of all Detroit defensemen.
Calder Trophy Candidate
Seider's start to his rookie campaign was so good, that he was recognized as the NHL's "Rookie of the Month" for October. He was also the first Detroit rookie in almost 20 years to score eight assists in a single month.
Currently, Seider is 4th in NHL rookie scoring with 45 points in 72 games. The only players ahead of Seider in the rookie scoring race, are all forwards. Seider is the top rookie scorer on defense by a wide margin. Jamie Drysdale of Anaheim is currently second with 30 points in 72 games. Not only does Seider lead in scoring, but his -7 rating is terrific compared to -21 for Drysdale.
There is no doubt that Seider deserves to be in the conversation for the Calder Trophy as the NHL's "Top Rookie". Toronto forward Michael Bunting is currently the top rookie scorer with 57 points in 72 games. Prior to this season, Bunting had already played 26 NHL games starting in the 2018-2019 season. Detroit forward Lucas Raymond is currently 2nd in rookie scoring with 54 points in 72 games.
What sets Seider apart from the forwards is that he leads all rookies with 40 assists and has more time-on-ice at 23:09 per game compared to every other rookie in the NHL. The next closest rookie in ice time is Nashville defenseman Alexandre Carrier at 20:52.
My prediction is that both Seider and Raymond will be named as Calder finalists with Seider winning the Calder Trophy at the NHL awards ceremony in late June.
Final Thoughts
Mortiz Seider has made his way to being the anchor on defense that the Red Wings have coveted since the retirement of Nicklas Lidstrom. I am not comparing the two defensemen, they are very different players, but the Red Wings now have a defenseman in their stable that can play big important minutes, and thrive in all situations.
At 21, Seider will be asked to now be a mentor for the prospects who will be attempting to make the jump to the big club. Simon Edvinsson, Albert Johansson, and Jared McIsaac are a handful of LD prospects who could end up being partners with Seider in the next year or so.
Other prospects such as Donovan Sebrango and Eemil Viro are signed and waiting in the Wings. Both will likely play in Grand Rapids (AHL) next year. William Wallinder is currently playing for Rogle (SHL) and was a 2nd round pick in 2020. Antti Tuomisto and Shai Buium both recently won a NCAA National Championship playing defense for the University of Denver. Tuomisto was a 2nd round pick in 2019 and Buium was a 2nd round pick in 2021.
The prospect pipeline is loaded on defense for the Red Wings. Some of these prospects will thrive and become NHL regulars, while others will not make it. There is no doubt that Moritz Seider will be a big part of the development of the Red Wings blueline for most of the foreseeable future.
In this episode, we recap the World Championships, highlighting Kubalik, Seider, Mazur. Next, we take a long look at the 2023 first round and which players will be available at 9th and 17th.