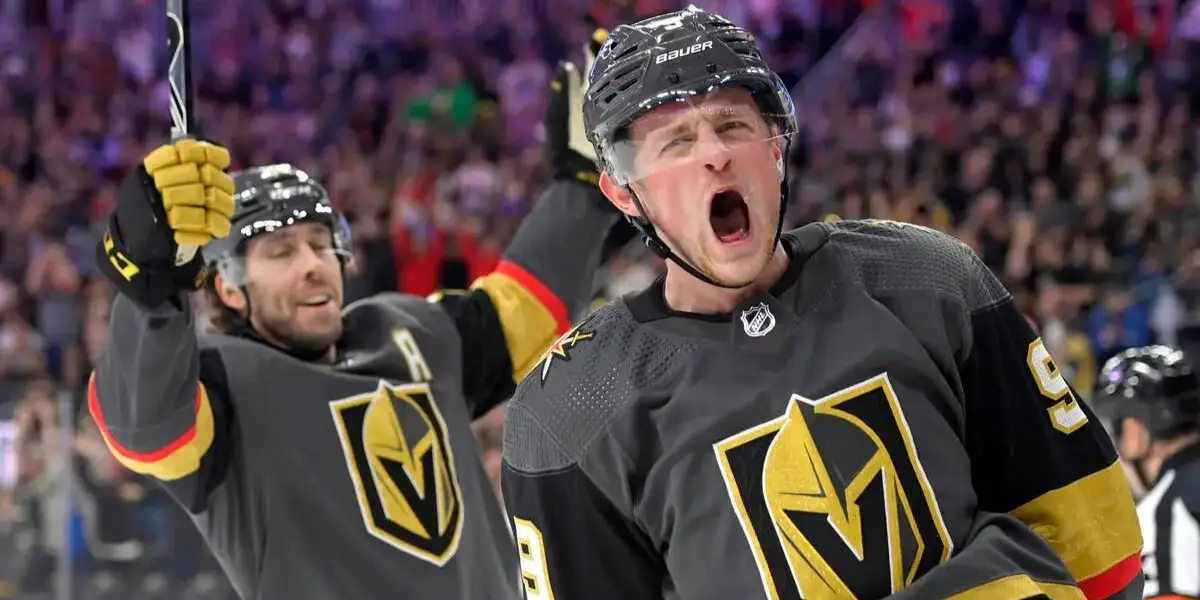 Vegas moves to one win away from the Stanley Cup Final
Adin Hill stood tall with a 34-save shutout as the Vegas Golden Knights blanked the Dallas Stars, 4-0, in Game 3 of the Western Conference Final on Tuesday night at American Airlines Center. Vegas leads the series, 3-0. 
The Golden Knights came out hot as Jonathan Marchessault, Ivan Barbashev, and William Carrier each found the back of the net in the first eight minutes to put the visitors on top, 3-0. Alex Pietrangelo scored his first goal of the playoffs midway through the second period to give Vegas a 4-0 lead. Hill stopped all 14 shots he saw in the third period as the Golden Knights took a stranglehold in the series. 
Related Story: Will Jamie Benn be suspended for cross-checking Mark Stone?
Hill's fifth win in a row was also his first postseason shutout. Barbashev had three points in the win. Marchessault's goal at 1:11 of the first stood as the game-winner and continued his hot play this series. Pietrangelo's first of the postseason added insurance midway through the game. Carrier also scored his first goal of the playoffs in the victory. 
SERIES SCHEDULE
Game 1: Golden Knights 4, Stars 3 (OT)
Game 2: Golden Knights 3, Stars 2 (OT)
Game 3: Golden Knights 4, Stars 0
Game 4: Thursday, May 25, 5 p.m. PT at American Airlines Center
*Game 5: Saturday, May 27, 5 p.m. PT at T-Mobile Arena
*Game 6: Monday, May 29, 5 p.m. PT at American Airlines Center
*Game 7: Wednesday, May 31, 6 p.m. PT at T-Mobile Arena
* If necessary
Captain Jamie Benn was assessed a game misconduct, goaltender Jake Oettinger was pulled, Ex Knight forward Evgenii Dadonov was injured, and the Dallas Stars' chance to get back into a series was squandered.
"Yeah, I'm not sure you could script much worse," Stars coach Peter DeBoer said after their 0-4 loss to the Vegas Golden Knights in Game 3 of the Western Conference Final at American Airlines Center on Tuesday.
"I actually liked our energy. I loved us on the penalty kill. Even though we gave up the first goal and Jamie took the penalty, I thought we had the legs and the energy and attitude to kind of survive it, and we didn't. So, that's the unfortunate part of it. Now we're in a big hole, and we've got to find a way to win a game on Thursday."
Indeed, the Stars will try to stave off elimination in Game 4 in Dallas Thursday.
Benn was assessed a five-minute major and a game misconduct after he cross-checked Golden Knights forward Mark Stone after the latter hit the ice 1:53 into the game. The penalties were upheld upon an official's video review.
Benn declined to speak to the media after the game. DeBoer said twice he was not going to pile on his captain regarding the penalties.
"I believe Mark Stone is OK, and we will live with the consequences, whatever they are," DeBoer said. "We lived with them tonight, and we'll live with them going forward if there's any supplemental discipline. It's a reactionary sport; it's a heat-of-the-moment sport. There's a lot of stuff going on there on the ice. I'm not judge and jury, and I'm not going to play that tonight."
Quote Credit: Tracey Myers
Neither were Benn's teammates. When asked if he was disappointed in Benn, forward Joe Pavelski was not.
"You guys ask if I'm disappointed in a guy who I have so much respect for and battles so hard? I've got no problems with Benn," Pavelski said. "You know what? We needed to be better from there, and we weren't."
Quote Credit: Tracey Myers
Nevertheless, it was the first of several blows for the Stars that led to a disastrous evening. The Golden Knights, already leading 1-0, capitalized on the five-minute power play when Ivan Barbashev scored for a 2-0 lead at 5:57.
Less than two minutes later, William Carrier scored on a backhand at 7:10 to make it 3-0, and Oettinger was pulled after allowing three goals on five shots. Scott Wedgewood made 10 saves in relief.
"He's been the backbone all year, so much confidence in him," Dallas forward Tyler Seguin said of Oettinger. "When goals go in, there are five of us on the ice that could've helped stop it. We'll look at the clips, we'll flush it, and we'll be ready for the next game.
Things got worse later in the first when Evgenii Dadonov sustained a lower-body injury in a collision with teammate Roope Hintz. He did not return, leaving the Stars to play the rest of the game with 10 forwards. DeBoer didn't have an update on Dadonov after the game.
Then, forward Max Domi, who has 11 points in 16 games this postseason, was assessed penalties for cross-checking and roughing, as well as a 10-minute game misconduct with 22 seconds left in the second period. Indeed, it was a far cry from the first two games of this series, which were closely contested and each requiring overtime. But this one was over long before that.
The response the Stars needed wasn't there, nor was the discipline. Now they're in an even deeper hole, one that's going to be that much tougher to escape.
"Either way, losses, you don't like them this time of year," Pavelski said. "We've got to go play hockey. We've got to go out, reestablish some momentum for us, work as a four-line team like we've done all year, and lay it on the line.
What to look for in Game 4:
Vegas will look to complete the sweep in Game 4 on Thursday at 5 p.m. PT at American Airlines Center. With a win, the Golden Knights would advance to the Stanley Cup Final for the second time in their short but storied history.
We chat about the hot start for the Golden Knights, UNLV football's success and the upcoming Rebel basketball season, among other Vegas things. Thanks for checking us out! Be sure to subscribe after you listen! Learn more about your ad choices. Visit megaphone.fm/adchoices