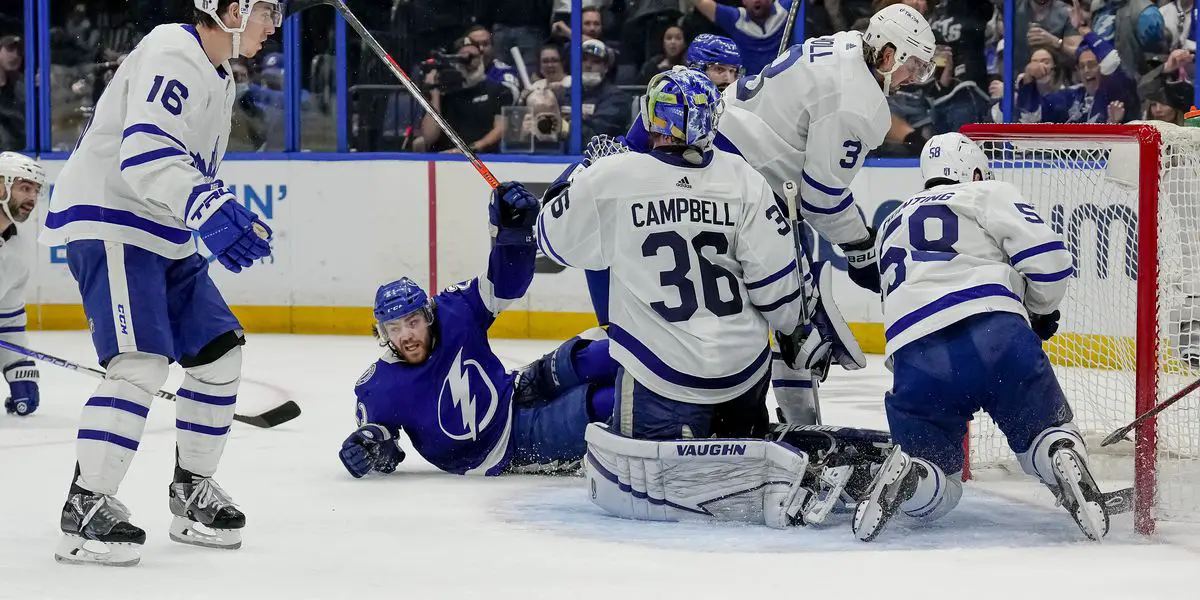 Since the Maple Leaf's season has ended after a game 7 loss in round one against the Tampa Bay Lightning, there have been many questions regarding their starting goalie for next season. Jack Campbell is a pending unrestricted free agent and has reportedly asked for as much as $5,000,000 per year. The rumored amount that the Maple Leafs have offered Campbell was around $2,750,000, which leads to the question of "who will start goal next season for the Maple Leafs?"
It was reported that the Maple Leafs had offered Campbell a lot less than they were expecting to get, and if nothing changes, Jack Campbell will be able to get $5,000,000 on the open market. Of course, many argue that he isn't worth the $5,000,000 per year for up to five years based on his age (30 years old) and his track record throughout his career, but there will be teams that need a starter and have the cap space and will buy his services. In Campbell's career, he has earned approximately $5,770,000 and is set to test the open market for the first time, where he will receive a big payday.
Campbell's Contract Breakdown:
Contract: $4,000,000 x 3 years 
Comparable:
Ilya Sorokin (NYI): $4,000,000 x 3 years 
Elvis Merzlikins (CBJ): $4,000,000 x 2 years (Before his new extension)
Carter Hart (PHI): $3,979,000 x 3 years 
Tristian Jarry (PIT): $3,500,000 x 3 years 
Although Jack Campbell made of had a better season than some of those comparables, I don't feel that he is drastically better than those goalies who are getting a similar style deal. Campbell's agent will use the start of the season up to the first 25-30 games as his argument that Campbell deserves an 'elite level' contract. However, I feel that he still has to prove he can do what he did this past season (31-9-6, 2.64 GAA, .914 SV%), again to be in that class of goaltenders because there were games that Toronto outscored their opponents to get wins. With that being said, unless you trade for another goalie who can be the starter to replace Jack, I don't feel that many options on the open market are better than him, which puts Toronto in a situation where you need to either find an under the radar option or spend the money to sign Campbell and clear cap afterward.
It has been a thought on almost every Maple Leaf fan's mind since the start of the year, and now with the season over, it is time to look at other goaltending options out there if Jack Campbell does take his services elsewhere. I have a few options below that are both via free agency and trade.
Goalie Options
Free Agents:
There is only one goaltender that could be an option on the market because the Avalanche will most likely resign Darcy Kuemper, and that leaves the following player.
Ville Husso:
He is coming off a hot season with the St. Louis Blues, I would consider Husso as a replacement for Campbell, but on a 'show me' contract to prove this past season wasn't a fluke. This could also be a contract that aligns with the development of Joseph Woll and Erik Källgren to take over as the goaltending tandem in Toronto.
Contract: $2,500,000 x 2 years
Trade Options:
Semyon Varlamov:
Entering his last year of a 4-year contract with $20,000,000 with an AAV of $5,000,000, he could be in play. Of course, the New York Islanders missed the playoffs this past season and are looking to move out some money to do a small 'retool.' Varlamov is looking like he could be the backup to Ilya Sorokin, and with that contract could be out of favor, which is good for other teams, such as the Leafs. There could be a chance that the Leafs and Islanders make a deal where the Maple Leaf's ship out a defenceman like Justin Holl for Semyon Varlamov.
John Gibson:
As mentioned in my last article, 'William Nylander Trade Speculation,' I had brought up a potential John Gibson trade that may work, but it included William Nylander. I don't see Toronto trading Nylander personally, so the trade becomes more difficult, but Gibson doesn't want to be on a team that is rebuilding, but rather a team that is contending. Toronto doesn't have too many assets that they can offer up, but there have some that could push the trade across the line. A name that comes to mind that isn't on the roster right now is Topi Niemela. Would the Maple Leaf's part ways with one of their biggest assets to get an elite goalie that can give them a chance to be a contender for the next five years till his contract expires? Gibson signed an eight-year $51,200,000 contract with the Anaheim Ducks and is currently three years into it, he does carry an AAV of $6,400,000, so if a trade happens between Toronto and Anaheim, it will require the Maple Leafs to move out the money in the trade.