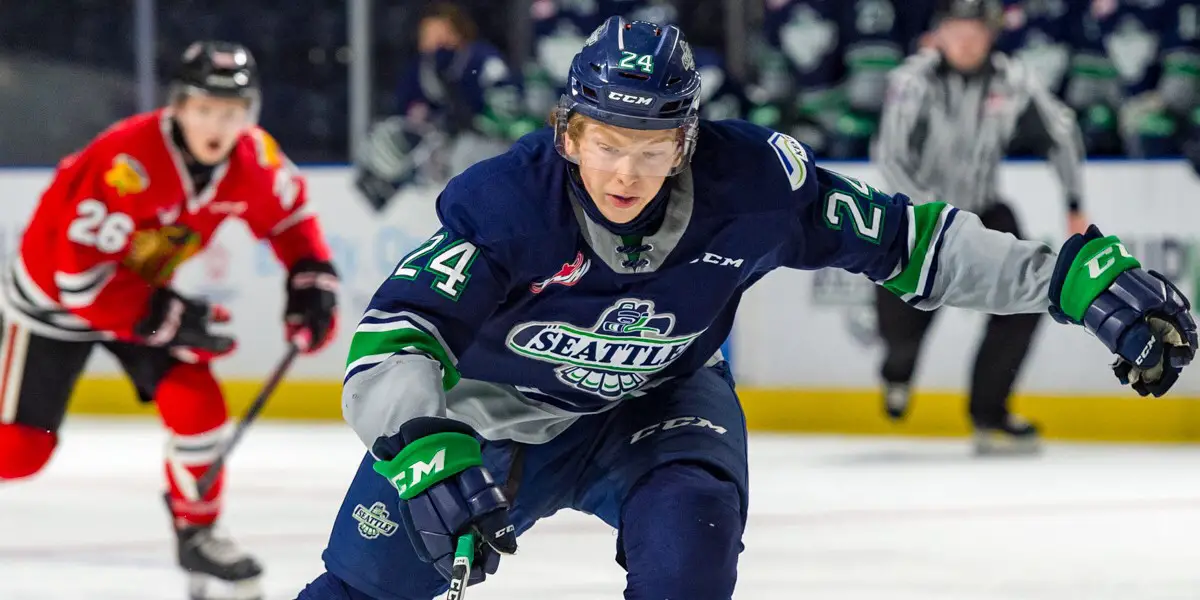 While it looks more and more like center Shane Wright of the Kingston Frontenacs will be the first overall pick, what lies lurking at the bottom of the first round? With the New York Rangers now eliminated, the Jets will pick at the 30th spot. Here are my thoughts on who the Jets could snag at 14.
Let me make a case for a high goaltender pick. Maybe.
Connor Hellebuyck is 29 years old. Many do not think Eric Comrie is an NHL starter and Mikhail Berdin, at 24 years of age, remains a bit of a mystery. Swede Arvid Holm also played 24 games for the Manitoba Moose last year. Do we look at taking a netminder in the first round? GM Kevin Cheveladayoff has never selected a netminder higher than round two (Comrie at 59). Hellebuyck was a fifth-rounder. Is this the year to grab the heir apparent?
A few netminders are projected to go in the middle of the second round, but few have made it to any top 32 lists for this year's draft. Options could be Tyler Brennan of the Prince George Cougars who heads up the North American rankings from Central Scouting with Ivan Zhigalov, a Russian playing for the Sherbrooke Phoenix of the QMJHL, right behind him. Topias Leinonen played for SM Liiga in the Finnish league. Chase Coward has been steady in net for the Red Deer Rebels.
It is hard to argue with the Jets' draft record since relocation. There have been some great picks, and though many complain about the aversion the team seems to have to give young players the green light, there are enough examples of the draft and development model to show that it works. Adam Lowry, Andrew Copp, Mason Appleton, and the aforementioned Hellebuyck come to mind. We should be able to find a diamond at spot 30. Here are some potential choices at forward:
Jack Hughes – Center
The other Jack Hughes. No relation. Six feet, 170 lbs. Sixteen points in 39 games for Northeastern in the NCAA this season. His father is the new GM of the Montreal Canadiens, Kent Hughes. "I can't say he's elite in any one area, but he's just a very good hockey player in all aspects of the game" – Dan Marr, Director of NHL Central Scouting.
Adam Ingram – Forward
Ingram is a Winnipegger who came out of the U18 Thrashers program. He played for the Youngstown Phantoms of the USHL and put up some good numbers notching 26 goals and 29 assists in 54 games. He is still growing into his body at six foot two and 174 lbs. "The shot needs no introduction, as Ingram already has an NHL-caliber skill that will wreak havoc on goalies for the rest of his career. He has a quick release, great accuracy, and elite power"- Austin Broad, FC Hockey.
Reid Schaefer – Left Wing
This guy is a bruiser. Six foot three and 214 lbs, he is big, beefy, and still growing. The native of Spruce Grove, Alberta, played in the Western Canada League for Seattle and scored 58 points in 66 games. He also isn't shy and added 88 penalty minutes. While Seattle didn't win the WHL Championship, losing to Edmonton in six games, Schaefer added another 21 points in 25 playoff games. "He has the size and strength to be a power forward at the NHL level. His skill set at present is very raw, however, so he'll be a long-term project for whichever team drafts him"– Matthew Somma, Smaht Scouting.
Noah Ostlund – Center
He may be only five-eleven and 163 lbs, but this forward from Nykvarn, Sweden tallied 42 points in 32 games for Djurgardens in the J20 Nationel league this year. This playmaker can skate and see teammates in traffic. "While other players display their hockey sense in their ability to manipulate the opposition in their playmaking and scoring instinct, Östlund's intelligence for the game is more subtle" – David St-Louis, Elite Prospects.
I am looking forward to July 7!
The boys squeak in an episode before Jake heads off to Florida. They touch on the Bruins' recent milestones, especially Bergerons 1000 points. They head over to the metro to see can Pittsburgh and Washington turn things around before heading out west to take Shane Wright and the Seattle Krakheads.Thanks for listening! Please rate and review our show on your favorite listening platform. Check out our partner's website at www.insidetherink.com for all your latest hockey news.