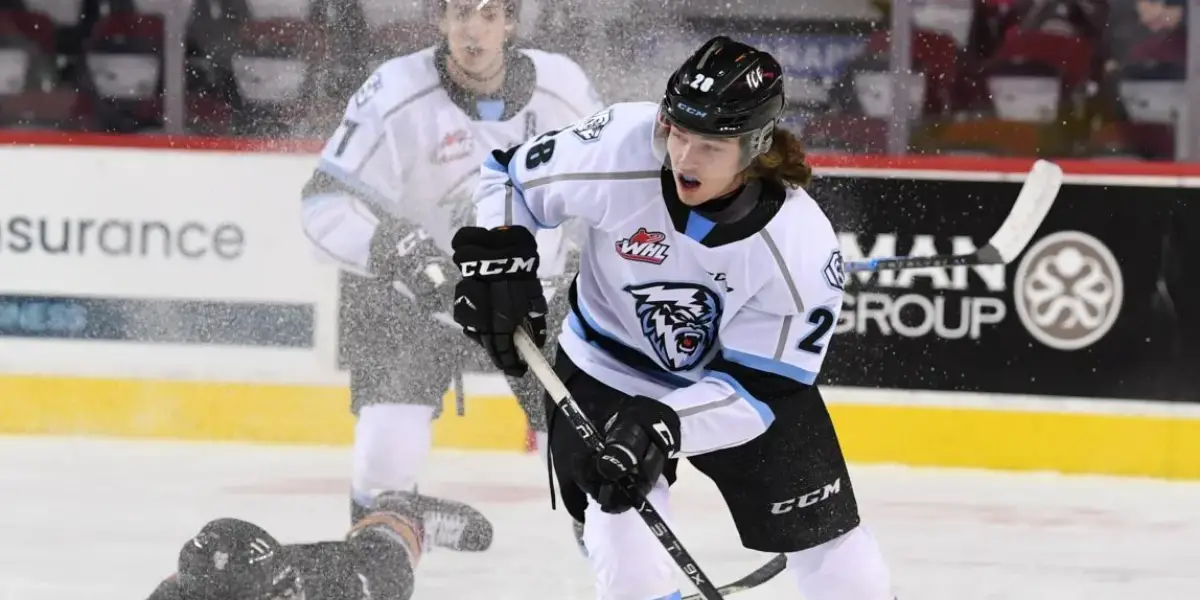 This year's NHL amateur draft will be held at the Bell Centre in Montreal on July 7 and 8. Spots one through sixteen were determined with the lottery on May 10. The Montreal Canadiens had the greatest odds of selecting first overall and were successful. The New Jersey Devils jumped ahead of the Arizona Coyotes to grab the second pick. The Winnipeg Jets, while having a slim chance to move up or down, stayed pat and will select at the 14th spot.
Jets Have 2 First Round Picks
The Jets will also be picking at either 30, 31, or 32, depending on the outcome of the Stanley Cup Playoffs. With New York on the brink of elimination, that pick could be at 30. As part of the Andrew Copp trade, the Jets acquired a Rangers conditional second-round pick. This is officially a first-round pick as the Rangers won 2 playoff series, and Copp has played at least 50% of the games.
Let's look at what is available at spot 14. We can examine lower round one picks in part 2 next week. 
Notable 14th overall picks from the last few seasons have included Jake DeBrusk and Charlie McAvoy in Boston, Cal Foote in Tampa, Joel Farabee in Philadelphia, and Alex Wennberg now with Seattle. No one at 14 is stepping in, but chances are high for selecting a future NHLer. It is hard to determine just what the Jets need at this point though a capable coach is what is sorely lacking. And truthfully, selecting in the middle and bottom of the first round, you are hoping for players that will be NHL-ready in two to three years. Remember, the Jets still subscribe to the draft and develop model, which doesn't appear to be changing soon.
So what will we need in three years? It's hard not to focus on big centers and puck-moving defensemen, and as they always say, 'Take the best player available.' Here are some of the players potentially available at number 14:
Conor Geekie – Center
Manitoba-born Geekie is the brother of Seattle's Morgan Geekie. He had a stellar season for the Winnipeg Ice in the Western Hockey League, netting 24 goals and 46 assists in just 63 games. He added another 11 points in 15 playoff games.   Already 6'4" and 205 pounds, he could very well be available when the Jets pick, and with them choosing not to take Winnipegger Seth Jarvis last year, they may look hard at this homegrown product.
David Goyette – Center
Only 5'11" and 185 pounds, this forward for the Sudbury Wolves put up big numbers in the Ontario Hockey League. With 73 points in 63 games, the sleek skater is pure offense with high hockey IQ. 
Marco Kasper – Center
This 6'1" Austrian had just 11 points last season for Rogle BK of the Swedish Hockey League but added another 6 points in 13 games of the playoffs for the first-place team. Important to note that he did this as a 17-year-old against men. He has talent, speed, and size; the only issue may be that several experts have him going higher than 14.
Pavel Mintyukov – Defense
This Russian-born defender played last season for the Saginaw Spirit of the OHL. His latest campaign saw him put up 17 goals and 45 assists in 67 games. Not undersized at 6'1" and 192 pounds, several pundits have him ranked higher than 14, but he could still be available when the Jets' turn comes.
Kevin Korchinski – Defense
This Seattle Thunderbird rearguard at 6'2" and 185 pounds found teammates regularly this year, notching 61 helpers. He has shown patience and poise and rose in draft rankings throughout the entire season. 
Part 2 will examine what gems we can find at the lower rungs of the first round.
The boys are back after a long break but have plenty to talk about as the playoffs are in full swing. We go series by series, looking at how teams have fared so far and who will come out on top. Thanks for listening! Please rate and review our show on your favorite listening platform. Check out our partner's website at www.insidetherink.com for all your latest hockey news.