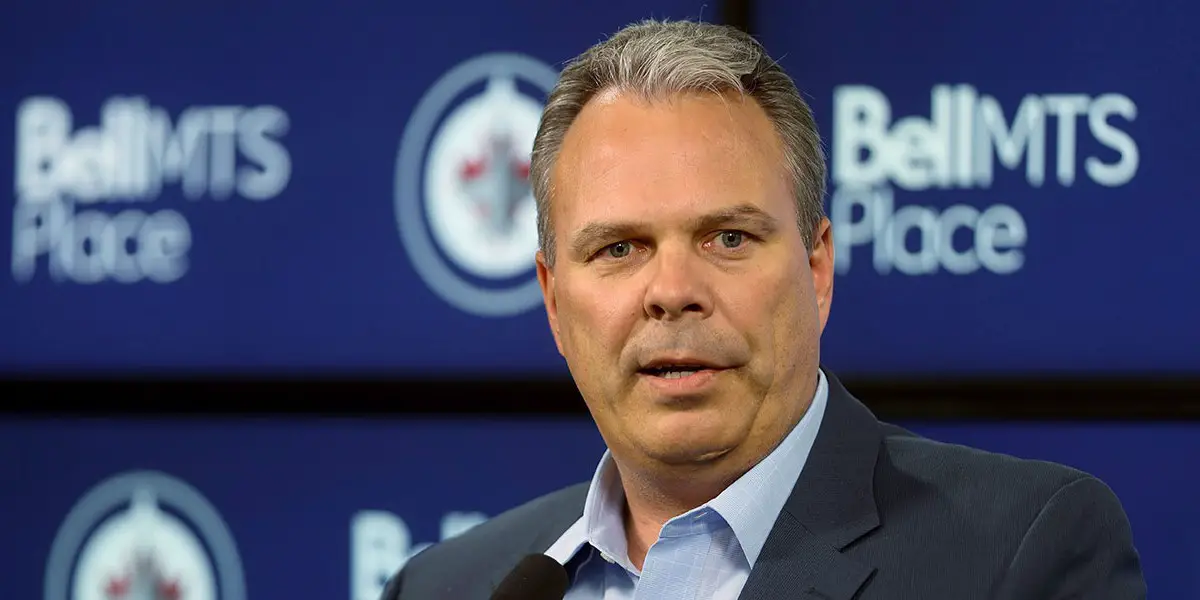 If you're a Winnipeg Jets fan wondering how the team will look come the season home opener in October, you're in the same boat as me. We, the fans of this franchise, know that the locker room needs a significant overhaul, and it needs to happen now.
Some players are being extremely vocal about wanting to play elsewhere or not wanting to stick around for a rebuild, so it's time to build to the next core roster. There probably is not a clear set-in-stone plan when it comes to overhauling the roster, and there probably won't be significant discussions about it. As Winnipeg Jets fans, we can speculate and give our thoughts on who should be gone and who should stay. I will explain and break down why I would move certain players and why I would keep other players in place of who I have moved.
Who Should Be Let Go or Traded?
I will categorize this into two pieces, who needs to be let go as a free agent or traded by Kevin Cheveldayoff. It's not a short list by any means, but it will help you retool rather than rebuild, which this franchise cannot afford right now.
The first name on my list is Mark Scheifele, selected seventh overall in the 2011 NHL entry draft. This might not be a big surprise on my list. While Scheifele has consistently produced numbers on the ice, he has seemingly quit defensively on the Winnipeg Jets. This is not someone you want to bring your prospects to, especially for someone who has worn the assistant captain crest for as long as Mark Scheifele has. This is also not a knock on Mark Scheifele's character or his play. He has been a cornerstone piece for the Winnipeg Jets franchise for countless years. It just might be time to move on from the number one center in the franchise.
Blake Wheeler: This is a guy that should go with Mark Scheifele. If Scheifele is moved, Blake Wheeler will be too, and it is vice versa. The former Winnipeg Jets captain, who also took issue with head coach Rick Bowness's comments, has potentially created a poor environment in the locker room and has value to his contract compared to recent memory. Even at 36 years old, Blake Wheeler is still a top producer for the Winnipeg Jets, and it would be a shame if nearly eight-and-a-half million dollars were put toward a potentially declining player. That's not to say Wheeler will decline next year though, and Wheeler has posted some of his best seasons while in his thirties. This will be a player that you should sit down with and see what they are looking for in their future as a person and as a professional hockey player.
Pierre-Luc Dubois: Here's a guy that's been involved in trade rumors for a few seasons now, even when Dubois was drafted by Columbus, there was doubt that Dubois was going to stay in Columbus. Dubois is young and eager to play in his home province of Quebec. He is also ready to score more than 60 points in a season. Regardless of the return, it's time for the Winnipeg Jets to move on from Pierre-Luc Dubois.
Related Story: What's Going On With Pierre-Luc Dubois?
The following forwards have short explanations attached to them on the list below:
Vladislav Namestnikov, acquired via trade, can walk as a free agent with no true impact on the roster since the acquisition.
Morgan Barron, I wasn't overly impressed with Barron since he arrived in Winnipeg. Either he signs a two-way contract with the Jets, or he walks as a free agent.
Saku Maenalanen, Saku had a strong start with the Jets and unfortunately fizzled out at the same time as the Jets. I don't see him back with the Winnipeg Jets roster next year.
David Gustafsson, I wasn't overly impressed with Gustafsson's play, he also never stood out when he played. As he has one more year on his contract, he would need to be waived to go play with the Manitoba Moose of the American Hockey League. I don't see him staying with Winnipeg full-time like this year. If he doesn't clear waivers and is claimed, it's an unfortunate loss for the Jets. However, if you have a chance to trade him, that should be what happens to free up a bit of cap space and a contract slot in the process.
Kevin Stenlund, as hard-working as he was on the roster, Stenlund made himself easily replaceable in the lineup by some poor play. I don't see him back with the Jets roster next year, I can see him signing a two-way contract and playing with the Manitoba Moose, but if that's not the case, he will walk as a free agent.
Kevin Cheveldayoff has a critical decision to make at the forward position, and the defense position won't be an easier task for Chevy. There are two names that I will list that I think shouldn't be back with the Winnipeg Jets next year for defense.
Neal Pionk: This guy has been a warrior for the Winnipeg Jets, but it's time to move on from Neal Pionk. It's almost as if Pionk has caved into the ways of the current locker room regime, and it bleeds into his play. When the Jets aren't winning, Pionk almost refuses to give any sort of effort. Countless times the Jets have been down by a goal or two, and Pionk is nowhere to be found when the team needs him. I also don't say that without knocking Pionk's play, and he's been a valuable piece for the Jets since his acquisition. He's just been nowhere to be found during crucial plays.
Logan Stanley: You can't teach size, but you can teach skill, Logan Stanley has the potential to flourish elsewhere as a big-bodied defenseman. Stanley hasn't secured a full-time role with the Jets since debuting in the 2020-21 season. With my opening statement, I'm not saying Logan Stanley isn't skilled, he just hasn't found his game with the Winnipeg Jets in any way since his season debut. This is a player you can trade for another player to quickly retool your team to benefit you now rather than later.
For goalies, my only name on this list is Connor Hellebuyck, yes, Hellebuyck has been your cornerstone goaltender since the 2016-17 season, but his recent comments are incredibly concerning. A team that needs a retool must trade the players who aren't sticking around for a retool or rebuild. I wish Hellebuyck was willing to retire a Winnipeg Jet because he's incredibly consistent. Still, the market for goaltenders with Vezina wins and nominations to their name is nearly non-existent. This could be a move that could help provide significant assets for your retool or short-term rebuild.
Who Gets Called Up?
I only have four names on the list of who should be called up or signed. Two forwards, one defenseman, and a goaltender make this list.
To start this shorter list, Jansen Harkins, a player who gives 125% every single night that he plays, whether it's with the Manitoba Moose of the AHL or the Winnipeg Jets, Jansen Harkins plays his heart out. Harkins has posted over a point-per-page in his 44-game campaign since clearing waivers earlier this season. With 25 goals and assists, a plus-minus of plus 11, and 36 PIMS, Harkins has more than earned his call-up for the Winnipeg Jets in the 2023-24 season with this stat line. Alongside my family members, I have enjoyed watching Harkins play, and I hope to see him back with the Winnipeg Jets sooner rather than later.
Brad Lambert, why not bring a newer prospect up for a few games? Lambert looked incredible in the World Juniors, I think he could adjust quicker to the National Hockey League game over your other big prospects. I have been wrong before, but Lambert could provide us with a nice look into the future with a full-time bottom-six role.
Tyrel Bauer, nothing beats having a guy on your roster who will stick up for you on the ice without asking questions. Tyrel Bauer has also proved to be a rock on the blueline for the Manitoba Moose this year, which should earn him a handful of games in the 2023-24 season.
Mikhail Berdin, here is the Winnipeg Jets goalie prospect that we've heard about for a long time. He's got a goal on his resume, which can provide us some extra offense if the time comes, but he's proved to be stellar when called upon. Mikhail Berdin should receive a goaltending position behind David Rittich next season, it would do wonders for Berdin to work behind a veteran goaltender like Rittich.
There is one more thing that I want to mention, for goaltending, I truly think that the Winnipeg Jets should sign a free-agent goaltender who won't receive many offers this off-season. This would allow for a rotation of three goalies, similar to Buffalo rotating more than three goalies this year, and for Berdin to get a feel for the NHL level.
What Does The Lineup Look Like Then?
You will no doubt have to find a guy in your system that will temporarily or permanently fill the number one centreman role in your franchise. I only put three question marks because it is super uncertain right now how the Winnipeg Jets lineup will actually look next season. See below for my retooled roster predictions, this doesn't include trade speculations/sequences.
First forward line: Kyle Connor – ??? – Nikolaj Ehlers
Second forward line: Nino Neiderreiter – Cole Perfetti – Mason Appleton
Third forward line: Axel Jonsson-Fjallby – Adam Lowry – Karson Kuhlman
Fourth forward line: Jansen Harkins – Sam Gagner – Brad Lambert
First defense line: Josh Morrissey – Nate Schmidt
Second defense line: Brendan Dillon – Dylan Samberg
Third defense line: Dylan DeMelo – Tyrel Bauer
Extra defenseman: Kyle Capobiano
Goaltenders: David Rittich, Mikhail Berdin, and a free-agent goaltender.
I would absolutely keep Rick Bowness as the head coach, Kevin Cheveldayoff should stay as general manager if there is nobody on the market to fill his role. If you find a general manager to take over for Kevin Cheveldayoff, move Cheveldayoff to become the next president of hockey operations.
This is completely opinionated on how I would restructure the Jets if I were Kevin Cheveldayoff, though most fans agree it's time to get some fresh faces on this roster.
The boys are back after a long break but have plenty to talk about as the playoffs are in full swing. We go series by series, looking at how teams have fared so far and who will come out on top. Thanks for listening! Please rate and review our show on your favorite listening platform. Check out our partner's website at www.insidetherink.com for all your latest hockey news.