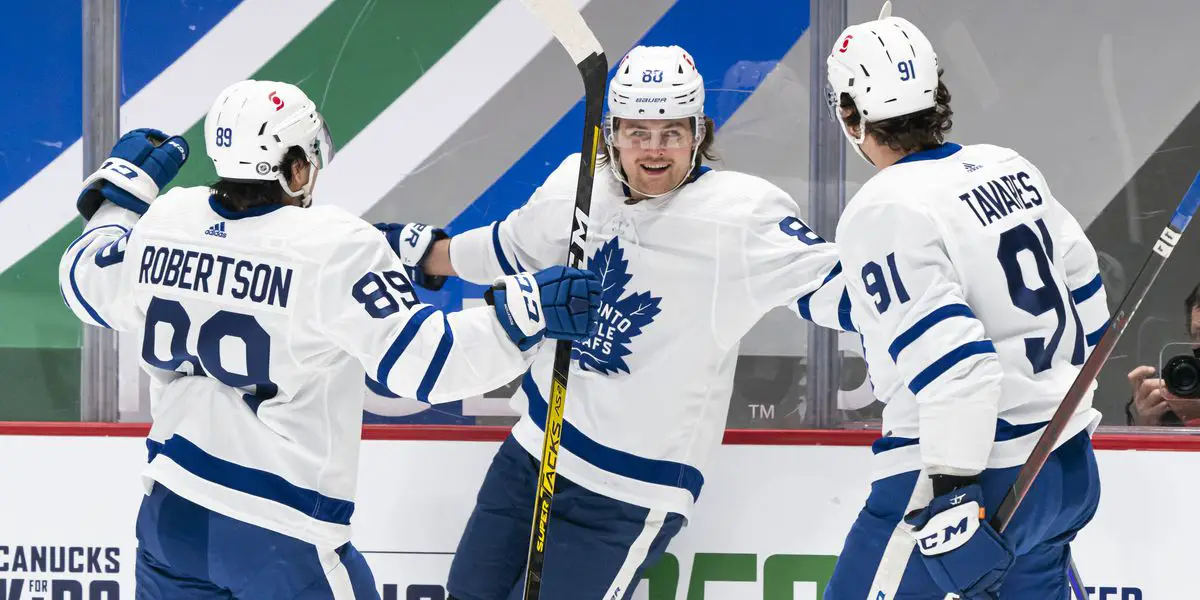 After yet another loss where the effort wasn't good enough, the Leafs look to pull out at least one win on their California road trip. The Ducks are last in the NHL currently, and all of the Leafs' losses this year have come against teams that didn't make the playoffs last year, so they need not underestimate their opponents. Something has seemed off with the team so far, and they need to start figuring it out as they hit the ten-game mark of the season tonight. While it is a back-to-back, the Leafs need to start getting some wins.
Leafs Projected Lineup
Tonight's lines haven't been confirmed, and there's a very good chance the lines got thrown into the blender again, but this is what last night's lines were.
Forwards
Kerfoot – Tavares – Nylander
Robertson – Järnkrok – Simmonds
Engvall – Kämpf – Aube-Kubel
Defense
Rielly – Brodie
Sandin – Holl
Giordano – Kral
Goalies
Källgren (confirmed starter)
Samsonov
Ducks Projected Lineup
Forwards
Comtois – Zegras – Terry
McTavish – Strome – Vatrano
Henrique – Grant – Silfverberg
Jones – Lundestrom – Leason
Defense
Fowler – Klingberg
Kulikov – Drysdale
Beaulieu – Shattenkirk
Goalies
Gibson
Stolarz
Three Things to Look Out For
Leafs find a way to create even-strength scoring
One of the keys to the Leafs' game is to find even-strength scoring. The Leafs have had moments of momentum but haven't been able to create space in the offensive zone effectively, and this has resulted in less scoring at even strength. If the Leafs can find a way to make the Ducks have to chase them, making room in the slot and the middle of the offensive zone, they're sure to convert more. Many people expect more from the Leafs' offense, and rightfully so, but it mainly stems from even strength.
Erik Källgren
Källgren will be in the pipes tonight as the Leafs look to maintain a winning record. So far, in his starts, he has looked composed, but he surely is looking to prove he belongs at the NHL level. When Murray returns from his injury, I'm sure there will be a goalie controversy at the Marlies level, as the current goalies seem to be playing well.
Fewer turnovers
Through most of the games the Leafs have played this year, there have been painful turnovers that resulted in goals against quite often. Whether it's a turnover trying to get into the offensive zone, a breakout pass, or just turning the puck over in their zone, the turnover numbers need to go down if the Leafs want to start racking up wins. Most of the turnovers seem to stem from the defense, and getting the puck out of their own zone cleanly seems much harder than it needs to be.
Predictions
This is a new segment of the pre-game articles, where each game, there will be three predictions that will be answered between our Leafs' writing team, Leafs' Late Night team, and a coin flip. We will track it throughout the season to see who is the most accurate! The coin flip will always have heads as the home team and tails as the away team.
Who will walk away with the win tonight?
Nathan: Ducks
Josh: Leafs
Mike: Ducks
Steph: Leafs
Johnny: –
Coin: Leafs
Who will score first? Sharks or Leafs?
Nathan: Leafs
Josh: Ducks
Mike: Ducks
Steph: Leafs
Johnny: –
Coin: Ducks
Will players from the bottom six combine for over/under 2.5 total points (including special teams)?
Nathan: Over
Josh: Under
Mike: Under
Steph: Under
Johnny: –
Coin (over=heads, under=tails): Over
You can watch tonight's game on TSN4 beginning at 8:00 pm EST.
Thanks for reading! Feel free to follow me on Twitter @nathan_bondy.
Appreciation in Leafs Nation – RD2 GAME 5
–
Leafs Late Night
WELCOME BACK TO LEAFS LATE NIGHT! Presented by Inside The RinkRoscoe / Fanalyst / Galaxy Biehn / Marty From Keswick- We Didn't Want Florida- Rielly Robbed- Roscoe vs. Fanalyst: What Was The Deciding Factor?- Does The Regular Season Matter?- Leafs Nation Stays *mostly* PositiveMERCH IS AVAILABLE!JOIN OUR DISCORD!Remember to follow us on Twitter @LeafsLateNight & IG @LeafsLateNightCheck out Mike, Josh, and Nathan's articles on the Leafs + many more! insidetherink.com