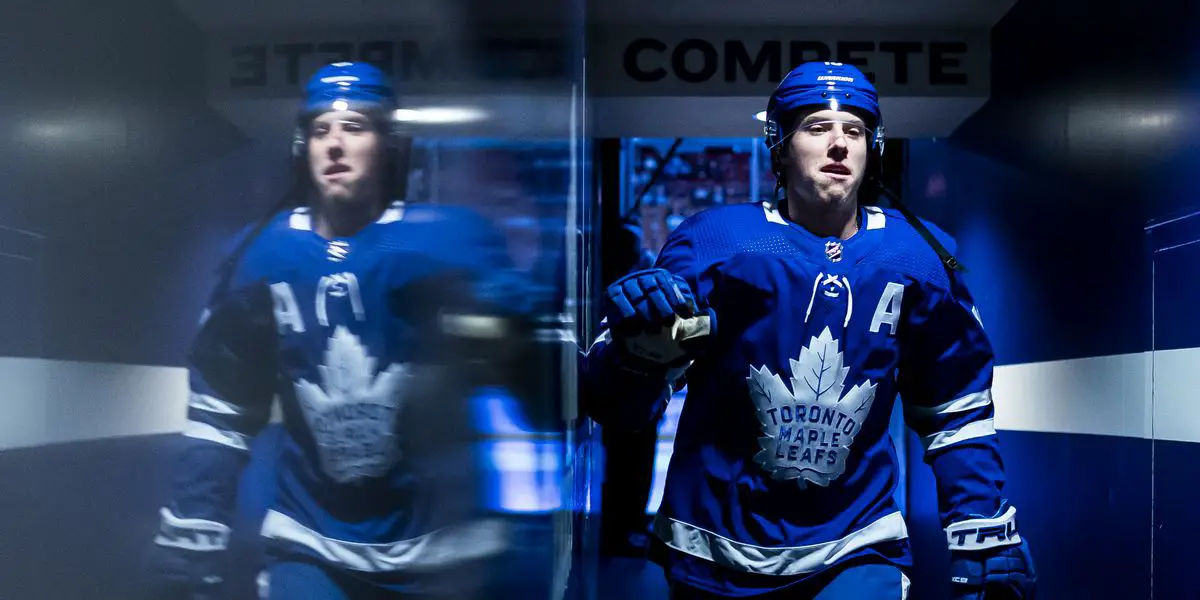 Marner Drafted 4th overall by Maple Leafs in 2015
    During the 2015 NHL Draft, The Toronto Maple Leafs selected forward Mitch Marner fourth overall. The Maple Leafs picked the highly skilled winger from the London Knights of the Ontario Hockey League. Mitch was always a highly touted player at any level of his development, even as a youth hockey player. He was playing for the Vaughn Kings program for his U15 season before a switch to the Don Mills Flyers for his U16 year. Both organizations have developed some serious pro talent from the GTHL. That season before the NHL Draft, Mitch scored a whopping forty-four goals and eighty-two assists for a total of one hundred and twenty-six points in only sixty-three games. After returning to the Knights for one more season, Marner continued to tear up the OHL and made Team Canada's world junior roster. Mitch was always seen as a dynamic play-making prospect with an extremely high ceiling, It's safe to say he certainly has met that criteria already. Still about to enter the prime years of his career, the 25-year-old from Markham, Ontario, will surely be a superstar for many seasons. 
NHL Career to Present
    On October 12th of 2016, Mitch Marner made his National Hockey League debut against the Ottawa Senators. This day will be remembered for ages for Leafs fans as it was also the debut of fellow Maple Leafs star Auston Matthews. After his rookie season, Mitch continued to develop more and more every season, becoming a superstar within the NHL. An outstanding ninety-four point season in 2018-19 led Mitch to start turning heads league-wide, emerging into a franchise building block for General Manager Kyle Dubas. Just last season, we saw Mitch reach an even higher level, The creative forward started the season off slower than expected. After an early season setback due to injury, when Mitch returned, he absolutely took off. Scoring three points shy of one hundred points for the blue and white in what would have been a historic season for the franchise. The most fascinating thing about Mitch Marner's style of play is that as great as he is in the offensive zone, his defensive metrics and work ethic make him a dual-edge talent that is so rarely seen in the National Hockey League. Mitch Marner is currently on the Maple Leafs first power-play unit and also on the second-line penalty-kill unit, all while managing to be a first-line winger. Mitch Marner is a treat to watch and can make plays out of nothing, his speed and stick-handling ability make him a hassle to stop. When Mitch is on his game, there might not be much better than he is, He's the real definition of a superstar. 
Mitch Marner's Contract Status and History
    When it comes to looking at Mitch Marner's contract status, there's not really a lot to it. After signing his entry-level contract with the Maple Leafs, which was worth $2,775,000 in 2015 and carried a cap hit of $925,000 for the first season, followed by a cap hit of $894,167 for the next three. Once his entry-level contract was completed, it was time for the Maple Leafs and Mitch to settle on a long-term extension. It was certainly an interesting era to be a Leafs fan when General Manager Kyle Dubas first got the job. Kyle was handed some pretty big holes to fill in finding extensions with not only Mitch Marner but also fellow teammates William Nylander and Auston Matthews. After finally coming to an agreement, Mitch Marner received a massive six-year extension worth up to $65,408,000. The contract carries a $10,893,000 cap hit through the 2024-25 season, also within the contract is a no-move clause which kicks in the last two years of his deal. Despite signing contracts with two different General Managers with the same team, it's obvious when the time comes around to renegotiate, Mitch will be in line for an even bigger payday. With the cap projected to rise astronomically, it shouldn't be too far-fetched to see the Markham, Ontario native become the highest-paid winger in the National Hockey League.
When Bab(e) Asks To See Your Phone
–
Leafs Late Night
WELCOME BACK TO LEAFS LATE NIGHT! Presented by Inside The RinkRoscoe / Galaxy Biehn- Rodgers/Ohtani- PT-Oh He Didn't Sign?- PWHL Draft- Surely, No One Could Have Predicted ThisNEW MERCH IS AVAILABLE!JOIN OUR DISCORD!Remember to follow us on Twitter @LeafsLateNight & IG @LeafsLateNightCheck out Mike, Josh, and Nathan's articles on the Leafs + many more! insidetherink.com