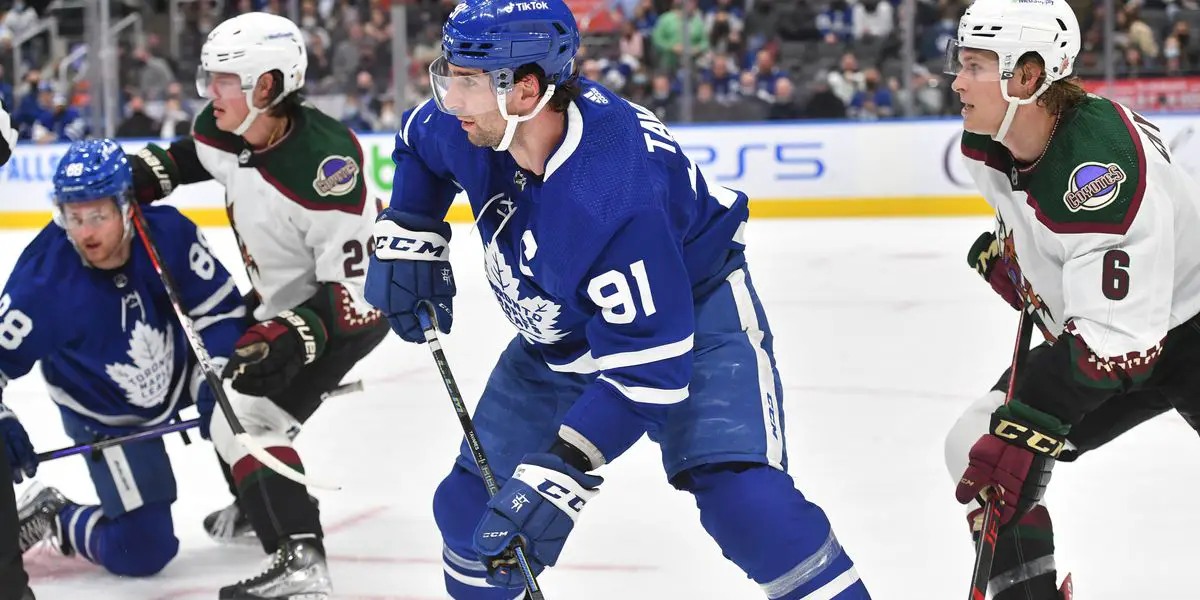 Tonight the Leafs head to Los Angeles as they take on the Kings. The Leafs will pull out their flipside jerseys that they co-created with Justin Bieber. It's likely safe to assume that Bieber will be at the game tonight, but regardless, the Leafs have a job to do. Although their 4-3-1 record is much better than their 2-5-1 start last season, the team still hasn't looked solid through 8 games. The Leafs made more line changes for tonight's game which you can see below, as they look to leave LA with 2 points on the front end of back-to-back game days.
Leafs Projected Lineup
Forwards
Kerfoot – Tavares – Nylander
Robertson – Järnkrok – Simmonds
Engvall – Kämpf – Aube-Kubel
Defense
Rielly – Brodie
Sandin – Holl
Giordano – Kral
Goalies
Samsonov (confirmed starter)
Källgren
Kings Projected Lineup
Forwards
Kempe – Kopitar – Vilardi
Moore – Danault – Arvidsson
Grundstrom – Lizotte – Fiala
Lemieux – Anderson-Dolan – Kaliyev
Defense
Anderson – Doughty
Durzi – Roy
Edler – Clarke
Goalies
Quick
Peterson
Three Things to Look Out For
Filip Kral's NHL Debut
As I mentioned in one of the preseason game previews, Kral has worked hard the past year and deserves a chance at the NHL level. Tonight, he will get that chance as he begins his NHL career. Coming off of a strong camp and start to the season with the Marlies, Kral was awarded a call-up to the Leafs due to some defensive injuries. Having Kral in the lineup gives the Leafs a better chance to see what his potential really is and that begins tonight.
Nick Robertson
Robertson will play his first game on the same line as his childhood hero, Wayne Simmonds, on the third line tonight. This is also the first game of the season where Robertson isn't in the top 6. It will be important to Robertson if he wants to stay in the lineup to show that he can contribute on any line. Look out for a solid showing tonight with Robertson.
Justin Holl
Sheldon Keefe has stated that the Leafs defense hasn't been good enough lately. In a later interview, when asked about Holl, he said that while Holl is an important person to the team, he has needed some honest and direct feedback as it seems to be snowballing. This essentially implies Holl isn't playing well enough and has been getting worse. Look for Holl to have a good showing tonight, or he may end up watching from the press box.
Predictions
This is a new segment of the pre-game articles, where each game, there will be three predictions that will be answered between our Leafs' writing team, Leafs' Late Night team, and a coin flip. We will track it throughout the season to see who is the most accurate! The coin flip will always have heads as the home team and tails as the away team.
Who will walk away with the win tonight?
Nathan: Leafs
Josh: Leafs
Mike: Kings
Steph: Leafs
Johnny: Leafs
Coin: Kings
Who will score first? Sharks or Leafs?
Nathan: Leafs
Josh: Kings
Mike: Kings
Steph: Leafs
Johnny: Leafs
Coin: Leafs
Will Samsonov make over/under 30.5 saves?
Nathan: Over
Josh: Under
Mike: Over
Steph: Over
Johnny: Under
Coin (over=heads, under=tails): Over
You can watch tonight's game on Sportsnet One or CBC as the Leafs hope to walk away with 2 points in LA, starting at 7:00 pm EST.
Thanks for reading! Feel free to follow me on Twitter @nathan_bondy.
WELCOME BACK TO LEAFS LATE NIGHT! Presented by Inside The RinkRoscoe / FanalystSteph / Galaxy Biehn / Suthy- 59 Good Minutes- Cold PP Vs Bad PP- One Miss Is All It Takes- Guac & Rock- Predictions & TriviaMERCH IS AVAILABLE!Remember to follow us on Twitter @LeafsLateNight & IG @LeafsLateNightCheck out Mike, Josh, and Nathan's articles on the Leafs + many more! insidetherink.com