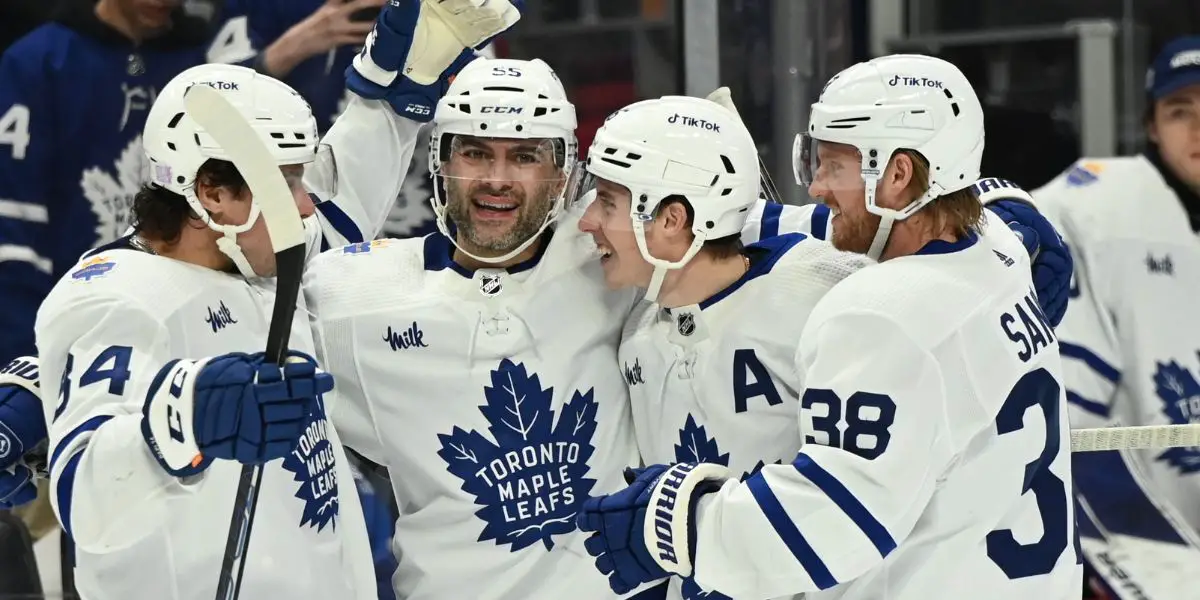 The Reverse Retro 2.0 jerseys are back tonight as the Leafs take on the Sharks at Scotiabank Arena. The Leafs will also have a tribute to the recently passed Salming and have multiple initiatives to hopefully help with the disease, ALS, that Salming struggled with. The three main ways are the opportunity to buy the Salming jersey patch, Reverse Retro 2.0 jerseys with the Salming patch on it, or an auction with the game-worn jerseys from tonight's game, with all profits from these three ways all going to ALS Action Canada.
Leafs Projected Lineup
Forwards
Bunting – Matthews – Nylander
Järnkrok – Tavares – Marner
Kerfoot- Holmberg – Engvall
Aston-Reese – Kämpf – Robertson
Defense
Giordano – Holl
Sandin – Liljegren
Mete – Hollowell
Goalies
Samsonov
Murray
Sharks Projected Lineup
Forwards
Meier – Hertl – Labanc
Nieto – Couture – Barabanov
Gregor – Bonino – Kunin
Lindblom – Lorentz – Svechnikov
Defense
Megna – Karlsson
Vlasic – Benning
Cicek – Simek
Goalies
Dell
Kahkonen
Three Things to Look Out For
Samsonov
This is the first time since the first week of the season that the Leafs have their top 2 goalies healthy and ready to go. Samsonov returns from injury to start tonight after a knee injury on November 5th kept him out of the team's lineup. With Murray playing quite well, Samsonov has competition in the crease, as the Leafs were likely hoping when they acquired both goalies. It's quite the story of how two goalies whose teams had given up on them are now doing quite well on their new team, creating quite the tandem for the Leafs. It's still early, but if both goalies remain healthy, the Leafs' goaltending could be quite an upgrade over last season's goaltending. Hopefully, tonight, Sammy will get rid of the rust early on and play another solid game.
Robertson
Robertson once again finds himself in the lineup tonight, but this time on the fourth line. We saw initially how well the fourth line did with Malgin on it, so it will be interesting to see Robertson get a chance on that line. He will look to step on the gas and be a heavy presence on both ends of the ice tonight in hopes of winning a roster spot for more than just one game at a time.
Mete
Mete has stepped into the lineup after Benn was injured last week. It will be interesting to see if his skills can land him more tangible results in the shape of points, as he currently sits at two points in his eight games with the Leafs. Mete is a smooth skater who often gets in a rush, seemingly out of nowhere. Mete also seems to have a good eye for breakout passes.
You can watch today's game live at 7:00 pm EST on Sportsnet!
Thanks for reading! Feel free to follow me on Twitter @nathan_bondy.
Appreciation in Leafs Nation – RD2 GAME 5
–
Leafs Late Night
WELCOME BACK TO LEAFS LATE NIGHT! Presented by Inside The RinkRoscoe / Fanalyst / Galaxy Biehn / Marty From Keswick- We Didn't Want Florida- Rielly Robbed- Roscoe vs. Fanalyst: What Was The Deciding Factor?- Does The Regular Season Matter?- Leafs Nation Stays *mostly* PositiveMERCH IS AVAILABLE!JOIN OUR DISCORD!Remember to follow us on Twitter @LeafsLateNight & IG @LeafsLateNightCheck out Mike, Josh, and Nathan's articles on the Leafs + many more! insidetherink.com