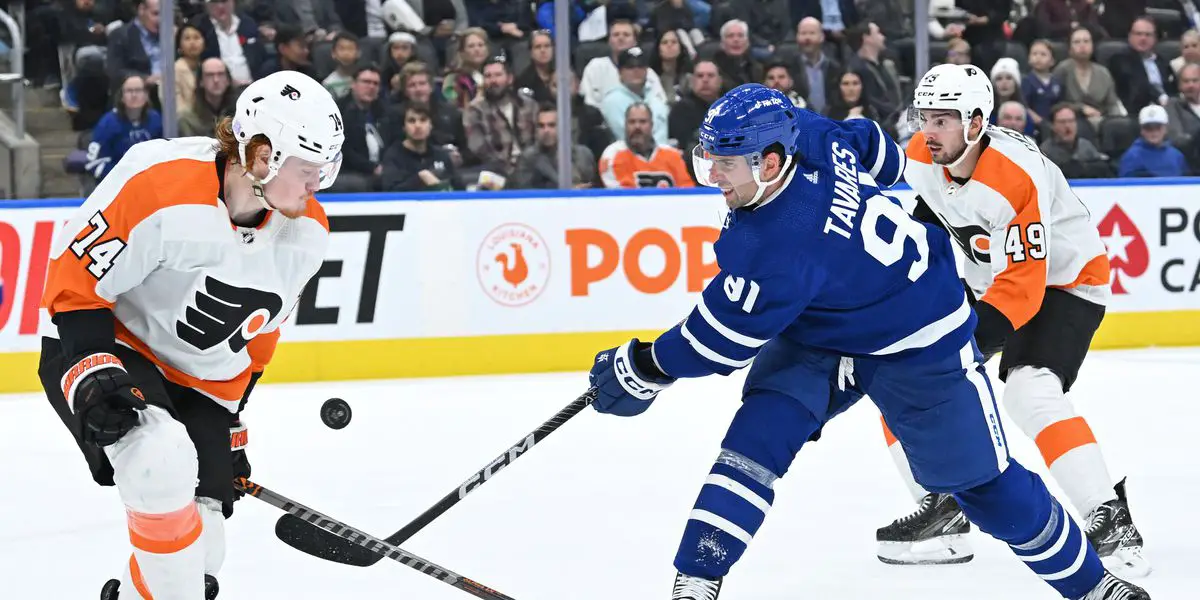 With 40 games played, the Leafs currently are at 53 points and sit in second place in their division. After tonight's game, the Leafs will have played half of the season. The Leafs had a solid 4-1 win last night, with Samsonov having a great night. Murray gets the start tonight as he looks to get back on track, just as Sammy Smiles did.
Leafs Projected Lineup
These are the lines from last night, but I'm sure they won't be the same. Keefe said to expect a large group warning up tonight as there are players who are game-time decisions.
Forwards
Bunting – Matthews – Nylander
Järnkrok – Tavares – Marner
Kerfoot – Kämpf – Engvall
Aston-Reese – Holmberg – Hunt
Defense
Rielly – Brodie
Sandin – Liljegren
Giordano – Holl
Goalies
Murray
Samsonov
Flyers Projected Lineup
Forwards
Van Riemsdyk – Frost – Tippett
Farabee – Cates – Konecny
Hayes – Laughton – MacEwen
Deslauriers – Brown – Allison
Defense
Provorov – Ristolainen
Sanheim – DeAngelo
York – Braun
Goalies
Hart
Ersson
Three Things to Look Out For
Brodie
Brodie has played with many different partners since returning from his injury. He has finally found a consistent partner to play a stretch of games with Rielly. We have seen a lot of Rielly and Brodie since Brodie signed with Toronto. It will be a good stretch for both players to build up some consistency. Brodie has been solid through this stretch and will look to continue the solid effort tonight against the Flyers. 
Kerfoot
Kerfoot has had some inconsistencies so far this season. In some games or shifts, he looks great and creates chances, like last night when he had a great play that led to a penalty being drawn. What I'd like to see from Kerfoot is some consistency and for him to start converting on his chances more often. Defensively he had been playing well, so if he can get the offensive numbers up, he will be a key part of the team. 
Hunt
Hunt has continued to impress on the fourth line. He brings a solid level of energy and aggression that is much needed on the team. He has also had his share of chances on the team, and it should only be a matter of time before he finds himself on the scoreboard.
The Leafs take on the Flyers at 7 PM EST tonight on TSN.
Thanks for reading! Feel free to follow me on Twitter @nathan_bondy.
Appreciation in Leafs Nation – RD2 GAME 5
–
Leafs Late Night
WELCOME BACK TO LEAFS LATE NIGHT! Presented by Inside The RinkRoscoe / Fanalyst / Galaxy Biehn / Marty From Keswick- We Didn't Want Florida- Rielly Robbed- Roscoe vs. Fanalyst: What Was The Deciding Factor?- Does The Regular Season Matter?- Leafs Nation Stays *mostly* PositiveMERCH IS AVAILABLE!JOIN OUR DISCORD!Remember to follow us on Twitter @LeafsLateNight & IG @LeafsLateNightCheck out Mike, Josh, and Nathan's articles on the Leafs + many more! insidetherink.com