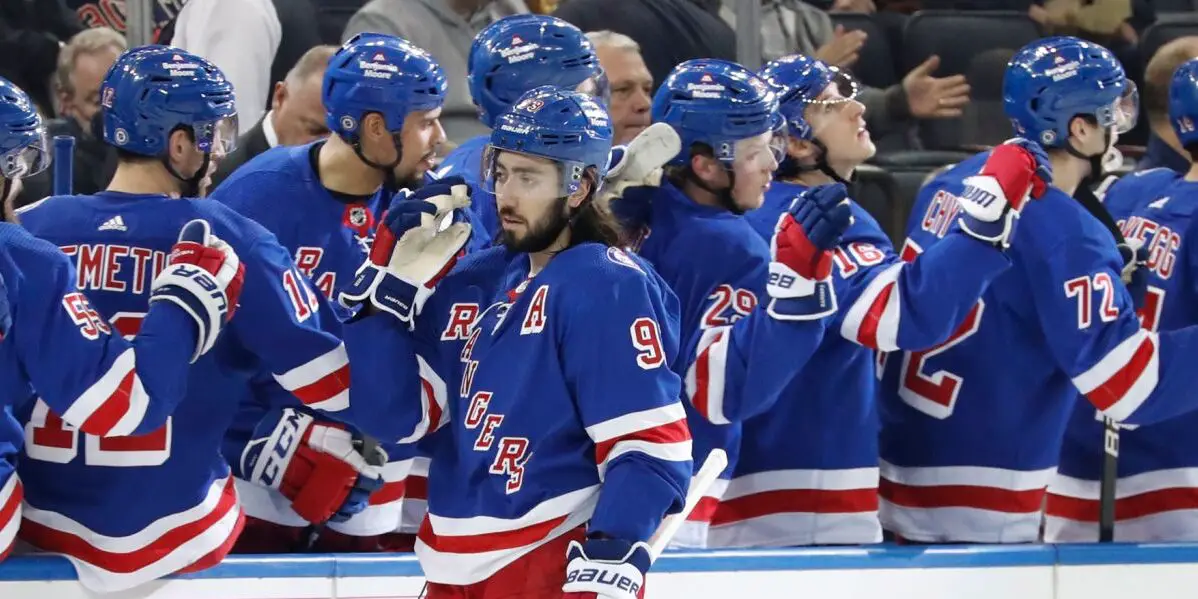 So far, this season has been a roller coaster. For the first ten games, Shesterkin and Fox carried this team. Then the team got it together and went on a hot streak until finally cooling off a bit before the holiday break. We will go over the big-name players of this team and evaluate how well they have done and whether or not they are meeting expectations.
Offense
Artemi Panarin – Met Expectations: Yes
The start of this season is arguably the coldest Artemi Pararin has been during his time with the Rangers. That said, it would appear he's got his scoring touch back. If there was one thing to complain about with him, he needs to start shooting more. Opposing teams are finding it easy to cover Panarin because they can predict he will pass. Panarin has a good show, and Gallant has gone out of his way to mention that he must shoot more. Assuming he can start doing that, it will open up his passing game and give him the ability to take his game to the next level.
Mika Zibanajad – Met Expectations: No
Oh boy, you knew this was coming after signing a massive extension; he's an elite goal-scorer who hasn't shown up this season. With only seven goals on the season, he is way below where you'd want him to be in the scoring department. He's the number one center on this team and needs to start playing like one, or else this team will have a much lower ceiling as he's a vital member of the offense.
Chris Kreider – Met Expectations: Above
I thought before the season, if anyone can get him going consistently, it's Gallant, and so far, that remains true. Having a whopping 18 goals before the holiday break, his primary way of getting these goals is in front of the crease on the powerplay. He's one of the best net-front presences in the game and uses his speed and physicality on the rushes. The hope is he keeps playing well consistently and doesn't relapse where he goes ice cold for a while.
Ryan Strome – Met Expectations: Yes
With Storme's uncertain future and the role of the 2nd line center open for debate, one thing that remains incredibly important is Strome keeping up his point production. That said, for the love of all that is holy, he needs to start scoring on open net opportunities. The complete fail and miss on the empty net opportunities is a significant pain point for Rangers fans.
Kaapo Kakko – Met Expectations: Not Yet
He's gotten a lot more confidence this season (Ahem – because David Quinn isn't here – Ahem), and Gallant has given him all the chances he needs even after making mistakes (Ahem – Quinn), which allows him to learn from them and gain confidence. He may not be the player yet we've all envisioned him to be, but he's come a long way since his first year(one final, Ahem – Quinn).
Alexis Laffreneire – Met Expectations : No
After a rocky 1st year, he's gotten better on the forecheck. However, he's not putting up the points expected out of the first overall pick, but this doesn't mean everything considering there are a bunch of past 1st Overall picks that started slow. He needs to start getting more ice time to keep growing because he's one of the main future pieces on this team.
Filip Chytil – Met Expectations: No
On the 3rd line, mostly, he's been just fine besides the two weeks where that line was the hottest line in existence not to get points. Though he is still young, I think the ship has sailed on him as a 2nd line center. If he starts producing a bit more, it can be huge for this team to have that depth in their lineup.
The Defense
Adam Fox – Met Expectations: Above
The reigning Norris Trophy winner has somehow taken his game to another level this year (which I didn't even think was humanly possible). He and Shesterkin carried this team in the first ten games, and he remains the backbone of this defense. He and Lindgren have made themselves one of the top defensive pairings in the league. It will probably be between him and Makar winning the Norris. Side note: I believe Makar is better offensively, but Fox is the better complete player
Ryan Lindgren – Met Expectations: Above
People haven't noticed growth this year because everyone is focusing on Fox. He's an excellent shutdown defenseman and works amazingly with the Norris winner Adam Fox. He doesn't get many points besides that incredible buzzer-beater goal, but points are not all that matters. He's the type of guy you want on our team to compete for the Cup.
Jacob Trouba – Met Expectations: Above
Honestly, I don't understand any of the slanders against him. He's been fantastic this season and taken a step offensively in his game. Here is the problem people aren't understanding – if you spend 70% of the time in your defensive zone because your offense is not showing, then eventually you're going to make mistakes that are not on you. Nobody is that good (except Fox). He's a fantastic shutdown physical defenseman that has had leadership qualities. He's not our problem.
K'Andre Miller – Met Expectations: Yes
It's the exact thing we mention with Trouba about the whole 70% in the defensive zone thing. While yes, there are some things he needs to work on, you are getting what you would expect out of a 21-year-old defenseman. He's big and insanely fast, defying the laws of physics while having an excellent stick-checking game.
Goalie
Igor Shesterkin – Met Expectations: Above
He is why we have the record that we have. He has carried this team. He's become the elite goalie we all envisioned him, and if he keeps this up, he has a high chance of being a Vezina finalist. One major red flag. The injuries. You have to hope he can stay healthy down the stretch.
Bonus: Coach
Yes, I know this is a player evaluation, but I figured I'd give my two cents on the coaching situation. Every coach, including Gallant, will have their positives and negatives. He's done well by players like Kakko, Kreider, and just the general overall attitude of the team. Though guys like Laffreneire might struggle, Gallant is the coach this team needed to cross the bridge from rebuild to contenders.
Want to hear more about my thoughts on the New York Rangers? Check out my podcast, New York Paingers: