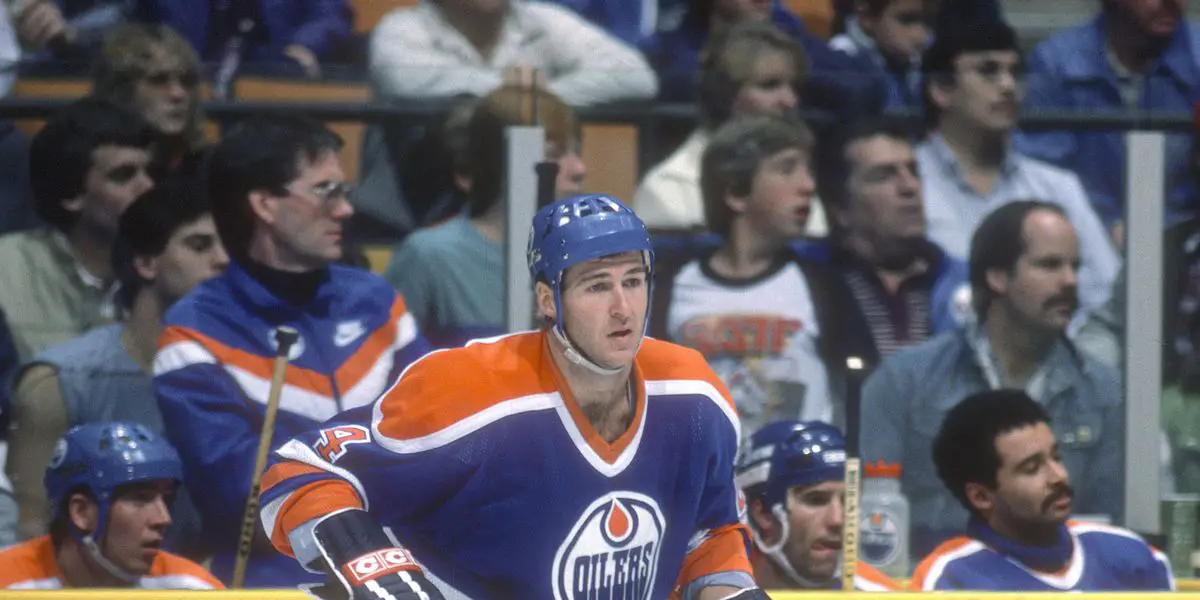 In this article, I will be counting down the top 10 Defencemen in the history of the Edmonton Oilers' storied franchise. The criteria for this list will not include accomplishments that the players achieved for other teams. Instead, I am ranking them based on their contributions as an Oiler and their legacy in Edmonton. For example, Chris Pronger is probably the second-best player to play on the back end for the Oilers. However, his short tenure leaves less of a legacy and overall impact on the franchise than a player like Kevin Lowe. With that explanation out of the way, let's get to the countdown!
10. Oscar Klefbom
The story of Klefbom's NHL career is, unfortunately, a sad one. The Oilers drafted the Swedish defenseman in 2011 and developed through the team's system into a top pair minute muncher. He was one of the best defensive players on the team, and his "Kef-bombs" from the blueline were a staple of the best powerplay unit in the NHL in 2019-20. Klefbom was the team's best defenseman since Chris Pronger, but chronic shoulder issues have likely ended his career after just seven NHL seasons. It's a tough break for both Klefbom and the Oilers, who miss him on the blueline as they try to get over the hump in the Stanley Cup playoffs. Oscar's claims to fame in Edmonton include his goal in game 1 of the 2017 playoffs, which was the first postseason goal scored in Edmonton in nearly eleven years, and his game-tying slapper in game five en route to a victory that ultimately allowed them to win the first playoff series in as many years.
9. Jason Smith
From 2001 to 2007, Jason Smith served as captain of the Oilers, the longest captaincy for a D-man in team history. Smith made his most significant impact not on the scoreboard but in the trenches. He accumulated over 600 penalty minutes in his Oiler career, and he was a fearless shot-blocker. His blue-collar style of play, his leadership, and his willingness to put his body on the line for the good of the team made him one of the most respected captains in team history. In 2006, Jason came within one game of captaining the team to a Stanley Cup victory. Despite the disappointing outcome of that series, Jason Smith solidified his place as a team legend for his leadership and grit during that playoff run.
8. Janne Niinimaa
The Oilers were a fringe playoff team for most of the late 90s and early 2000s. During these years, Janne Niinimaa was a top-pair defenseman who led the team in minutes for four consecutive seasons from 2000 to 2003. Janne's average of 24:56 of ice-time per game is second only to Chris Pronger in team history, and his 188 points are tied for sixth all-time among Oiler defensemen. He was very steady on the top pair for teams that were severely lacking in star power aside from Doug Weight. Without Niinimaa carrying that back end, it is extremely unlikely the Oilers would have made the playoffs in any of those seasons.
7. Chris Pronger
I couldn't position Chris Pronger too high on the list since he only played one season in Edmonton, but it was such an incredible season that he had to make an appearance at least. Pronger played significant minutes on the top pair for the Oilers all season long, logging over 27 minutes per game. He produced 56 points in 80 games while also playing terrific defensively and being an imposing physical presence. What solidified his legacy in Edmonton was his incredible performance in the 2006 playoff, where he led the team with 21 points in 24 games, helping them reach the Stanley Cup Finals. In game one of those finals, Pronger forever became a hockey trivia answer when he became the first (and so far only) defenseman in NHL history to score a penalty shot goal in the Stanley Cup Finals. Pronger is just one of those defensemen that can do it all. He played elite hockey on both ends of the ice and was a big, mean, physical force feared by many opponents.
6. Lee Fogolin
Players like Lee Fogolin don't exist anymore in today's NHL. He was never much of an offensive contributor, but the Oilers had plenty of that during the 1980s. Fogolin was a tough customer that had over 100 penalty minutes in a season six times during his eight seasons in Edmonton. He was tough as nails in an era where it was required to have those types of players to avoid getting run out of the building. An essential piece to a group of champions, Fogolin had to be on this list.
5. Darnell Nurse
The only active Oiler on this list, Nurse, is in the middle of his eighth season with the Oilers, and his game continues to evolve and get better. Darnell worked his way up to a second pair position behind Oscar Klefbom until Oscar's shoulder injury forced him to go on long-term injured reserve. Nurse has grown into that first pair role perfectly, putting up 36 points in 56 games last year and scoring an impressive 16 goals despite Tyson Barrie taking most of the top powerplay minutes. At times, Darnell has had some holes in his defensive game, primarily due to poor decision-making in his own zone. However, the analytics suggest that he is cleaning up his defensive play while still maintaining his offensive output this season. Nurse is one of the most well-rounded players the Oilers have. His ability to kill penalties, skate well, move the puck, and be a physical presence makes him extremely valuable. This year, he surpassed Adam Larsson as the Franchise leader in hits for a D-man (at least since they began recording the stat in 1997).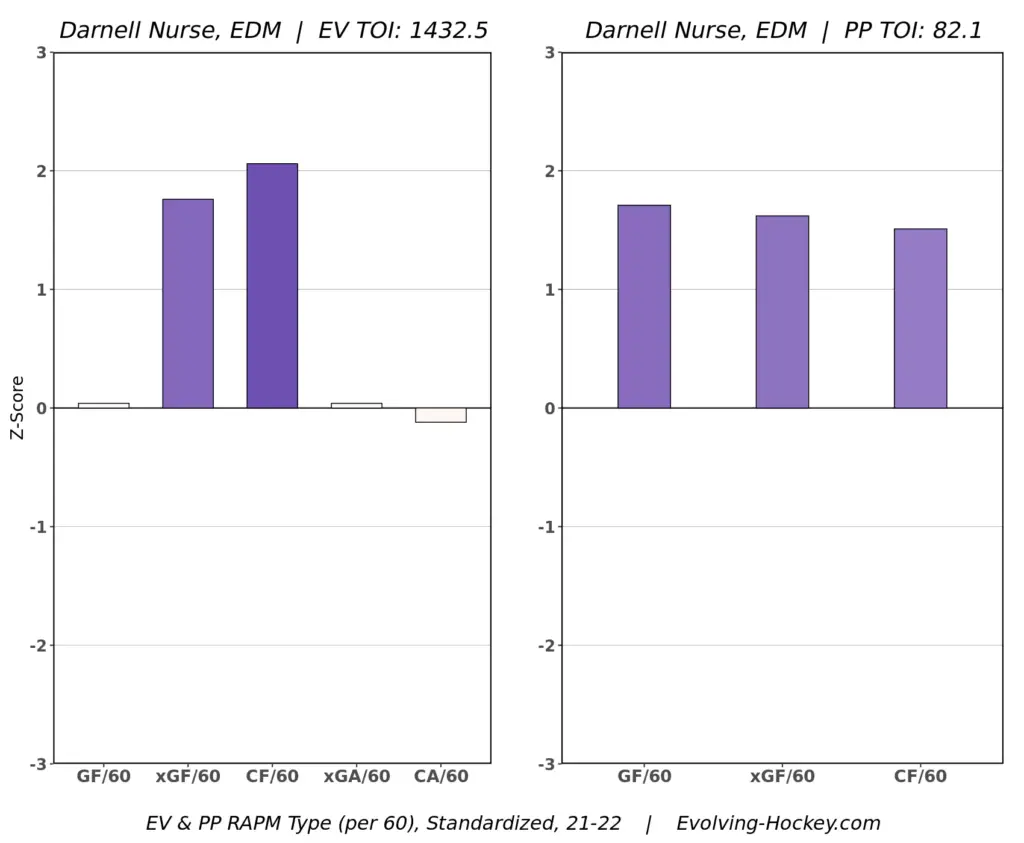 4. Steve Smith
Steve Smith will forever be known for his infamous own goal when he inadvertently banked the puck off Grant Fuhr's leg and into the net, costing the Oilers a playoff series against their arch-nemesis, the Calgary Flames. Unfortunately, one mistake is such a big part of his legacy in Edmonton because anyone who watched him during the '80s knows he was a solid player for the Oilers for a long time. Smith managed to score at a 46-point pace per 82 games during his Oilers tenure, and he had a staggering 1080 penalty minutes in 385 games with Edmonton.
3. Charlie Huddy
Huddy was another long-time Oiler that won each of the five Stanley Cups in team history. For eleven years, he contributed on both ends of the ice. While the offensive numbers weren't as other-worldly as Coffey's, he still consistently put up over 40 points even in his down years. He also returned to the organization as an assistant coach during the early 2000s.
2. Kevin Lowe
In 2021, Kevin Lowe was inducted into the Hockey Hall of Fame. He finally met the Oilers organization's criteria for getting his number 4 retired. It was all well-deserved, in my opinion, as Lowe is the all-time leader in games played with the Edmonton Oilers with 1037 and has the most penalty minutes of any Oilers defenseman with 1236. He was a part of all five Stanley Cups, and while he didn't have the most impressive offensive numbers, he defended well and gave the Oilers a good shutdown option during the dynasty years. In all of those chaotic, high-scoring affairs that the 80s were known for, Lowe was a rare calming presence that helped the Oilers keep the puck out of the net enough to win.
1. Paul Coffey
There's no question about who the best defenceman in Oilers history is. Paul Coffey won three Stanley Cups and two Norris Trophies while playing the best hockey of his Hall of Fame career in Edmonton. Coffey put up 100 points on three occasions during his seven-year Oilers tenure and even scored 48 goals during the 1985-86 campaign, which is the most in a season for a defenceman in NHL history. Not only is he at the top of this list, but most hockey experts would have him among the very best ever to play the game.
Honorable Mentions:
The Oilers are a storied franchise, and many great defensemen have donned the blue and orange over the years. Boris Mironov, Randy Gregg, Craig Muni, Sheldon Souray, and Luke Richardson all had fantastic Edmonton Oiler careers, along with all of the great defenders on the list. Unfortunately, these great players didn't quite make the cut for me, but they do deserve an honorable mention.