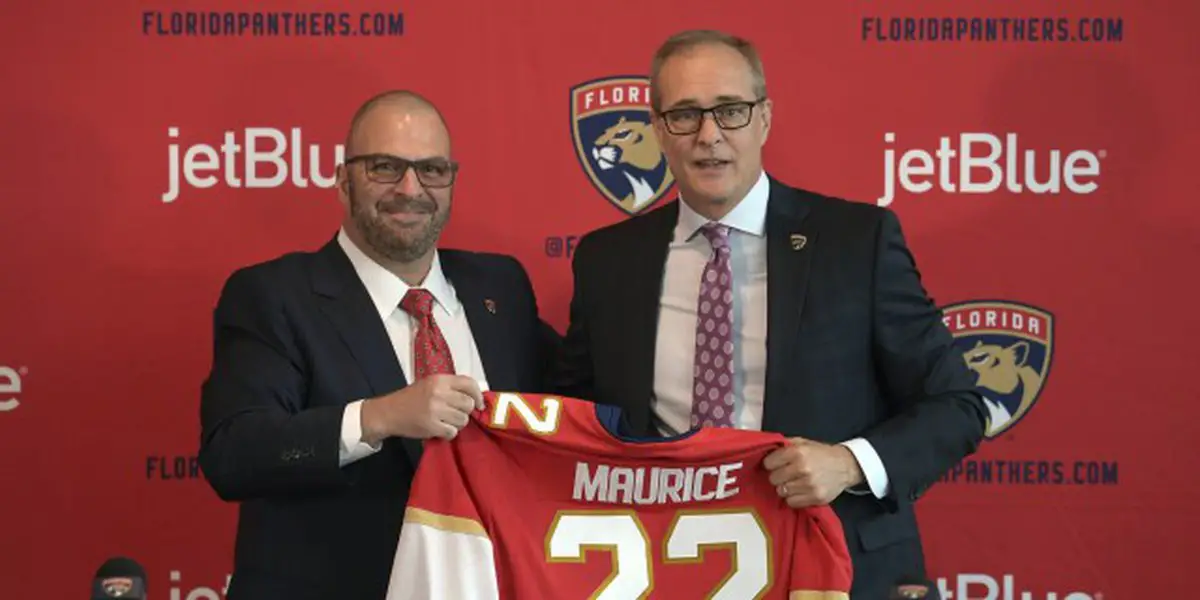 We haven't heard much from Paul Maurice since he walked away from the Winnipeg Jets on December 17 last year. And now, with his recent signing as head coach of the Florida Panthers, we gain a little more insight into how this all came about.
As he stated in his press conference at the time of his departure, he had been having chats behind the scenes with GM Kevin Cheveldayoff, owner Mark Chipman and assistant coach Jamie Compon about how he had been feeling.  On several occasions, he publicly said he hated playing in the bubble and missed having fans in the stands.
"Going back to the bubble, to the lockout year, I didn't enjoy it. And that's the very first time in my career I can say I didn't enjoy coming to the rink. And I thought that maybe it was all of what was going on.  If you lose some of that passion for the game, the love of the game, you can still be good, but you can't be as good as you should be, or you could be — and that's how I feel I am," he explained at the time.
The team was 13-10-5 and fifth in the Central when Maurice stepped away and would finish eight points out of the playoffs at 39-32-11 under interim coach Dave Lowry.
Yesterday, Maurice spoke to Steve Kouleas on Sirius XM, NHL radio.
"I knew in the summer last year. I had pushed it as long and as hard with that team.  I love the Winnipeg Jets and the people there.  I wasn't at my best."
We assume that NHL coaches are as tough as a frozen puck, but that is not the case. They are people. Look around you. How many friends struggled during the pandemic? Look at the impact it had on your own mental health. Paul Maurice is a good man. Ask anyone on the NHL beat, and they will tell you that Maurice is a great interview. He is an eloquent speaker. You walk away from chatting with him, and you feel smarter. However, he wasn't doing well towards the end of his tenure in Winnipeg. And to no surprise, he was hard on himself.
"It was a perceived loss of efficacy, and that drove me nuts. It was affecting me. It changed my personality, and I turned into a big jerk!"
And on his tenure with the Jets?
"I do believe that coaches have a window, and if you're not winning Stanley Cups or driving right up against that…you have to push, and you have to push players, and after a period of time, they need a different voice."
So Paul Maurice wasn't good enough?
"It doesn't necessarily need to be a more experienced coach or a so-called better coach.  Players need to be driven, and they need to be pushed."
On his time in Winnipeg?
"I ran almost nine years in a Canadian market. We went from struggling early on to having a pretty good team. Kevin and his staff have built a brilliant team there."
And on the future of the Jets?
"They're gonna reset, they're gonna get a good one (coach), they've got great players.  Winnipeg Jet fans will be excited. They will be in the playoffs next year, and everyone will be happy with the way it went."
Paul, thank you for your time in Winnipeg; good luck in Florida. And we really hope you are right about the Jets.
The boys squeak in an episode before Jake heads off to Florida. They touch on the Bruins' recent milestones, especially Bergerons 1000 points. They head over to the metro to see can Pittsburgh and Washington turn things around before heading out west to take Shane Wright and the Seattle Krakheads.Thanks for listening! Please rate and review our show on your favorite listening platform. Check out our partner's website at www.insidetherink.com for all your latest hockey news.