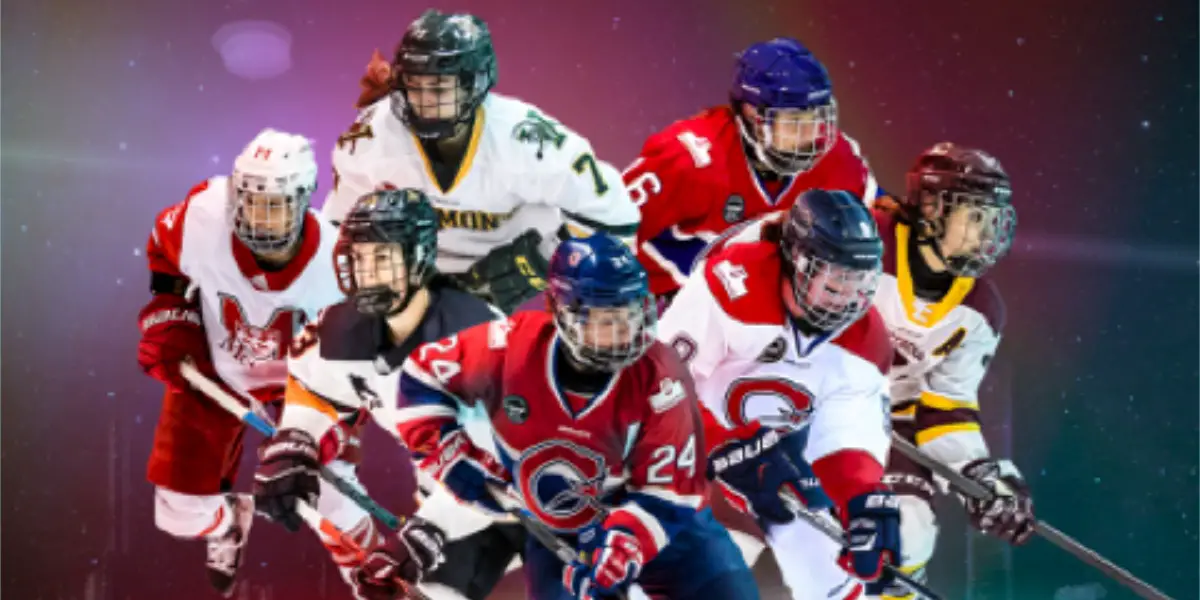 The new Montréal PHF team is working on creating a solid connection with the francophone fanbase and their players. The as yet unnamed team in Montréal announced their first seven signings this morning via social media. Looking at this list of names, two things stood out, one: of the seven players, six are forwards, and two: All of these players are from french speaking parts of Canada, with six out of the seven being Quebec natives and the one outlier is from New Brunswick.lid
This roster is full of talent and experience, several of the players have experience with Professional women's hockey, and even the players who haven't played pro hockey in the past, all of these players are outstanding, and from the stats available about these players, full of a potent offense. If one thing is going to be true about this team, it's going to be the fact that this team will be fast-moving and try to score you out of your building.
Let's meet the team!
 Brigitte Laganière- Our lone defensive player is Brigitte Laganière;. However, she is listed on elite prospects as forwarding/defense; all the press releases from the league have her as a defenseman. Coming off a long career with Concordia University, Langanière is making the jump to professional hockey for the first time. Langanière is a productive defensive player; in her last university hockey season, she had 17 points in 15 games with only six penalty minutes. In 95 games of hockey for Concordia, she had only 34 penalty minutes.
Ann-Sophie Bettez
To say that Ann-Sophie Bettez is a veteran of Professional hockey is to put it lightly. She has signed the contract with Montréal for her 10th season of pro hockey. She played for McGill University for four seasons before moving on to the Montréal Stars of the now former CWHL. While with the Montréal Stars, she won rookie of the year. In the following season, the 2013-2014 season, Bettez won both the scoring title and MVP. Starting in the 2015-2016 season, Bettez played for the Montréal Canadiennes of the CWHL; she won the CWHL championship with that team. I could find stats in the last season: Bettez put up 48 points in 26 games. She put up 30 assists that season.  Ann-Sophie Bettez spent the previous three seasons with the Montréal hub of the PWHPA. Ann-Sophie Bettez's offensive numbers are off of the charts.
Kim Deschenes
The second CWHL champion is Kim Deschenes. She was teammates with Ann-Sophie Bettez when they both won the CWHL championship. Pre-processionally, Deschenes played for the University of Montréal. In 97 games at the University of Montréal, she put up 129 points, which totals well over a point a game. In the CWHL, she put up good numbers. I was, unfortunately, unable to find the numbers that Kim Deschenes put up in the PWHPA, but I am sure that the numbers she put were quite good.
Jade Downie-Landry
Coming off an impressive career with McGill University, Jade Downie-Landry made her mark at McGill. She is 8th all-time in scoring for McGill, with 202 points. She was the captain of McGill for several seasons and had an 1.8 points per game in her entire career with the University. Downie-Landry put up 27 points in 15 games in her final season at University.
I am looking forward to seeing what she can do in the PHF.
Alexandra Labelle
Labelle brings yet more championship experience to this Montréal team. She won the gold at the women's u18 world championships for Canada in 2013-2014 and won the USports championship with the University of Montréal. After playing for the University of Montréal, Labelle made the jump to pro with the PWHPA and their Montréal hub.
Sarah Lefort
Another U18 women's world championship winner joins the team in Lefort. After winning gold at the U18s, Lefort went to Boston University, where she put up some truly spectacular numbers. She put up 55 points in 38 games in her sophomore season for the Terriers. She also had 56 penalty minutes that season, but that doesn't matter because Lefort put up 32 goals. She got the A in her senior season in Boston before going pro with the Montréal Canadiennes of the CWHL. She was part of the Canadiennes team that won the cup. After the CWHL, Lefort made her way to the PWHPA.
Kristina Shanahan
Shanahan is the other rookie announced with this signing. She is returning to her hometown of Montréal after playing for the University of Vermont. In her time at Vermont, Shanahan had a letter for three of her five seasons. She had the C for two years. While Shanahan doesn't put up gaudy numbers, her play is fantastic, and she is a perfect piece to secure PHF Montréal for a long time.
After going through the signings of Montréal, that still leaves us with several questions such as, What will the team be called? What will their jersey look like? Will all of their players be Francophone? The answer to all of these questions is to wait and see.